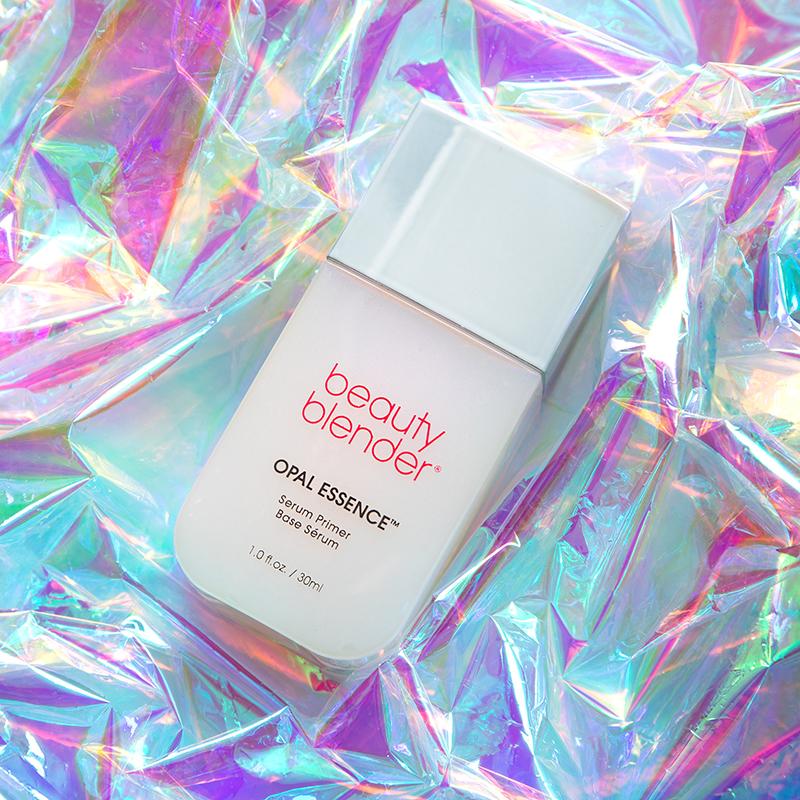 If there's any day you want your makeup to be perfect, it's your wedding day. You need to be capital-R READY, hunny, for photos, friends and family — and then for about 10 more rounds of photos, friends and family.  
The best wedding makeup look is the one that doesn't require a ton of upkeep. Does that mean it has to be basic? PUH-LEASE. You can turn it out and turn up as much as you want. But it's a good idea to know some key wedding makeup tips to help you get — and keep — your perfect look all day (and night!) long.
 Wedding makeup tip #1 – Primer
Whether you're a bride, a groom, a partner or a parent, every wedding makeup tip starts and ends with primer. Prepping your skin is crucial to a flawless complexion. Start by washing and moisturizing, and then apply a hydrating primer like Opal Essence Serum Primer to deliver just the right level of dewiness and hydration.
What makes O.E. the belle or boss of the ball? It starts with our super-soothing fermented botanical extracts. Formulated to nourish and brighten skin from day to night, Opal Essence has a hydrating base that seeps deep into your skin without sliding off — no matter how many spins you take a trip around the dance floor.
Wedding makeup tip #2 – Beautyblender (Duh!)
You knew this one was coming. No wedding makeup look is complete without the *expert* support of your trusty OG Beautyblender. Whether you're planning to go for a natural-looking glow or indulge in high drama, be sure to tuck at least a Micro Mini into your pocket or purse to bounce out blotchy spots or smooth out sweaty foundation.
 And remember to wet, squeeze and bounce! A damp Beautyblender will expand and absorb water so it won't absorb products, which is MUCH safer and cleaner for all those gorg, fancy wedding clothes you want to cherish for years to come. And, if you feel a little anxious on the big day, treat yourself to a custom Zodiac BB! There's nothing wrong with having a little celestial support in your pocket.
Wedding makeup tip #3 – Foundation
Wouldn't it be great if you could make a deal with Your Higher Power to keep your wedding day splotch- and redness-free? Well, until your team of lawyers gets THAT ironed out, you need backup.
Start with the right foundation, and start your shade-finding process early. There are a couple easy ways to do that:
Visit your local Sephora to test out 40 shades of

BOUNCE Liquid Whip Foundation

OR

 Use our online Shade Finder

and have your perfect shade sent right to your door.
By doing a little legwork, you can use our full foundation guide to DTU (define the undertones), do some swatch tests and snap a couple pics with your selected shade on to ensure it stays photo-fab.
Since you're working with BOUNCE, you know it will be a weightless, buildable, full-coverage foundation that gives you a natural matte finish for up to 24 hours. Bonus: If, for some wild 'n' wooly reason, the shade you match with doesn't work IRL, just contact us. Everyone gets one free foundation trade-in because this just in: Life (and #$&*!) happens 😘🤷🏾‍♀️.
Wedding makeup tip #4 – Concealer
So say you're a minimalist. Your wedding planner and/or partner and/or accountant will LOVE you come wedding day because you'll know how to keep things calm and simple. HOWEVER, flawless minimalism takes work, which is where BOUNCE Airbrush Liquid Whip Concealer comes in.  
 If you can only choose one product to stash away on wedding day, our concealer should be it. Not only will it work to defy dark circles, redness and blemishes, but it's unique doe-foot allows for major coverage.  Plus, BOUNCE products are packed with hyaluronic acid, which hydrates, plumps and smooths skins. And full disclosure: Everyone needs that the day after a rehearsal dinner or late night catching up with friends.
Wedding makeup tip #5 – Powder
When it comes to the perfect wedding makeup look, powder is non-negotiable. And the best setting powder has to be super fine to do its job softening fine lines, blurring uneven textures and giving new life to your skin without caking. 
Enter BOUNCE Soft Focus Gemstone Setting Powder. It's talc-free, flashback-free and milled to the max, so it works with combination, normal or dry skin. The first of its kind, BOUNCE gemstone powder uses sustainably sourced mica (a natural mineral dust) to absorb oils and cancel unwanted shine in 5 work-for-everyone shades. Plus, you get light-reflecting gemstones that melt into the skin for a prism-like effect, and a second-skin natural finish that allows you to lock it down AND glow it up in one dusting.
Wedding makeup tip #6 — Facial roller
You've just finished powdering to perfection, but don't put down your BIG BOSS Powder Brush just yet! With its cooling facial roller on the end, you've got the secret weapon to staying cool at your fingertips.  
If your under eye area tends to get puffy when you're tired or having trouble keeping dark circles at bay, the smaller end of your BIG BOSS is your new BFF. By massaging your face with the roller, the cooling properties combined with the repetitive strokes will help depuff your face as any unwanted fluids move out, out and away. As your circulation improves, swelling will go down, leaving you feeling fresh and rejuvenated. Plus, it feels reeeeeally nice and relaxing, especially on a hot, stressed 'n' pressed day (not that spending hours doing wedding day makeup is anything but a walk in the park). 
Wedding makeup tip #7 – Shimmer, set & spray 
Once you've achieved your final, flawless wedding makeup style, a little time sheen will complete the "glowing bride" look. First, grab Glass Glow Crystal Clear Shinelighter, which will help give you luminous skin without too much frost or sparkle. Because the lightweight formula melts into skin and stays glossy for hours without looking sticky or heavy, anyone can use it for a subtle, dewy effect. Dot it on cheeks, eyelids, lips and wherever else you need some shine.
Finally, grab our handy ReDew Set & Refresh Spray to mist, hydrate, refresh and add luminosity to your wedding makeup look. With all the dancing and sweating and laughing and smiling, everybody can use a little pick me up at points. ReDew is a quick way to refresh when you're being pulled in different directions. Plus, the more you use ReDew, the less you'll have to touch-up the rest of your look since it'll help hold everything in place. Can you say, "DJ, please play another?!?" 
More tips for perfect wedding makeup
— Dewy Foundation vs. Matte Foundation: How to Nail Each Look
— Master the Dewy Makeup Look for Glowing Skin
— How to Apply Highlighter Like a Pro 
— Baking Your Makeup With A Beautyblender