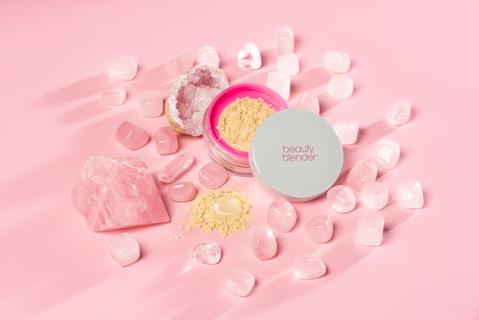 This just in: Your hunt for the best setting powder? It's officially over. 
That's right, people: There's a new setting powder in town, and it is specifically designed to cancel your shine but keep your glow. What, you may ask, are we calling this newly crowned queen? She shall heretofore be known as BOUNCE™ Soft Focus Gemstone Setting Powder.
But wait, there's more! Because this stage-stealing setting powder is brought to you by the Beautyblender team that has *always* had your back (and your neck, cheeks, forehead and any other part of you that needed a little blend 'n' bounce over the years 😘 ), you know there's really no contest.
Let's get to know our new gal, shall we?!
Cancel Shine, Keep Your Glow
Airy and hydrating, BOUNCE Soft Focus Gemstone Setting Powder blurs and softens skin using an epic blend of rose quartz, hyaluronic acid, ruby, sea minerals, aloe vera and freshwater pearls. 
This balancing blend helps absorb oil without making your skin look dull. Think soft natural glow in only the right places. BOUNCE Soft Focus Gemstone Setting Powder works with combination, normal or dry skin, which makes it the best setting powder for any face. The first of its kind, this formula uses sustainably sourced mica (a naturally occurring, totally magic mineral dust) to absorb oils and cancel unwanted shine. 
In addition to all that goodness, you've got:
— Light-reflecting gemstones that melt into the skin, creating a prism-like effect in all the right places
— Hydration from hyaluronic acid, so skin never looks too flat or too dewy, and
— A second-skin natural finish that allows you to lock it down AND glow it up in just one dusting.
But don't take our word for it. Blot test it, baby!!!
So Damn Fine
One big reason our setting powder is so good at canceling shine is because it is SO. DAMN. FINE. 
For real! Everyone knows the best setting powder has to be super fine to do its job softening fine lines, blurring uneven textures and blemishes, and giving new life to your skin without dryness or caking. Because ours is talc- and flashback-free and milled to the max, it is truly, well, you get it… 
Go Ahead, Be Shady
We don't know about you, but sometimes we just need things to be simple. That's why we worked long and hard to make 5 translucent shades of setting powder that will work for everyone. Yep, you read that right: Every. Dang. One. 
Pick from:
— Canary: Brightening Universal Shade
— Buff: Light Skin Tones
— Topaz: Medium Skin Tones
— Nutmeg: Tan Skin Tones 
— Chocolate: Deep Skin Tones
If you like things even simpler (yes, pls 🖐🏿), we even made 1 totally foolproof shade, Canary, that will work to brighten every skin tone.
A few simple swipes is all it takes to cancel shine, soften fine lines and blur uneven texture and blemishes — all while setting your makeup for the long haul. 
Game, Set, Match!
Now that you know all that, what's even left to do but bounce on over and order yours?
Bonus: You can use BOUNCE Soft Focus Gemstone Setting Powder with the products you already know and love:
— POWER POCKET PUFF™ Dual Sided Powder Puff for a soft, diffused, all over finish
— BIG BOSS™ Powder Brush & Cooling Roller for a more precise application, like baking under eyes  
— You can also use a damp Beautyblender on the mesh trampoline to pick up powder and lightly pat all over skin.
It's that simple! Now it's time for you to show us how it's done: 
Tag us with #BounceWorthy and get glowing!! 🌟✨