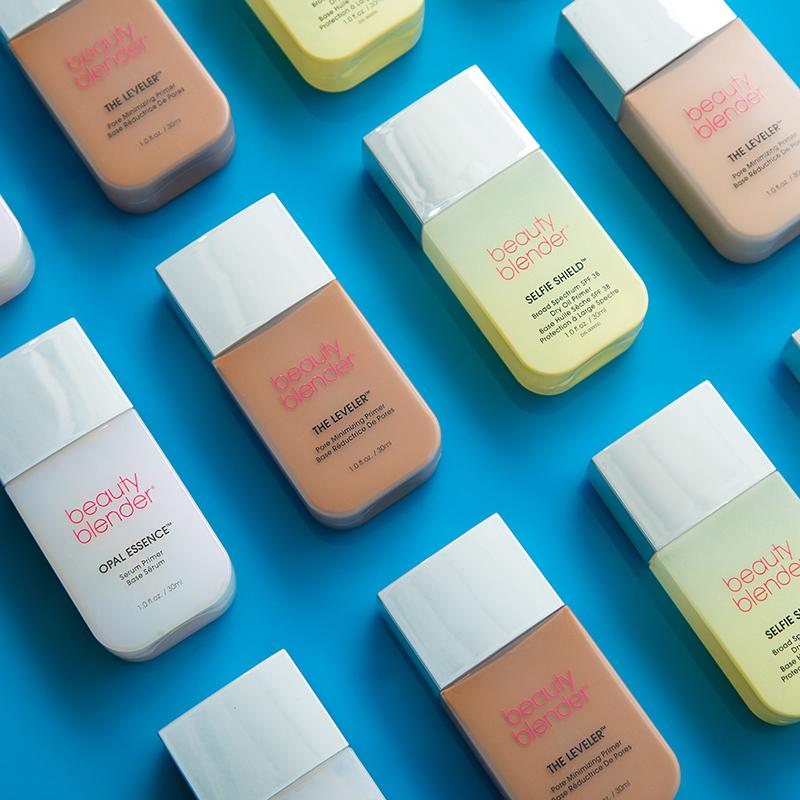 We're high-key obsessed with nude makeup. No, nude doesn't mean some boring shade of beige. "Nude makeup" is all about enhancing your own natural tones- whether you're light, dark or in between. The warm, earthy tones are flattering on every skin color and show off your natural features. Whether you're hitting Sunday brunch (did somebody say bottomless mimosas?) or heading into the office, nude tones work for just about every occasion. Keep reading for our best tips on how to get a flawless, long-lasting nude makeup look.
Prep Your Skin
When it comes to nude makeup, it all starts with the skin. Since you won't be going as heavy on eye makeup, this is your skin's time to shine (literally). Start with your favorite primer to give your skin a beautiful blank canvas for smooth and easy makeup application.
If you have normal or oily skin, you'll love our lightweight pore-minimizing primer, The Leveler™. It'll help lock in your makeup and protect it from humidity for all-day wear. If your skin is dry, check out our Opal Essence™ Serum Primer to hydrate skin and deliver the perfect dose of dewiness.
Build Your Foundation
The key to achieving a flawless nude makeup look is to find your perfect foundation shade. As our founder Rea Ann Silva says, you want people to say your skin looks incredible, not your foundation. 
Find your perfect shade by identifying your skin's undertone and swatching some colors on your neck–not your arm–to find your best match. Let it sit for a few minutes as the foundation oxidizes on your skin and see how it adjusts. Does it match your skin color? Is it the ideal amount of coverage? Does it feel like a second skin? Looks like we've got a winner.
Once you've found your perfect foundation shade, it's time to apply and blend it in. Use your favorite Beautyblender® to wet, squeeze, and bounce to a flawless complexion. Since we're going nude here, you don't want to go too crazy with contouring and highlighting. A touch of highlighter on the apples of your cheeks will give you just enough shimmer for a dewy, natural glow. 
Easy On The Eyes
Ditch the black eyeliner or dark liquid liners you might be used to (yes, you can breathe a sigh of relief knowing you don't have to spend hours perfecting your cat-eye). Keep it simple with eyeshadow colors–you don't want anything too vibrant or bold when it comes to nude makeup. Go with earthy colors usually found in skin tones: think pink, brown/bronze, beige, peach, and metallic gold shades. 
You can even use your favorite bronzer or highlighter on your eyes. This ties your entire look together with a natural-looking, monochromatic finish that shows off all of your best angles. Depending on how deep or light your bronzer is, you can go for a soft or sultry finish. 
Finish it off with a nude lipstick or a shade just slightly lighter or darker than your natural lip color and your nude makeup look is complete. Cue Flawless by Beyonce because you (basically) woke up like this. 
Read more: How To Do Your Full Face Makeup With A Beautyblender