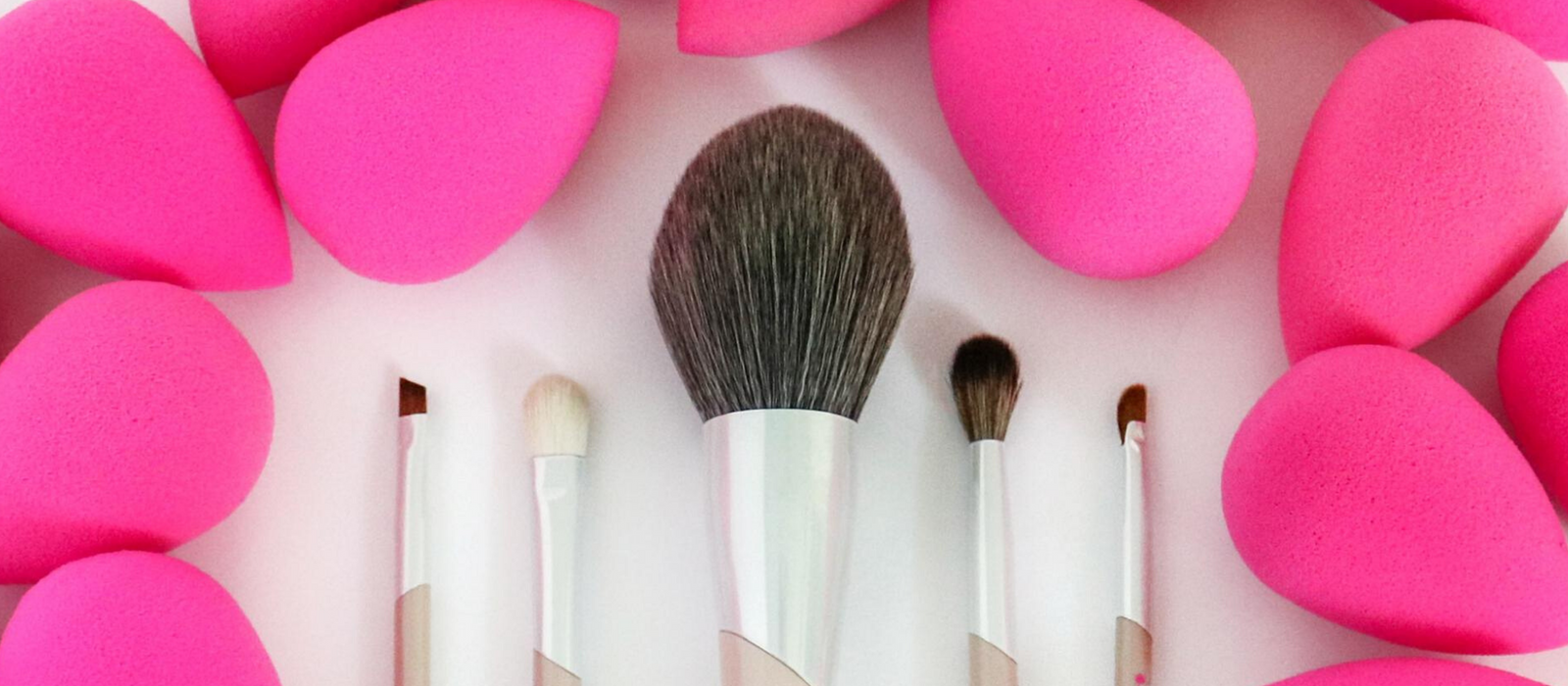 If you've mastered the art of how to do a smokey eye, you're basically Ariana Grande. Okay, maybe not – but you're pretty close. The perfect smokey eye look should give you the confidence to post a filter-less Insta pic, wear those heels you haven't brought out in a while, and leave him on read – maybe even all in the same night. Here's a step-by-step process for how to do a dramatic smokey eye that makes you feel like 100% that b*tch. 
What You Need for A Smokey Eye
You'll need a couple of VIP tools to do a flawless smokey eye. Here's what's on our list: 
Concealer 
You're probably wondering why you need concealer to do a smokey eye. Well, this one is a bonus. We like to have a clean canvas on our eyelids before starting with eyeshadow. Take a damp Beautyblender or Blusher and blend your fave concealer on your eyelids to cover up any redness or discoloration. This gives you a smooth and even natural color to start building your smokey eye look on top of.
Eyeshadow Palette 
Picking your smokey eyeshadow colors is probs the most fun part. Decide whether you want dark greys and blacks, a smokey purple, or a deep blue hue for your smokey eye and find your fave shades. You'll need 3 main shades – one that's similar to your skin tone, one that's super dark and dramatic, and something in between. 
Makeup Brushes
You've gotta have all the goods to make your smokey eye come to life, and makeup brushes are no exception. Our brush collection has all the eyeshadow tools you need for flawless blending. Definitely snag our Shady Lady Eyeshadow Brush to apply your base eyeshadow layer. Follow-up with our High Roller Crease Brush to help blend to perfection. 
BONUS: Highlighter
We'll let you in on a little secret… highlighter is actually your best friend when it comes to a smokey eye. If you have a powder highlighter, you add a small amount just below your brow line when you're finished for added shine and contrast. Or, you can use a clear balm highlighter like our Glass Glow Shinelighter™ to add on top of your entire lid when you're finished. This will add a shiny, dewy finish that was spotted all over the runway. 
BONUS: Liner Designer Tool
When you're ready for eyeliner, our Liner.Designer tool comes in handy to help you get the perfect winged eyeliner look. If you've been late (raises hand) trying to get your wings even, don't worry- this little silicone tool helps you get an even flick every time. 
How to Do a Smokey Eye
Okay, so you've got all the goods you need to start your smokey eye look. Here's how it's done. 
Prep your lids
Take your fave concealer or primer and apply it to your eyelids to establish an even base for the rest of the look. 
Start with your base color
Use a standard tapered brush (like our Shady Lady) to apply your base color. Pick something neutral or similar to your skin tone. This will help your shadow blend more naturally once you start adding more dramatic colors.
Pack your darkest color onto the corner of your lids
Take the darkest color in your eyeshadow lineup and start lightly packing the product on the outer corners of your eyelids. Remember to start with a small amount of eyeshadow on your brush and build it up as you go – it's easier to add more color than it is to take it away. Blend that color into your eyelid and into the crease until you have a natural-looking ombre-effect on your lids.
Blend your medium color in your crease
Take a crease brush and start blending your in-between color in the crease of your eyelid. The key here is to blend, blend, blend. By the time you're finished, you'll have a dramatic yet seamless looking smokey look.
Add your dark or medium colored shadow below your lower lash line
For a more dramatic look, take an angled brush (our Wing Man curved eyeliner brush is a good choice) and flick either your darkest or medium colored eyeshadow below your lower lash line. Obviously, go for the darker color if you want something more dramatic – or feel free to mix them!
Finish it off with eyeliner and mascara
We've made it to the finish line, folks. Take your favorite black or dark brown eyeliner and surround the perimeter of your eyes. Pack on as many layers as you want – the more eyeliner you have, the more dramatic your smokey eye will be. If you want flawless winged eyeliner for that cat-eye look, our Liner.Designer tool helps guide you for an even application. Last but not least, apply mascara to your top and bottom lashes. And as every makeup lover knows – you can never go too crazy with mascara.
If you want to go the extra mile, add your favorite powder highlighter or shiny, lightly-colored eyeshadow and apply just below your brow line. Or take our Glass Glow Shinelighter™ and apply on top of your lids with your fingers for a glistening glow. 
Make sure to tag us in your smokey eye pics so we can see your work! And if you need some extra tips for eye makeup perfection, check out our posts on how to do eye makeup for an everyday look, along with our best tips for flawless eyebrows.