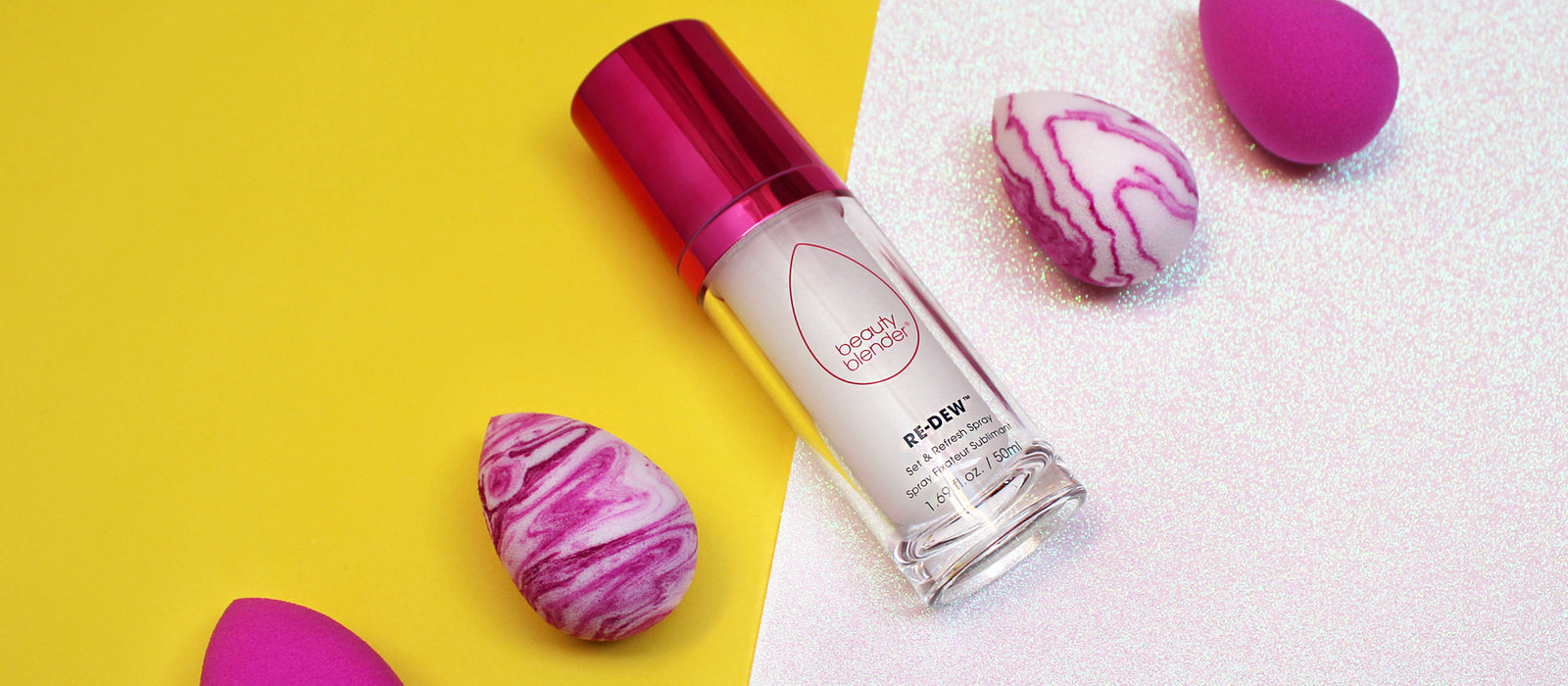 Fun fact: Did you know you the Beautyblender was created as an alternative to airbrush makeup? That's right–a little pink sponge can basically give the same effect as a fancy airbrush machine. Pretty crazy, right?! 
What does Beautyblender have to do with airbrush makeup?!


Our founder, Rea Ann Silva, was a makeup artist for various television shows before inventing the OG Beautyblender. As television went high-definition and more high-quality filming options became the norm, the actors' makeup had to be more high quality too. With HD cameras, even the smallest streaks and imperfections can be noticeable. But the hassle of airbrushing made touch-ups difficult while on set for long days. 
This inspired Rea Ann to create the Beautyblender, an easy alternative to traditional airbrush makeup. She set out to create a beauty tool that allows makeup to appear more naturally on complexion, without all the streaks and lines that makeup brushes can leave. The iconic egg-shaped sponge, formulated with our exclusive aqua-activated material, mimics real pores when damp, letting your products bounce easily on skin for a natural, airbrush-looking finish. Thanks, Rea Ann, for basically saving our lives with a sponge! (Get the full story on Rea Ann's journey from makeup pro to CEO in this interview).


How to get airbrush makeup with a Beautyblender


While you may be considering airbrush makeup for a big event like prom or your wedding day, you can still get the same effects with a Beautyblender. After all–while airbrush makeup is fun to wear and very long-lasting, it is difficult to touch up, blend, and layer products–especially if you're running around all day. Not to mention, airbrush makeup can come with a hefty price tag depending on your needs.
Luckily, a Beautyblender can give you the closest thing to an airbrushed makeup look without the hassle. Simply wet, squeeze, and bounce your sponge for a near-airbrushed finish. Here are our best recommendations for using a Beautyblender for an airbrush makeup look. 
Always wet your Beautyblender before use
The skin mimicking aqua-activated™ sponge creates an even blend and absorbs minimal product so your favorite formula lands on your complexion, not your sponge. Simply wet your Beautyblender before you use it and squeeze out the excess water. You'll notice the sponge almost double in size. As the sponge absorbs water, it gets super soft and bouncy, mimicking the pores on your complexion to help it blend seamlessly for a near-airbrushed finish. You'll never have to worry about a caked-on or streaky look with a BB, since the sponge is designed with your skin in mind.
Use smaller Beautyblender sponges for hard-to-reach areas
One of the cons of typical airbrush makeup is that those smaller details are harder to perfect with the airbrush. Try our smaller versions of the Beautyblender, our Beauty.Blusher (our medium-sized sponge) and Micro.Mini (our smallest sponge), to master those tougher areas. 
The Beauty.Blusher is great for the under-eye area if you're trying to combat dark circles–along with dabbing a subtle highlighter on the cheekbones. Our Micro.Mini helps you nail some of those more precise areas on the eyelids or brows, not to mention spot coverage for those days when your skin just isn't feeling 100. 
Since you have all the tools at your fingertips, touch-ups are easy throughout the day–unlike with airbrush makeup that leaves little room for changes without risking any larger covered areas. You can really master your entire makeup look with just one Beautyblender–she really is the queen of all beauty tools.
Beautyblender + Bounce Foundation = Flawless Skin
I'm sorry, airbrush who? You can get flawless skin without the hassle or price tag of an airbrush with our master duo, the Beautyblender, and Bounce Foundation. These two are a match made in heaven.  Bounce Liquid Whip Long Wear Foundation was developed with a HyperWhip™ process (basically, it was whipped at super-speed to create a super blendable formula…think of how whipped cream glides and moves vs heavy cream). With a lightweight, buildable formula, this creamy texture addresses not just tone but also skin texture so your complexion looks smooth and even. Apply it with a damp Beautyblender for the ultimate flawless foundation blend. 
You can even get a corresponding blender and foundation duo kit (where your BB matches the color of your foundation shade) for a limited time. You don't want to miss these fun bounce & blender sets that bring the magic of airbrush makeup to the palm of your hands at a fraction of the cost. 
Read more: The Best Products for a Timeless Wedding Makeup Look