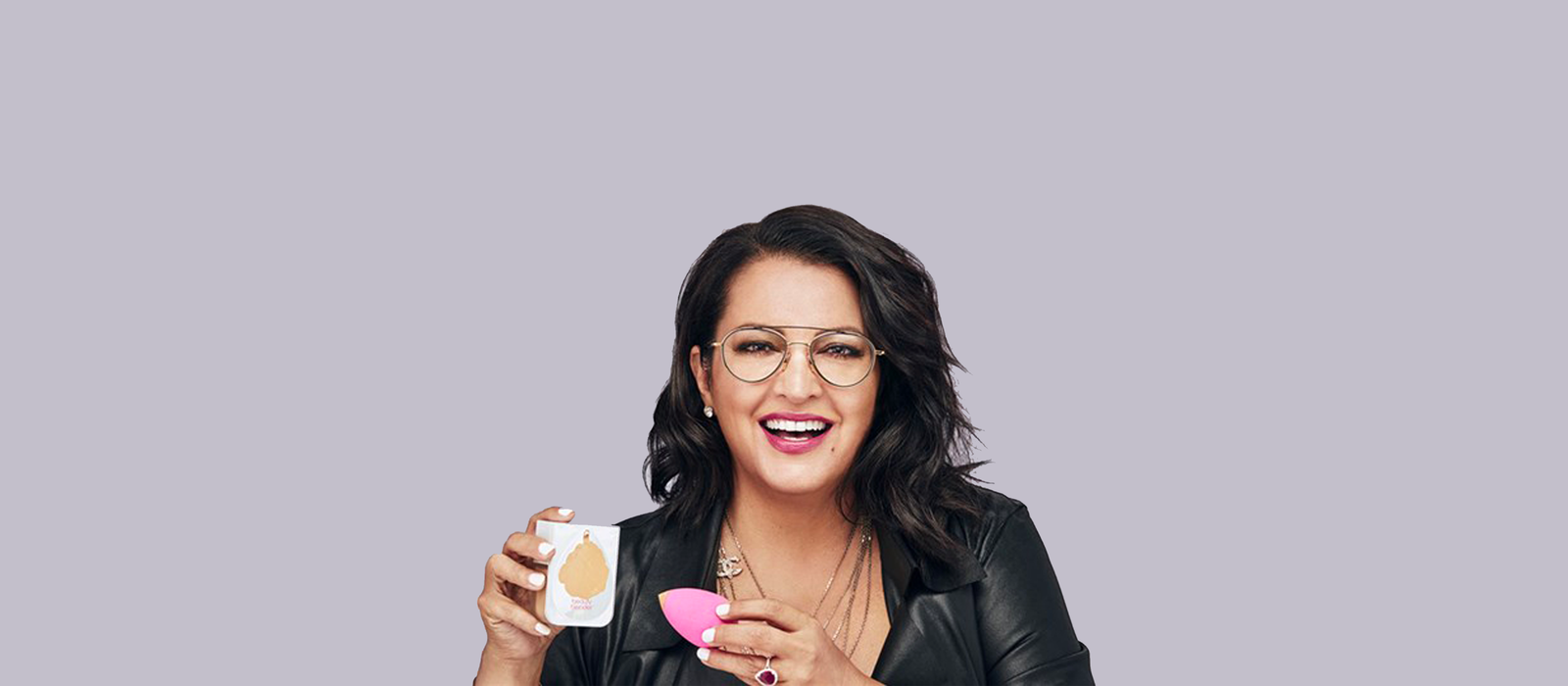 Rea Ann Silva didn't plan to become a CEO. She didn't plan to start a makeup revolution and change the way millions of people apply their makeup. But she did. What began as a trusty homemade makeup sponge she cut herself to use as a makeup artist on television sets blossomed into a global beauty mecca called Beautyblender (ever heard of it?). Yes, ladies and gentlemen–our CEO and founder Rea Ann Silva is a certified ladyboss.
Rea Ann sat down with Who What Wear founder Hillary Kerr on the Second Life podcast, which celebrates successful women who've made major career changes and fearlessly mastered the pivot. Rea Ann dishes the details on how she got her start in makeup, her experience in the entertainment industry, and how Beautyblender was born. Here are 3 things you may not have known about Rea Ann based on the interview, which you can listen to here.
Becoming a makeup artist was a happy accident.
Rea Ann didn't set out to become a makeup artist, nonetheless a CEO. Sure, she was always a creative person–but makeup wasn't her main priority. She went to college at the Fashion Institute of Design & Merchandising to pursue a fashion career. While in school, she began working at the perfume counter at a retail store and realized she was actually drawn to the makeup counter. Eventually, she moved to the makeup department, which is where she developed her skills and perfected her craft.
She spent years doing makeup for celebrities like Brandi, Eve, Tupac, and Dr. Dre.
Remember when music videos were a thing? Rea Ann was on the front lines of creating looks for celebs in their music videos at the height of MTV. She also worked on movies like "Friday" and television shows like "Girlfriends" and "Moesha." Rea Ann garnered a solid reputation in the entertainment industry and ended up serving as the head makeup artist for the first TV show to be shot in high definition. Basically, the actors' makeup needed to be *flawless* for HD TV and needed to look airbrushed at all times. This inspired Rea Ann to cut out her own makeup sponge–which is how the OG Beautyblender came to life.
Rea Ann knew the iconic egg-shape of the Beautyblender (and the OG pink color!) was meant to be.
You've probably seen a bunch of other makeup sponges in different shapes, but Rea Ann was a firm believer in the egg-shaped sponge from the beginning. She experimented with various shapes and sizes, but nothing worked as seamlessly as the egg. "The egg is the shape of life," Rea Ann says. "It's the ova. It's the perfect shape–so I didn't veer from it in the end." Plus, the Beautyblender pink that defines the brand was also a bit of a happy accident. When she received sponge samples from a manufacturer in the testing phase, nothing seemed right. Some were too soft, some too hard–until she found the amazing aqua-activated sponge formula you know and love today. And guess what color it was in?! You got it–the BB pink. She liked it so much it became the cornerstone of the Beautyblender brand.


So there you have it, folks–a few fun facts about our fearless founder Rea Ann Silva, along with a few tidbits about Beautyblender you probably didn't know. Keep up with Rea Ann by following her on Instagram, and don't forget to listen to the full interview on the Second Life podcast.