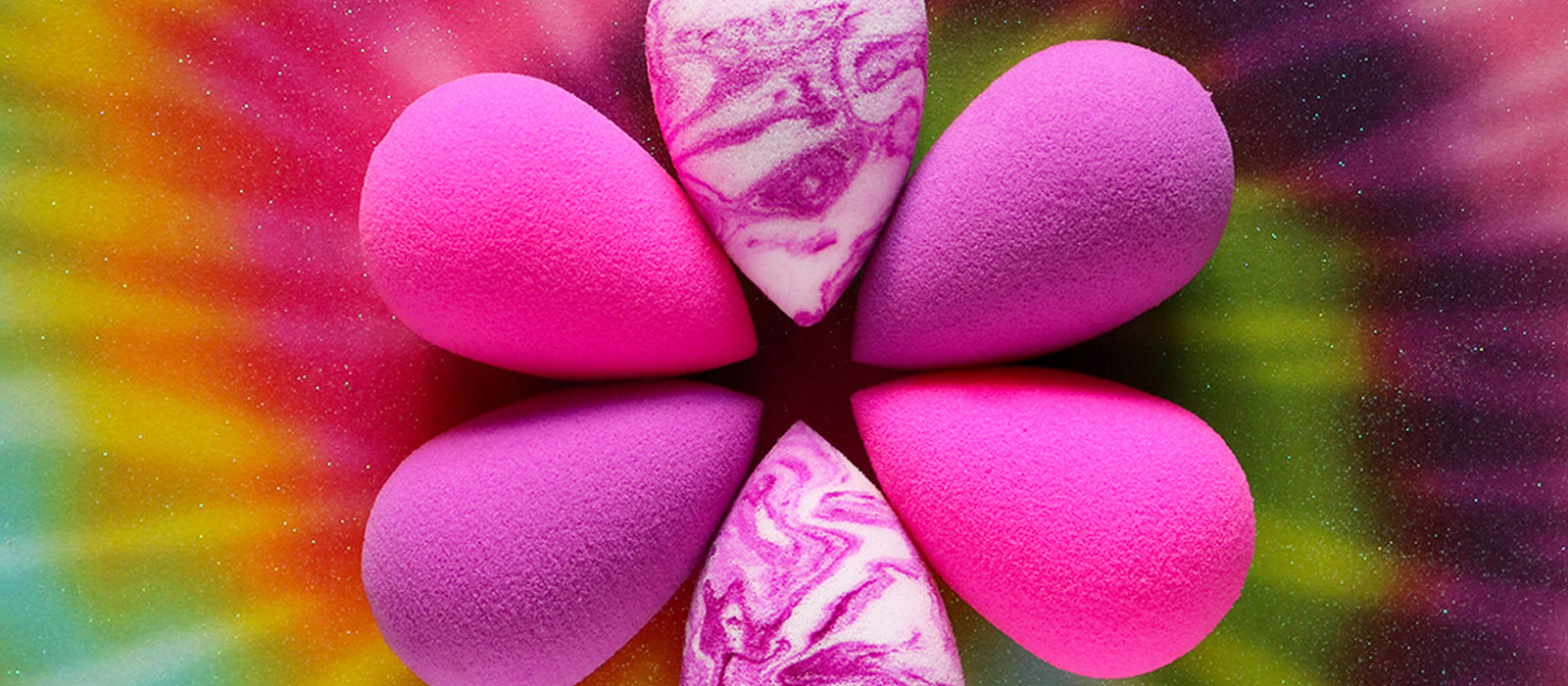 Break out the leg warmers and side ponies–it's time to rekindle our love for all things 80s, including 80s makeup. I mean, who doesn't love the 80s? Whether you grew up during the iconic decade or just like to channel the 80s vibe, there's so much room for creativity when it comes to beauty.
We're breaking down 3 of our favorite 80s makeup looks you can recreate for an 80s party or a Halloween costume. Because for real, name a better duo than 80s makeup and Halloween (we'll wait). 
80s Makeup Look #1 – Neon Eyeshadow & Heavy Eyeliner
Did someone say neon? Bold, bright colors are essential to a true 80s makeup look, especially when it comes to the eyes. Flashy hues like cobalt blue and fuschia were some of the most popular eyeshadow colors of the decade. It's safe to say that 80s makeup was not meant to be subtle. Eyeliner followed suit. Thick, dark eyeliner on both the bottom and top lids with a winged cat-eye outer edge rounded out most 80s eye makeup looks.
To recreate this look for yourself, start experimenting with eyeshadow colors other than your everyday hues. We know this can be overwhelming for all of you makeup minimalists out there–but trust us, it's fun. We recommend scouring the drug store for some bold-colored eyeshadow palettes, particularly anything with an electric blue shadow. 
Use your fav crease brush to pop some color onto your lids, and follow up with eyeliner (our Liner.Designer pro tool will help you get the perfect winged eyeliner look!) on the perimeter of your eyes. They say eyes are the window to the soul, right? Might as well make them pop in true 80s fashion. Hello, Madonna, is that you?
Madonna's "Celebration" album cover. Photo via Pinterest.
80s Makeup Look #2 – Draped Blush
In today's day and age, it feels like blush often takes a back seat in our makeup routines. With contouring and highlighting at the center of many of our looks, blush is usually an afterthought. But in the world of the 80s, blush was a staple. And it was meant to be noticed on our complexions. And so begins the 80s makeup trend of draped blush.

Draping blush is basically contouring with blush instead of your typical contouring products. However, it's not meant to look natural the way that contouring (and highlighting) is. It's all about picking a bold blush color–think hot pink, bronzy orange, or bright purple–and sweeping that color from your cheeks all the way up toward your eyes. Re: Rihanna at the 2017 Met Gala or Olivia Newton-John in basically the entire Grease movie. 
Rihanna at the 2017 Met Gala. Photo via Glamour
Not only is this look super fun to play with, but you can still get that sculpted, contrasty finish with draped blush the same way you can with contouring. A damp beautyblender is your best friend for draping blush–just make sure to clean it right away to get that bold color out of your sponge.
80s Makeup Look #3 – Bright, Glossy Lips
Like we said before, 80s makeup is not known for its subtly–and lips are no exception. If you thought that we were done with the bold, flashy colors, think again. With 80s makeup, you can basically get away with any bold colored lip. A classic pop of red lipstick will help you channel a Stevie Nicks or Molly Ringwald vibe day and night. You can't really go wrong with a hot pink lip, either. 
Stevie Nicks via Pinterest

Whatever color you choose, finish your lip look with our Glass Glow Shinelighter for the ultimate 80s glow. Yes, you heard that right–we're telling you to put highlighter on your lips. Just trust us. Our versatile Glass Glow formula is a crystal clear, colorless balm, so you can use it for more than just highlighting cheeks. Dab some on top of your eyeshadow to add a layer of sheen or apply it on lips for a shiny top-coat. It'll give your lips that extra pop of radiance to tie in your 80s makeup look. 

And just like that, you're ready to roll in full 80s makeup. All you need is a perm and a walkman to complete your look. After all, Girls Just Wanna Have Fun, right? 
Read more: Iconic Makeup Looks That Still Look Good in 2019