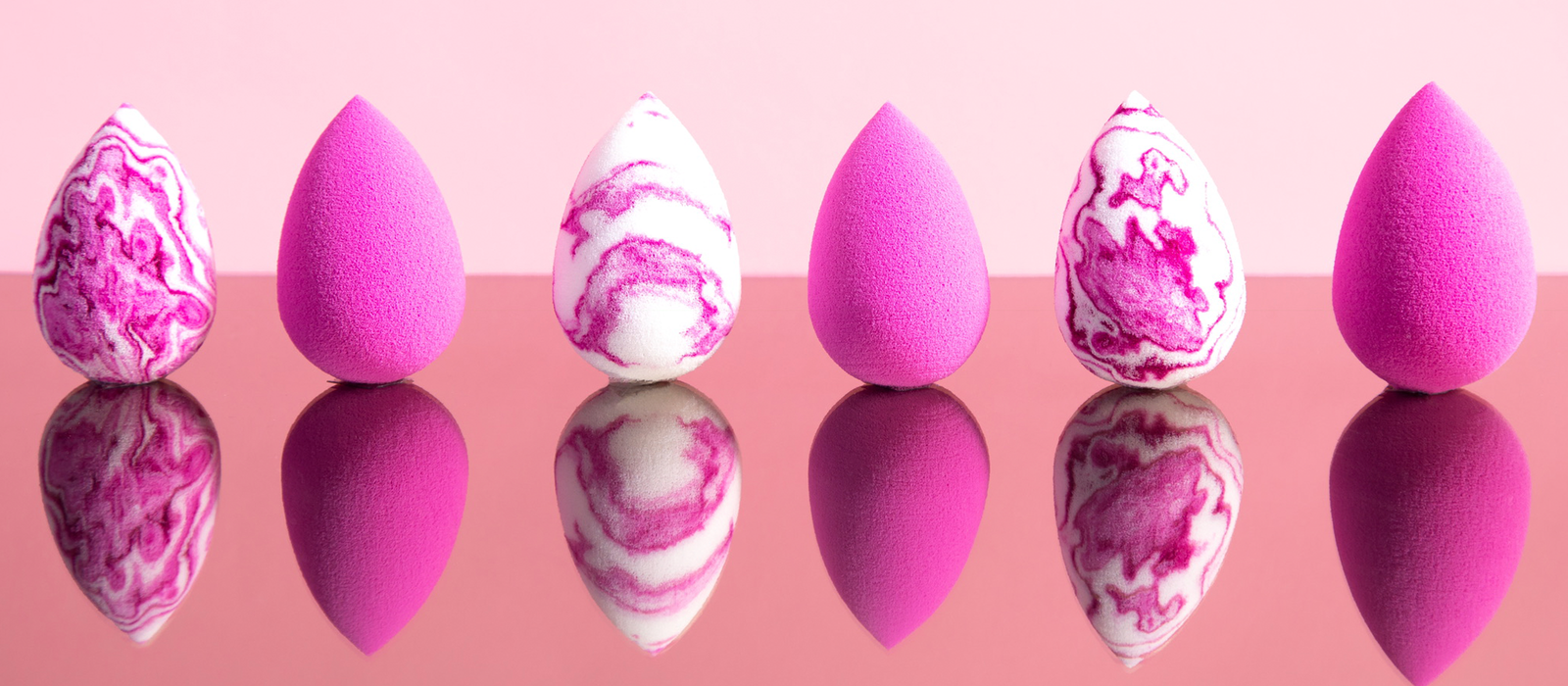 We all have our favorite makeup essentials we can't live without. Sure, us beauty lovers are always experimenting with new products and playing with different makeup looks (hello, new products–goodbye bank account). But everybody has staples they've been using for years. Here at team BB, we've put together our top 3 makeup essentials we can't live without. If you don't have any of these amazing products, well… what are you waiting for?! Your makeup bag is waiting.
The Original Beautyblender

Okay, you knew this one was coming. It's the Rolls Royce of all sponges. The tool of all tools. All hail the BB queen! It's the product that started a makeup revolution. The Original Beautyblender is on it's *11th* year as an Allure Best of Beauty winner (NBD). It's the makeup essential of all makeup essentials, and for good reason.
The sponge is made out of our exclusive aqua-activated material that gives an airbrushed finish with all products and all skin types. Use it with any foundation (cc: our very own Bounce foundation), concealer, BB cream, primer–you name it, the BB is the girl for the job. And you never have to worry about a streaky foundation or a caked-on look. All you have to do is wet, squeeze, and bounce for an even complexion every time.
Don't forget the most important part of using your Beautyblender: you gotta get it damp! That's how you unlock the BB magic. A wet Beauty Blender absorbs the water first so it doesn't absorb your product–letting all that goodness bounce on your complexion rather than getting soaked up by the sponge. The skin-mimicking texture of the Beautyblender gives you that filter-ready finish–no filter required. Pick your favorite BB color and get to blending!


Bounce Long-Wear Liquid Whip Foundation

We *love* a creamy, lightweight foundation so much that we made our own. The magic of our foundation is really all in the name: the Beautyblender Bounce Liquid Whip Long Wear Foundation. Form meets function in this do-it-all product that's made up of all the goods you need to ace your base. 
Pick from 40 shades of this full-coverage foundation that's created with all of the good and none of the bad: our formula is vegan, cruelty-free, and mixed without parabens, phthalates, oils, or sulfates. Better yet, it's infused with antioxidant-rich white birch extract and hyaluronic acid (to help brighten and hydrate) to create a silky-smooth formula that's easily buildable and blendable.
Never chalky or lifeless, the velveteen matte finish has a multidimensional effect, like naturally gorgeous, healthy skin. Just blend one pump of Bounce and you'll see why it's in our top 3 makeup essentials list. It's basically the Spanx of makeup–it covers and smoothes but no one else can tell you've got it on. Get your hands on a bottle of Bounce ASAP if you haven't already–your skin will thank you!
 
Glass Glow Shinelighter

And last but not least, we've got our final pick for our top makeup essentials. If you haven't tried our exclusive highlighter, the Glass Glow Crystal Clear Shinelighter, you're in for a treat. The colorless formula offers a tasteful illumination without the sticky or over-the-top shine that other highlighters can create. 
We're all about a natural glow here at Beautyblender, and Glass Glow is no exception. It goes on clear instead of leaving a sparkly, shiny finish. Consider Glass Glow the grown-up version of highlighter makeup. Without all the shimmer and shine, Glass Glow is a good choice for the everyday gal who wants a natural, dewy finish they can wear from the office to the bar. That perfect-for-every-occasion glow is one of the main reasons it made our makeup essentials list. 
Glass Glow is also the most versatile highlighter on the market right now. Dab some on the cheekbones, of course–but don't be afraid to use Glass Glow in your full makeup routine. Add some on top of eyeshadow for a more luminous, glam eye look, or even on lips to add some shine to your fave lip color. The possibilities are endless with this highlighter–and your makeup bag is practically begging for a tube.