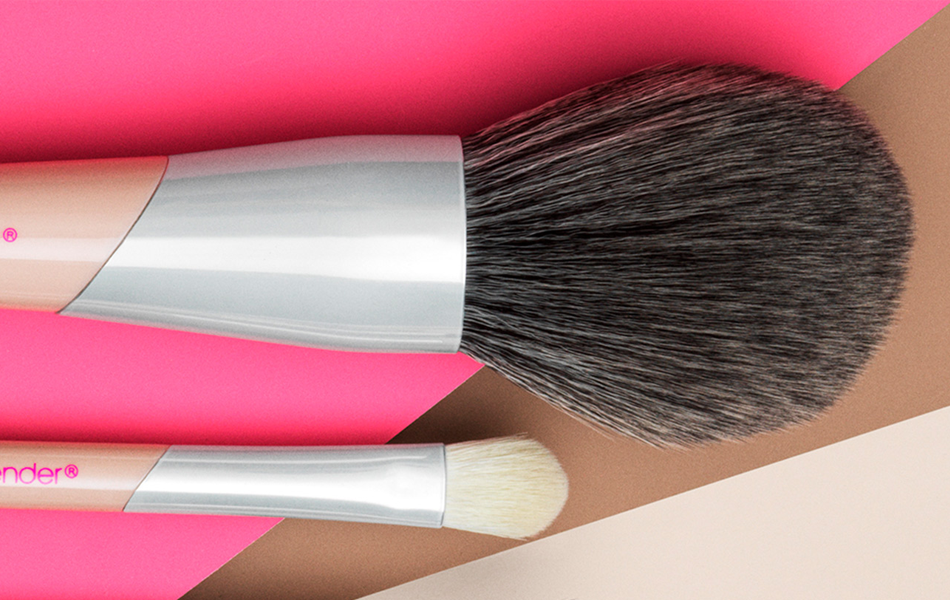 Everybody needs a good powder brush, it needs to be sturdy, reliable, and get the job done daily. Consider your relationship with all of your makeup brushes long-term. The goal is to use them as often as you need, for as long as you can, and replace them as little as possible. That's why we created our brand new line of makeup brushes, The Detailers (*heart eyes emoji*), which includes your new go-to powder brush, The Big Boss.
Introducing The Detailers
First thing's first: You've gotta meet The Detailers. These are not your grandma's makeup brushes. The collection features 5 vegan and cruelty-free brushes, each hand-crafted to mimic real hair with their soft and fluffy bristles. Best of all, 3 of the brushes are inspired by jade rollers and feature a rolling tip on the end of the brush.
Yes, you read that right! These rollerball tips on the opposite ends of the brushes can be used day and night for the ultimate skin-soothing treatment. Designed to stimulate microcirculation, use these rollerball tips under your eyes before applying makeup to help wake up your skin. The zamac roller tip ensures the roller is always cool and refreshing. And yes, your new favorite powder brush has the rollerball tip on the end so it's literally at your fingertips every day. Let's meet the Big Boss.
About The Big Boss: The Best Powder Brush Out There
Make way, the Big Boss is here. The innovative cooling rollerball tip sculpts and depuffs so skin appears prepped and lifted before makeup application. Since it's right on the end of your powder brush, use the rollerball every morning in your routine to prep skin for makeup. 
Guys, the domed brush is *so* soft. The cruelty-free synthetic bristles mimic real hair and glides smoothly over the skin. The full fluffy brush has the ideal density to deliver a soft, diffused powder application that never looks heavy-handed, cakey, or overdone.
How to Use the Big Boss Powder Brush
Once you've aced your base with your OG beautyblender, Use the Big Boss powder brush with powder foundation, setting powder, bronzer, and even contour by squeezing the bristles together to create an angled shape. Then, apply powder to the tip of the bristles (tap off any excess) and sweep across your complexion. Use your favorite setting spray to lock in your product. Pro tip: Roll the cooling tip up and down on the neck to depuff and sculpt the jawline.
Like any makeup brush, weekly cleaning will keep it in pristine condition so you rarely have to replace your brush. Use our Liquid Blendercleanser to clean both your brushes and your beautyblender. It's gentle enough to be used daily but strong enough to break up grime and old makeup hidden in your tools.

Don't miss out on your new favorite powder brush and the rest of our incredible brush collection, The Detailers!