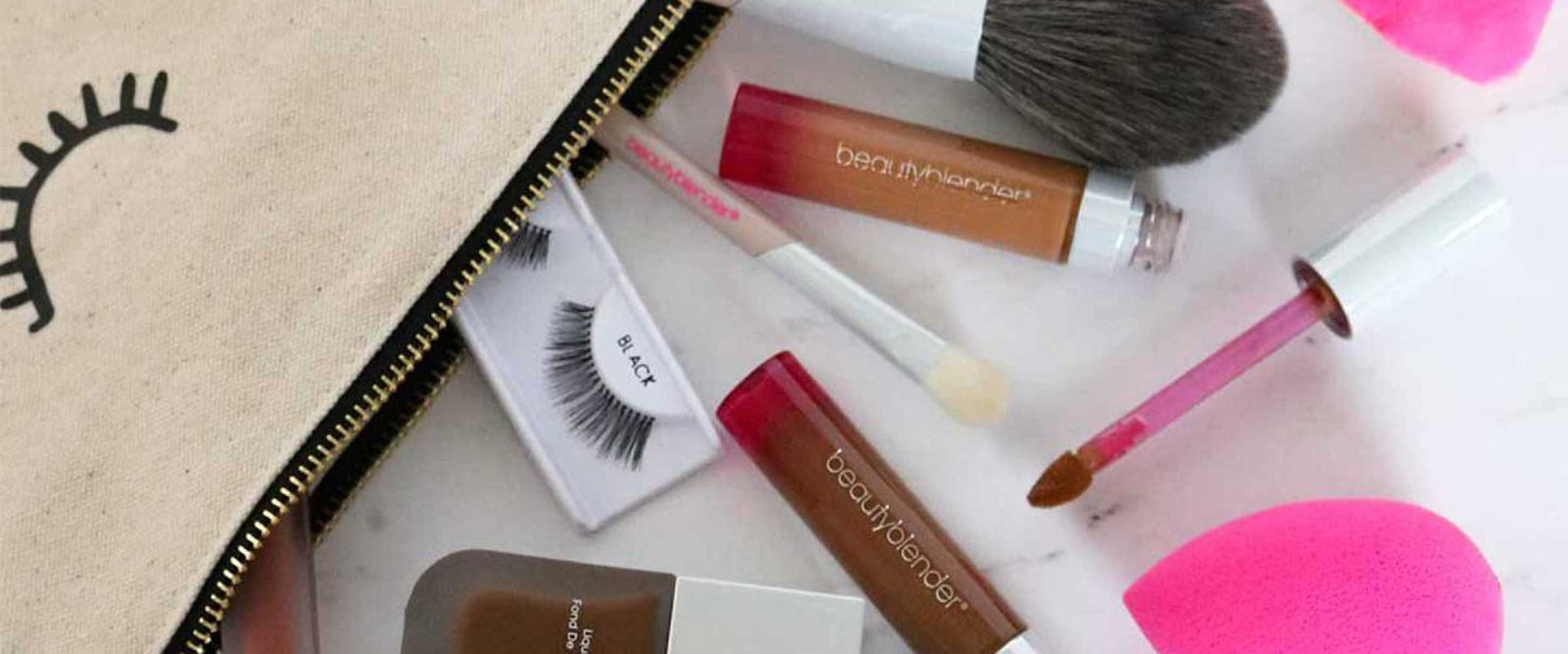 10 makeup tips for summer heat
No matter how tight your summer makeup game is, July will wear you down, honey. 
We've all been there. You turn out ALL the makeup tips for summer heat only to end up a makeup-slipping, mascara-dripping' hot mess — literally. We're talking Wicked-Witch levels of "I'm melting!" here, and that's a summer glow that doesn't work for anyone. 
But not to worry! We've reached allllll the way to the bottom of our bag of tricks to figure out how to apply makeup in summer for minimum sweat and maximum staying power. 
Summer makeup tip #1: Exfoliate
The best summer makeup takes a less-is-more approach. And the key to pulling off the au naturel look is giving your skin a little more TLC so you can use a little less product.
Start with exfoliation. Your skin sheds cells all the time, and that leaves a layer of dead cells on top that can make skin look dull and dry. Makeup artist Rachel Goodwin agrees:
"Exfoliating is also major. I have very sensitive skin. Some people use a physical scrub or washcloth with warm water, which can be great. Some people like acids... I like to make sure the skin is prepped and exfoliated at least 1-2x a week."
Simple as that! Add exfoliation to your routine twice a week and you'll be halfway to a perfect summer glow — before you even grab your makeup brush. 
Summer makeup tip #2: Hydrate & protect
The second step in how to keep makeup fresh in summer comes as no surprise: Safety first! Not only is it healthy to use SPF to protect your skin, but it also helps prevent wrinkles, aging and sunspots, which means you won't need to use as much corrective makeup going forward. Win-win! 
When you're figuring out how to apply makeup in summer, order is important. 
— Apply moisturizer first so it penetrates and hydrates skin as much as possible. This will allow makeup to go on smoothly.
— Next, apply sunscreen, and let it sink in for 1-2 minutes — even if your moisturizer or foundation contains SPF. While products with built-in SPF are great, you're likely not applying enough to get an
adequate level of protection
,

and they may wear off during the day. By layering sunscreen under foundation, you maximize protection and build a better base for your makeup. 
—Be sure your sunscreen is at least SPF 15 and ideally SPF 30. Most dermatologists and experts consider SPF 30 to be the best protection level because it blocks up to 97% of UVB rays — aka the super-nasty ones that cause sunburns and skin cancer. 
—Take your sunscreen with you. When you're in direct sunlight, you need to reapply every two hours, especially if you're swimming or sweating. 
Summer makeup tip #3: Prep with primer
If you're a veteran reader of The Blend, you know the next step of how to apply makeup in summer: Primer, baby! Primer is crucial to all the best summer makeup looks because it grips and extends the life of whatever you put on top of it. Obvs, we love that quality year-round, but it's especially key in humid summer months where makeup can easily slip 'n' slide by happy hour. 
To keep makeup fresh in summer, pick the right primer:
—If you have normal-to-dry skin, grab a primer which creates a subtle glow and gives you a hydrating base for foundation to glide over.
—If you have normal-to-oily skin, pick up The Leveler™ Pore Minimizing Primer. It's ultra-lightweight so it never feels cakey and it creates a ultra-smooth matte finish. And it comes in light and deep shades to give you a leg up on concealer and foundation. 
Finally, use one of our favorite primer makeup tips for summer heat: Apply it sparingly. For those of us who are prone to oily skin, too much primer can create an unnaturally matte look. If you notice your face looking flat, try using primer just on your T-Zone, the sides of your nose and your cheeks. 
Summer makeup tip #4: Go faint with foundation
If you're researching how to keep makeup fresh in summer, chances are you've already considered ditching full-coverage foundation. Valid! Rocking a baked and beaten face to the beach is a *pretty* suffocating scenario. But there are some ways to keep foundation in the rotation if you have one you just can't live without. 
—Choose liquid over cream. Liquid foundations tend to have textures that hold up well in hot and humid weather.
—If you need full coverage, opt for a matte foundation. A non-reflective, uniform base will give you more control over where you glow and glisten.
—Apply foundation on in light layers with a Beautyblender, spot-treating where you need coverage (dark spots, acne scars, under eyes, etc). 
If you're looking for a foundation that can do it all, look no further than BOUNCE Liquid Whip Foundation. Our weightless, buildable formula gives you a natural matte finish that wears for up to 24 hours. Apply it with a damp Beautyblender for the ultimate flawless foundation blend.
Summer makeup tip #5: Use concealer as foundation
A crucial makeup tip for summer heat is giving your concealer double duty. The best summer makeup is simple, and nothing is simpler than skipping foundation and going straight to concealer. 
You can get all the details in our concealer-as-foundation guide, but the gist of is these 4 steps:
—Grab one shade of concealer that matches your foundation (Concealer A) and one that's 1–2 shades lighter (Concealer B).
—Spot-treat with Concealer A.
—Brighten with Concealer B.
—Wet, bounce and blend your way to a clear complexion. 
The key to pulling this off: A high-quality, hydrating concealer. BOUNCE Airbrush Liquid Whip Concealer is silky-smooth, weightless and formulated with magically plumping hyaluronic acid. All those fancy words mean it can conceal, brighten and smooth in one step — dark circles and discoloration need not apply.
Summer makeup tip #6: Bounce on powder
Once you've got your base makeup laid down, you've gotta lock it down. You need to stop it from rubbing off, mixing with other products or getting oily as the day goes on. The best way to cancel shine but keep your glow? BOUNCE Soft Focus Gemstone Setting Powder. Airy and super-fine, BOUNCE Powder blurs imperfections and softens skin for a flashback-free complexion.
And here's where you need to unlock another secret of how to apply makeup in summer: Rather than brushing on powder, you're going to blot and bounce. We know — as religious users of the BIG BOSS Powder Brush, it's a hard pill to swallow! But in the summer, you're looking for as minimal an application as possible, especially if you need to reapply as the day goes on. 
Avoid a cakey complexion by using a Power Pocket Puff, which has a teardrop shape to chisel cheekbones, set makeup and more. It's double sided, with a soft plush pink side that can grab and deposit just the right amount of powder while the buffed suede side gently reblends makeup so it looks smooth and seamless.
Summer makeup tip #7: Round out with radiance 
To finish your natural summertime look, grab your favorite bronzer and Beautyblusher. The smaller size of the Beautyblusher is designed for cheekbones. Wet, squeeze and bounce your blusher into your product, then blot it on the back of your hand. Next, bounce your blusher along your temple, down toward one cheekbone and then to your jawline in a number 3 figure. Repeat on the other side.
Why are we bouncing instead of brushing? Glad you asked! The smaller size and aqua-activated™ material of Beauty.Blusher will give you a light, precise airbrushed application that brushes can't always match — exactly what you need to keep makeup fresh in summer.
Summer makeup tip #8: Line your lips
This summer makeup tip is simple: line those lips! Steam, sweat, sand and sun can all cause lipstick to smear, melt and run. So, start with a lip liner to keep color in place and you won't have to worry if you're giving off Joker vibes all day long. 
Summer makeup tip #9: Wear it waterproof 
Here's a time-honored trick for how to keep makeup fresh in summer: anything that can be waterproof should be. Most important are eyeliner and mascara. With heat radiating off of and onto your body at all times, eye makeup can get *NEEDY* — running here, there and everywhere, and always asking for another application. Waterproof eyeliner and mascara won't smear or run, no matter how many dips you take. 
Summer makeup tip 10: Blot your way to beautiful 
Blotting — IYKYK. All the pros who are experts in how to keep makeup fresh in summer swear by blotting papers. They work by removing excess oil without removing makeup. The one big drawback of blotting papers is that most are one-time use, which isn't great for the environment or your wallet. 
Enter Blotterazzi. Shaped to fit all contours of the face, Blotterazzi is the reusable alternative to traditional blotting papers. Used dry, the exclusive BB material helps re-texturize makeup and absorb excess oil and shine. Use it all over your face throughout the day, but also try it after applying lipstick to keep the color from bleeding. (The more you know.)
 
And don't just take our word for it! Take it from Jessica B.:
"I love Blotterazzi. It's thin and compact and does an impressive job keeping me from being oily in my T-zone. No more extra items in my purse; Now I have this and lipstick!" 
Thanks, Jess! And that's all she (and we) wrote, folks. 
Try these makeup tips for summer heat and then try out even more summer makeup ideas here.