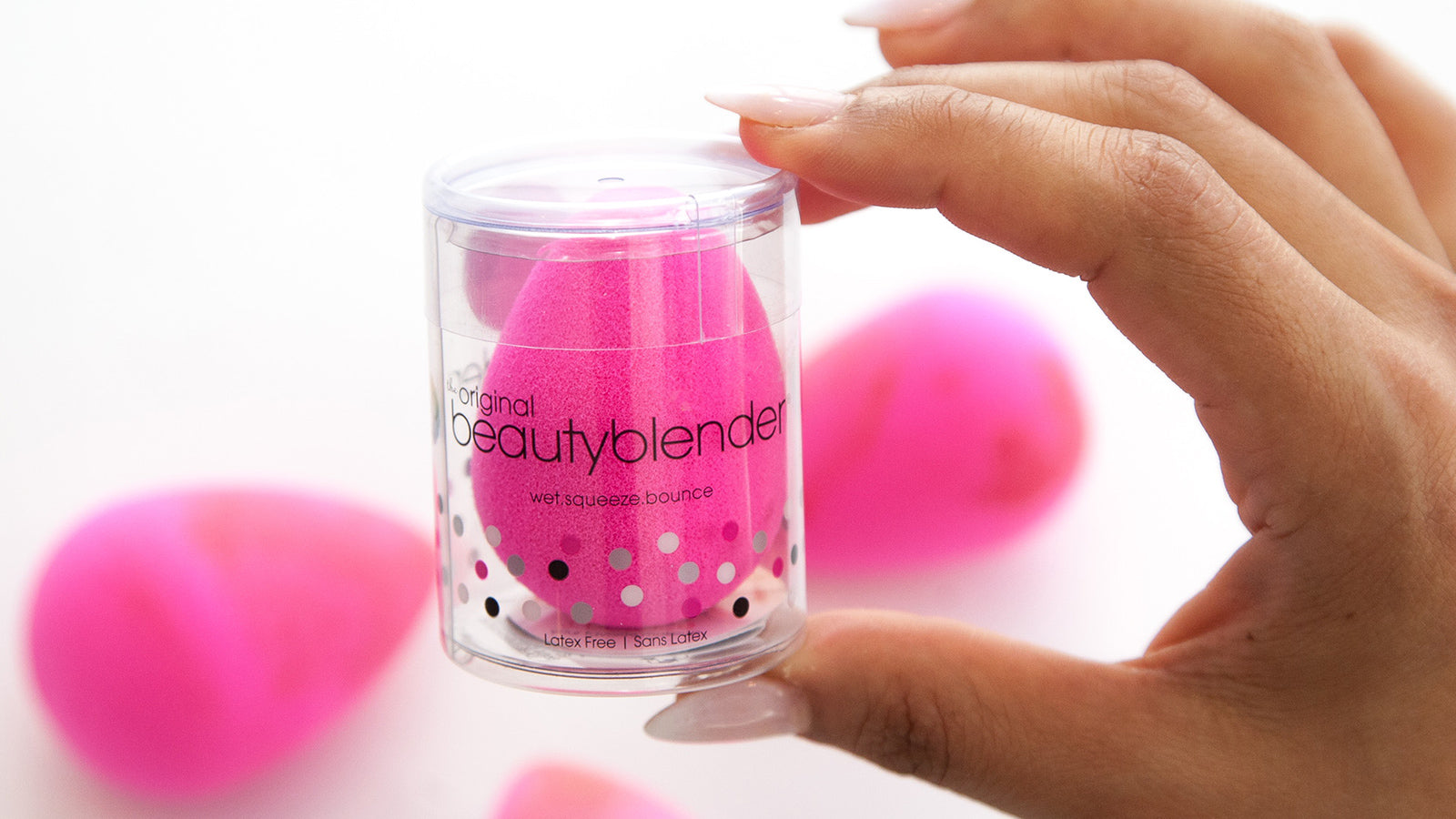 There's no better feeling than opening a fresh Beautyblender canister and seeing your precious new sponge in its purest form, am I right? No stains, no spots–just pure pink goodness.
But unfortunately, all good things must come to an end, and at some point, you'll want to replace your Beautyblender for a new one.
Luckily, there are a few things you can do to increase the longevity of your sponge before you recycle it–which leads us to the ultimate question: Refresh or Replace? Here are the signs to look for so you know when to replace your Beautyblender or if you just need a deep clean.

Give Your Beautyblender a Health Check
If you're thinking your BB is nearing the end of the road, it's time to do a health check. Typically, Beautyblenders last anywhere from 3 to 6 months, depending on how well you take care of it. A good way to think of it is by season. Once the weather changes and a new season comes in, give your sponge a check-up. It may have more life left in it than you think! 
Ask yourself, how dirty is it? Is it just stained, or are there nicks and tears too? Has it maintained its symmetrical egg figure, or is it slightly misshapen?
If you notice your sponge is misshapen, give it a good deep-clean before tossing it. Remember: clean tools, flawless application. You might notice your sponge bouncing even better after a good cleanse to get any leftover product out.
That's why we always recommend using a damp Beautyblender for minimal absorption–the goal is to get all of your precious product on your skin, not in your sponge!
Pro Tip: When you use a dry Beautyblender without consistent cleaning, it's more likely to absorb product and hold it within the sponge. Of course, you may not always be near a sink or have water on hand when you're touching up your makeup with a BB (hello, traveling beauty lovers!). That's why cleaning your sponge often to avoid grime and buildup is so important.
Once you wash out your old makeup sponge, you'll likely find that your sponge has got a little more life in her. Plus, regular cleansing can extend the life of your Beautyblender. 
REFRESH 
Our all-natural, vegan, Blendercleanser formulas gently remove grime and buildup while conditioning the exclusive foam with coconut and sustainable palm oils. The key to keeping your sponge in pristine condition is to cleanse it every day. We know, we know–it seems like a daunting task. We hardly even have time to make our morning coffee (jk, we always have time for coffee).  Luckily, perfection is not the goal here. An everyday cleanse is ideal, but it's okay if you miss a day or two. Just remember to do a deep clean whenever you get the chance for ultimate freshness.
If you want to multitask, throw a bunch of blenders in a bath with Liquid Blendercleanser.  You'll come back to pristine blenders. If you're a jet setter, try the travel-friendly solid Blendercleanser Solid, which allows you to scrub your sponge against a solid cleaning agent. If you're into long-wear formulas and have stubborn stains, try Blendercleanser Charcoal- this formula uses charcoal to draw out stains like a magnet. 
Last but not least, our InstaClean spray is a fast-drying spot cleaner for those busy days when you don't have time for a full cleanse. It's like a dry shampoo for your hair–it dries fast and allows you to switch from one product to the next for a true-to-color application every time. All of our cleansers also work great for makeup brushes if you want to double down on cleaning your tools. 
Pro Tip: To increase the longevity of your sponge in addition to cleaning, try to keep it separate from other makeup products in your bag. Our Blender Defender is your blender's new BFF. This portable, shatterproof vented travel case is perfect for keeping your sponge protected from other products in your bag while also letting it breathe. Your grime-free BB will thank you!
RECYCLE 
A sponge with nicks and tears can still be used, but know that it's close to the end of its life. We know, RIP.
The goal is to keep the bouncy, cushy softness of your sponge for as long as possible for the ultimate bounce factor and an even application. It's the bounce that gives that flawless, airbrushed finish we all know and love. If you've been using the same sponge for a while and notice that it's not as squishy or pillowy as it once was after cleansing, it might be time to toss it.
Don't forget–Beautyblenders are recyclable, as well as the canister it comes in! So when the time comes, make sure you recycle your sponge.
Read more: Did You Know You Can Recycle Your Beautyblender?