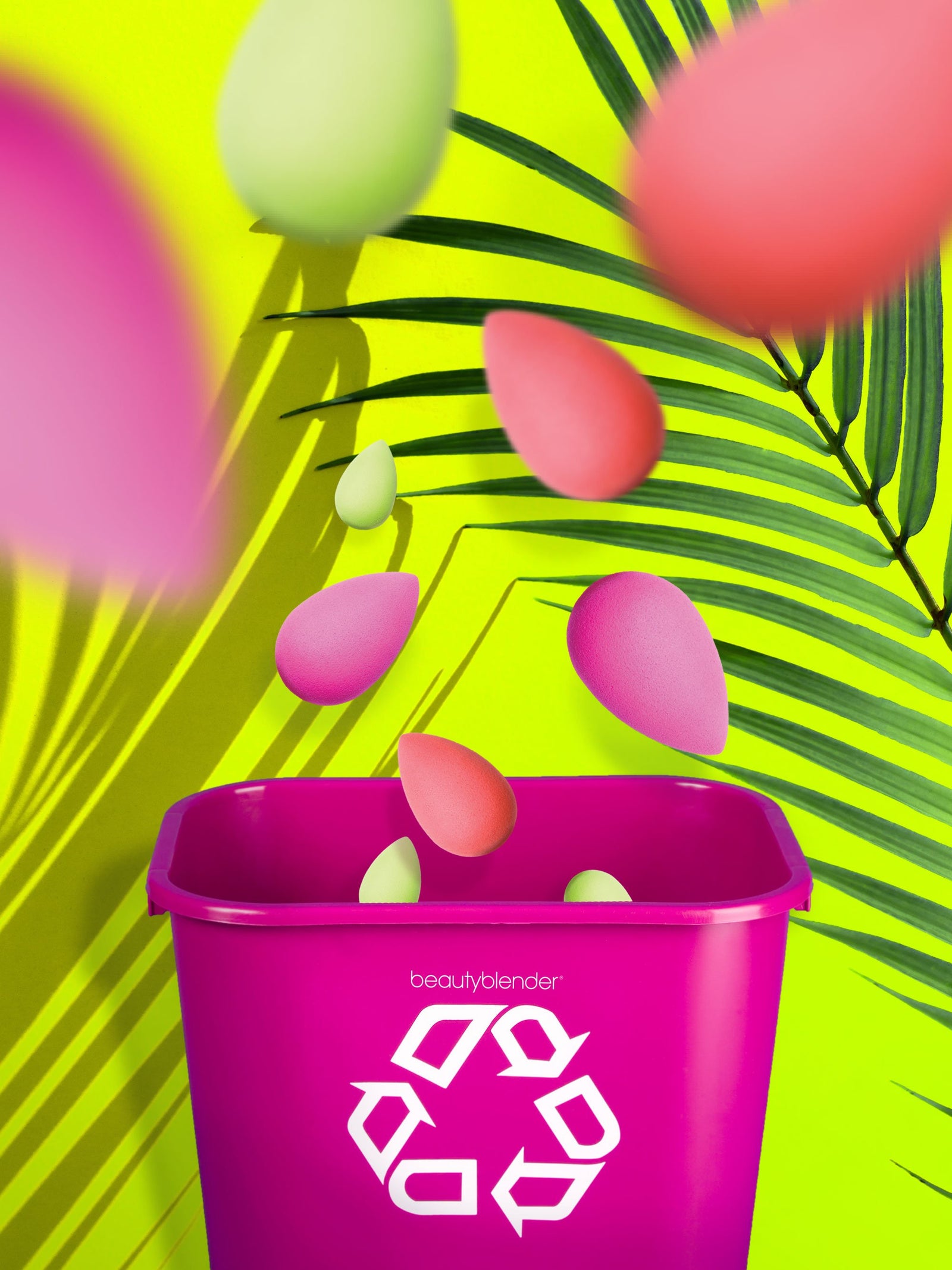 Did you know you can recycle your Beautyblender and the canister it comes in? If you've been looking for realistic, applicable ways to make a positive impact on the environment, recycling your Beautyblender is a great place to start!
At Beautyblender, we want to do our part in recycling initiatives. That's why we've made the Beautyblender recyclable. Our aqua-activated™ sponge is made from 100% recyclable materials and non-toxic, water-soluble dyes. That's right, you can feel good walking out of the house each morning knowing that your makeup is not only on-point but eco-friendly. That's a win-win we all can embrace.
The Year of Sustainable Makeup
Let's face it: the beauty industry hasn't always had a reputation for being eco-friendly. With so many products and makeup tools available at our fingertips, we've often ignored how they may impact our planet. Just think about how many new products you try each month.
Whether you're ordering them online or buying them in stores, it's always exciting to unbox your new purchases and start experimenting–but there's often a ton of excess packaging. We get so caught up in the glam that we don't realize just how much paper and plastic we're tossing into the trash can.
However, it feels as though 2019 is the year of sustainability (it's about time). Brands all over the globe like Starbucks, Whole Foods, and Kroger are leading the charge and phasing out of plastic bags to embrace a more green mindset. Beauty enthusiasts everywhere are on the hunt for high-quality sustainable products and makeup tools.
How to Recycle Your Beautyblender
One of the best benefits of the Beautyblender is that it's meant to be used day after day and only needs to be replaced four times a year. It's best to clean your blender daily after each use with our eco-friendly Liquid Blendercleanser®, which helps to break up old makeup and grime and maintain the durability of the blender. The cleanser solution features a soothing soy-based formula with a calming lavender scent that breaks down easily on the Beautyblender. 
However, even after cleansing the sponge daily, we recommend replacing your Beautyblender about every three months for best results. This way, you'll be able to start fresh with a new sponge every season and get a flawless finish from your blender. When you're ready to say goodbye, think twice before tossing it in your bathroom trash can.
Although throwing it away may seem convenient, recycling your Beautyblender is just as easy. Here's a quick tip to help you remember to recycle your old makeup and beauty products: Place a second bin in your bathroom for recyclables only. You'll be more inclined to recycle if you have an easy way to do so.
Recycling Your Beautyblender Packaging
All of our canisters are also 100% recyclable! Whether you're unwrapping your Beautyblender, blusher, or micro mini, you can rest assured that your packaging can be recycled. When you're ready to dispose of your canister, just toss it into your recycling bin (here's where that second bin in the bathroom comes in handy). 
Each of our products is marked with the recycling symbol as well for an easy reminder. We strive to minimize our packaging and make it possible so that you can recycle all of our product packagings in an effort to preserve mother earth. We know there's room for improvement, and we promise to continue our efforts. Wet, squeeze, bounce, then reduce, reuse, recycle!