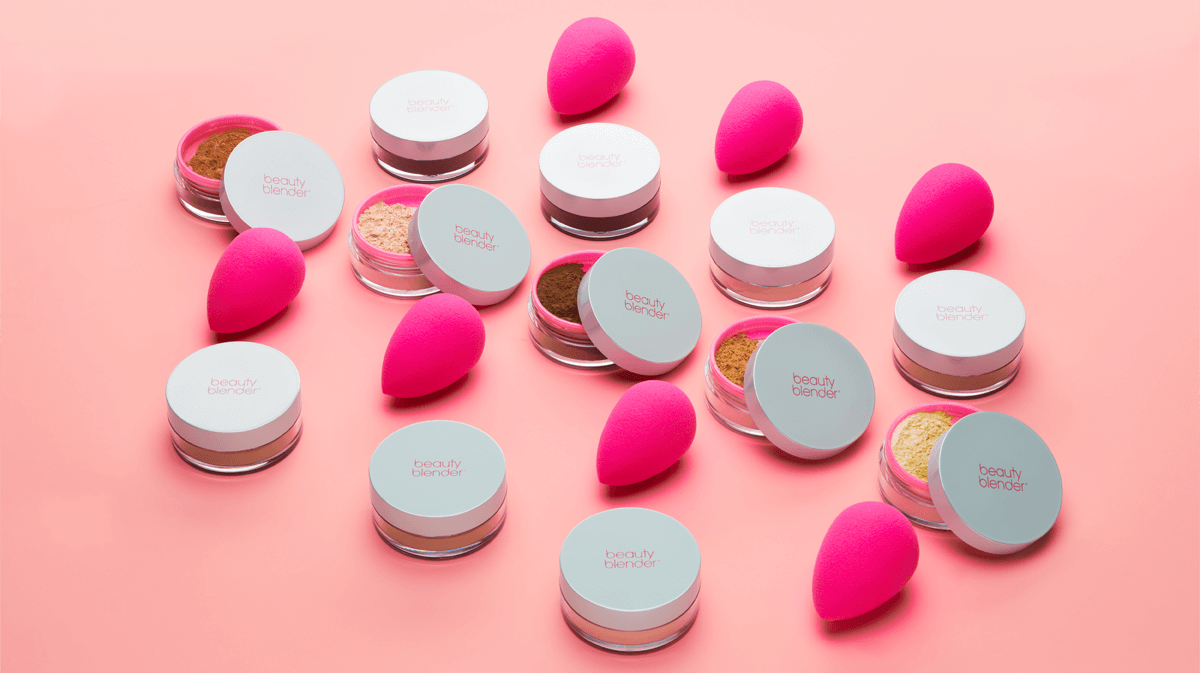 This just in: Setting powder is the secret weapon most makeup lovers are missing.
While we all know to reach for pressed powder to dull shine or bronzer to brighten, setting powder is a blind spot for most of us. Well, no more, baby!
Today we're walking you through the wonder that is setting powder — AND we're breaking down exactly what you do and don't want in your setting powder.
What is setting powder?
Setting powders are products whose *whole* job is to keep the makeup you put on in place. The best setting powder will help you ensure your makeup is slide-proof, sweat-proof and that you look as flawless in the afternoon and evening as you do when you apply your makeup in the morning. 
Why does setting powder work?
Layering wet and dry products creates a bond which makes your makeup last longer. If you apply setting powder (dry) right after concealer and/or foundation (wet), the products will fuse together. That's exactly what you want because that bond will seal your makeup into all the spots you need it — and keep it from slipping into any spots you don't.
What do you want in your setting powder?
Now that we've answered the obvious questions like 'what is setting powder,' let's get down to brass tacks. There are hundreds of different setting powders, from blurring powder to those that claim to be the best pore minimizing powder. But how do you know what's the best setting powder for you?
Make sure it checks these 5 boxes, which — spoiler alert — our BOUNCE Soft Focus Gemstone Setting Powder totally does 🥳.
Setting powder pro #1: Blurring effects
Blurring powder is clutch for concealing problem areas like fine lines, pores and wrinkles.
The best pore minimizing powder is one that is:
Formulated to give your skin a flawless finish, even under harsh light and even in spots where your skin is patchy or uneven.
— Super finely milled, or ground into the smallest, most delicate particles possible. The finer the mill, the more seamlessly your setting powder will melt into your skin and create an airbrushed finish.
— Packed with blurring, softening and brightening ingredients, such as:
- Rose quartz to smooth wrinkles and improve elasticity
- Ruby to create a warm, reflective complexion 
- Aloe vera to moisturize and soothe
- Freshwater pearls for a soft, iridescent glow
Natch, BOUNCE Setting Powder contains all of the above 😉.
Setting powder pro #2: Flashback-free
Have you ever looked at a photo of yourself and seen a chalky-white cast on your skin? That, friends, is the tricky traitor known as FLASHBACK!
Flashback is caused by certain light-reflecting ingredients in your makeup or beauty products. When the bright flash of a camera meets those products, it bounces off your skin back into the camera lens. That creates a whitish glow that can leave you looking a little less Covergirl and a little more Casper. And nobody is in the market for that look.
What ingredients are to blame? Sadly, some that we love! Sunscreen, sunblock and any product with SPF can cause flashback because sun protection needs those reflective properties to bounce the sun's harmful rays off of your skin. The same is true of setting powders and sprays that use light-reflecting ingredients, such as titanium dioxide or zinc oxide, to brighten and set off your complexion.
That's where flashback-free setting powder comes in. When you use a powder like BOUNCE after those products with SPF, the light-reflecting gemstones melt into skin. That creates a prism-like effect that won't bounce back into the camera — thanks to sustainably sourced micas. What are micas? Glad you asked! Mica is a naturally occurring mineral dust that creates a subtle shimmer, not a flashy flare. And because mica helps absorb oil, it's a crucial ingredient when you're looking to cancel your shine but keep your glow.
Setting powder pro #3: Loose particles
There was a time, not long ago, when all powder came in a compact. That was all... fine — if you were in the market for something with a heavier consistency and more oils that could cover blemishes all on its own. But today? "Heavy," "cakey" and "oily" are all words we want to stay away from when it comes to powder, which is why you should always choose a setting powder that contains finely milled, loose particles. Once you've got that, it's all about application.
The best way to apply setting powder is to use a POWER POCKET Dual Sided Powder Puff. Pressing your powder into skin instead of brushing prevents wet products from moving, and it's ideal for smoothing scars and blurring blemishes. In general, a puff will give you a soft, diffused, all-over finish — especially if you use one with a silicone filler like ours that gives you just enough bounce with each press.
Try pressing setting powder:
— Under your eyes
— Along the sides of your nose
— On your forehead and chin, and
— Anywhere else that grease tends to gather.
If you're looking for a more precise application, grab the BIG BOSS™ Powder Brush & Cooling Roller. It's perfect for baking your makeup or for sweeping setting powder on extra-oily spots like the sides of your nose or your T-Zone.
Finally, for those of you who — like us — believe there's NOTHING that can't be done with a Beautyblender, simply wet, squeeze and bounce your blender on the mesh trampoline that comes with BOUNCE powder to pick up a few loose particles and lightly pat all over skin.
Setting powder pro #4: Talc-free
This is a quick and (not so) dirty one: You want a setting powder that's talc-free.
Why? Did you know that the minerals talc and asbestos form together? It's true, and it means that sometimes asbestos ends up in makeup made with talc because of poor regulations. That's a big no from us, dog, since asbestos can cause everything from lung cancer to mesothelioma.
Luckily, all you have to do to ensure your setting powder is talc-free is to check the label (or just buy BOUNCE 🤷🏾‍♀️).
Setting powder pro #5: Hyaluronic acid
As we are wont to do here at Beautyblender, we've saved the best for last, and today our last is hyaluronic acid.
ICYMI, hyaluronic acid:
— Is a substance that exists naturally in your body as a lubricant in joints and tissues
— Is great when used on skin because it helps healing and replenishes moisture levels, which
— Keeps skin from looking too flat or too dewy.
One gram of hyaluronic acid can hold more than 25 cups of water, so you can rest assured you are Hydrated-with-a-capital-H if your products are fortified with H.A. Most setting powders won't take this extra step, but hey — we're not sorry to be known as a *little* extra when it comes to the perfect complexion 😜.
Which BOUNCE setting powder is right for you?
BOUNCE Soft Focus Gemstone Setting Powder comes in five translucent shades:
— Buff – Light range
— Canary – Brightening
— Topaz – Medium range
— Nutmeg – Tan range
— Chocolate – Deep range
Can't decide which one to try? Go with Canary. We formulated it to work with and brighten every skin tone because who doesn't like foolproof?!