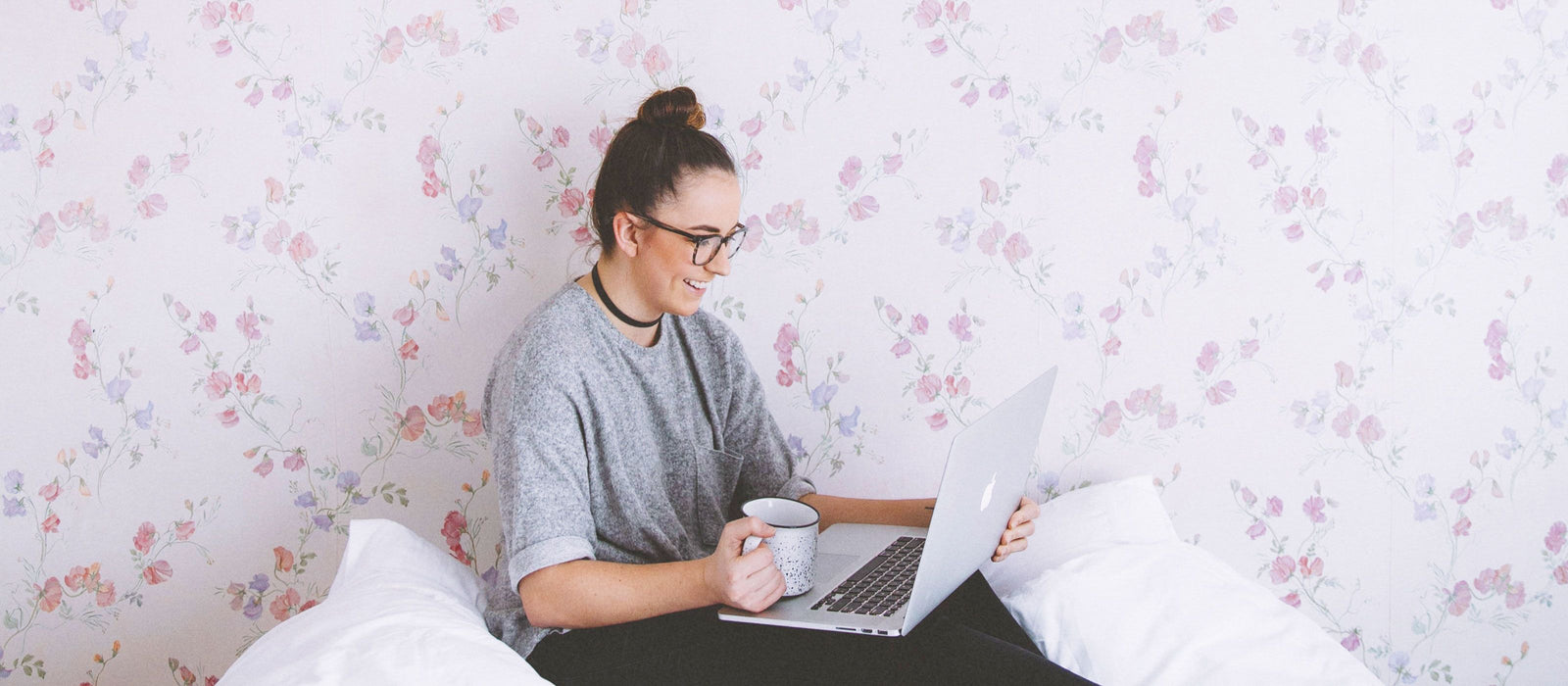 Has the appeal of working in your PJs worn off? Us too. A few weeks into social distancing, everyone's feeling the strain, no matter how much we enjoy holding conference calls while wearing fuzzy slippers. 
But don't lose heart! You are doing the right thing, and we love seeing all the creative ways you're making the most of this the time at home. If there's one positive thing that's come out of social distancing, it's that we know Beautyblender friends and fans will find a way to stay connected, and we love that. 
One other thing we know: the way we look affects how we feel. Your personal style and presentation matter to your mood, even if people can only see your top half on Zoom. Here are 5 socially-distant steps to take right now to keep you feeling and looking good. 
1. Stay So Fresh and So Clean, Clean.
All Beautyblender pros know step one of any routine: clean! It's never been more important to keep that up, especially since weird schedules and extra stress can lead to all kinds of skin problems, from dehydration to breakouts. 
Our specialty blender and brush cleansers protect against 99.7% of harmful germs & bacterias, and they're now available in mini sizes and mini prices! Learn how to clean makeup brushes and sponges the right way. Taking care of your Beautyblender helps it last longer so get cleansin'! 
2. Sit up! 
Sorry for scaring you, but remember those pesky breakouts we mentioned before? Many of us are seeing a blemish bump right now, and part of that's because we're living, working and eating in unusual places and positions.
Who among us hasn't rested our head — aka face — in our hands? Even the most posture-perfect among us falls prey. Not only is that against the cardinal rules of coronavirus prevention, it also makes your skin greasy and may rub off all that protective SPF work you're doing before your daily walk around the block. 
Combat that three ways:
- Put a "Sit up!" Post-It in the corner of your screens. Sounds silly. Totally works. 
- Learn how to take care of oily skin. If you're already prone to oily skin, take a few minutes to learn how to care for it. Whether it's washing your face twice a day or finding the right moisturizer, we've got you covered — literally. 
- Cover any breakouts with concealer that's good for your skin. Bounce Airbrush Liquid Whip Concealer is formulated for lightweight, full coverage and includes hyaluronic acid, which locks in moisture and plumps skin for a bouncy finish. It also happens to create a flawless finish on camera, which we could all use right now.
3. Stay Strong with Structure.
Look, we all enjoy relaxing our routine from time to time, but social distancing can make it easy to take that laid-back attitude too far. Our brains and bodies need structure, so make sure you're dividing your days into 3 parts
1. Work
2. Rest
3. Sleep
Ideally, everyone would get 8 hours of each, but times are tough and stuff is weird, so just do your best (and that may look different everyday). And remember: work can be anything productive you can do right now, from cleaning out your fridge and FaceTiming with family members to reorganizing your makeup drawer. 
Whatever you do, be sure you don't skip your usual skincare routine. 
4. Remember Screen Time = Skin Time.
For most of us, quarantine means our screen time is at an all-time high. Not only is that exhausting for our brains, but all that extra face time can be really tough on your skin. Blue light can cause damage and even premature aging.
How do you fix it? Simple: Every morning, use your Selfie Shield Primer to protect against UVA, UVB, and HEV light. Selfie Shield:
- Is an ultra-light dry oil, so it's great for all skin types
- Sinks into the skin and never feels heavy or greasy
- Is formulated with antioxidants vitamin C and E, which help protect and brighten the face
5. Feel Better Together with #BBHomeTogether.
People are doing all kinds of fun stuff to make social distance bearable, from quaran-toning to challenging each other to lewk-offs to see who's really the master of contouring. Naturally, we wanted to get in on the action, which is why we're hosting weekly programming with #BBHomeTogether. 
Follow us on Instagram to see what's coming up this week. You'll find stuff like:
- Virtual workouts including yoga, ab-sculpting and bootcamp
- Master classes with beauty editors
- Tutorials for everything from cooking to facial cleansing
- Q&A with registered dietitians
- Celeb content with bad*** ladies like Regina Hall 
We even had a virtual bake-off between Beautyblender founder Rea Ann Silva and Jerrod Blandino. I mean, we've all gotta eat right?
Have any ideas about other fun content you'd like to see from us? Slide into our DMs! And stay safe out there.