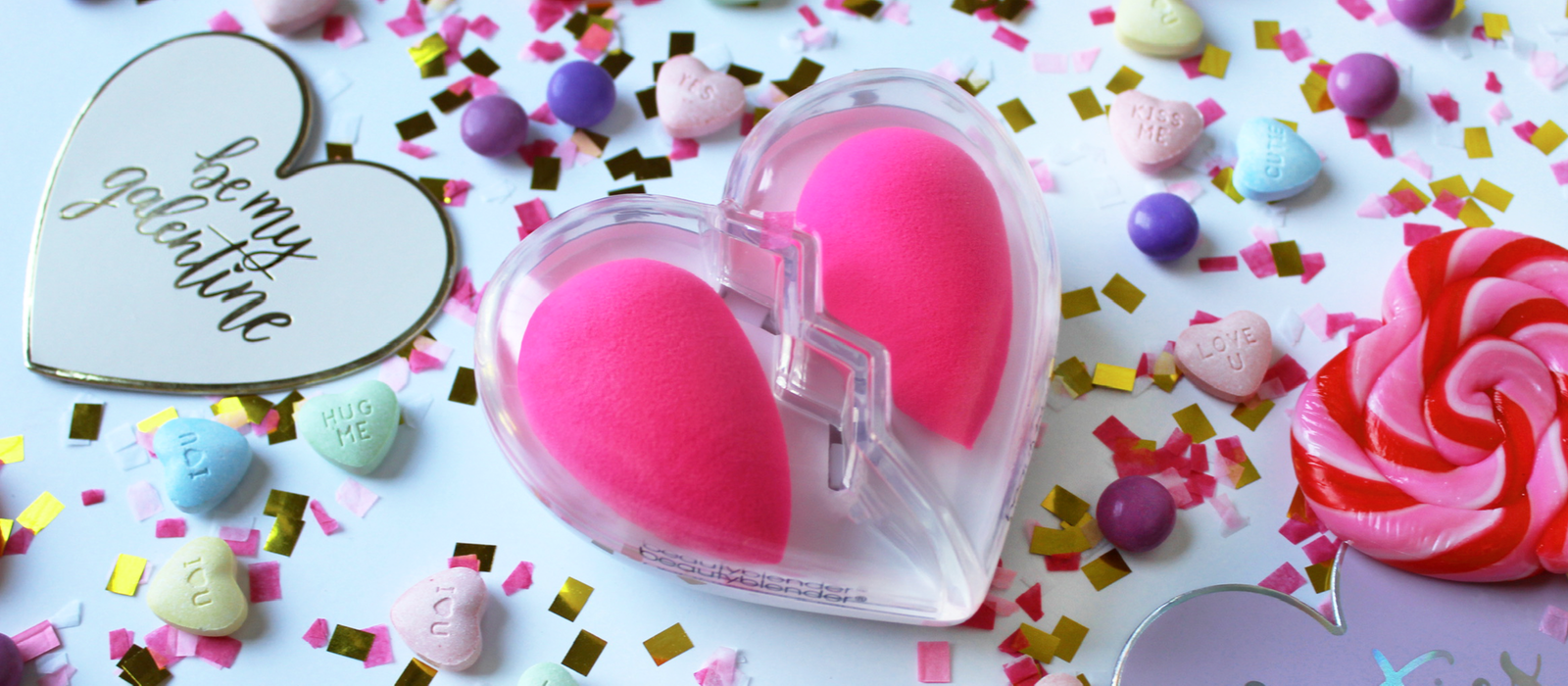 Whether you've got a hot date lined up or you're single AF, you deserve to #treatyoself to a glam Valentine's Day makeup look. If there's one night of the year to pull out all the stops, it's V-Day. Rock a red lip like it's nobody's business. Highlight until you're glowing like a disco ball. You do you, bb, you deserve to look and feel as beautiful as you are! Check out our fave celeb-inspired Valentine's Day makeup looks for the ultimate V-day glow up. After all, these chocolates ain't gonna eat themselves… 
Go Big & Bold
The best thing about Valentine's Day makeup is that it's totes okay to go big, bright, and bold. First things first – get that skin glowing and ace your base. Treat yourself to a face mask and do a deep facial cleanse to start your V-day evening. Then, use a Beautyblender to blend in moisturizer, primer, and foundation. Don't forget to wet your sponge – that's the secret to getting a natural finish that makes foundation look like a second skin. Then it's time for the fun part: contouring. Use your fave bronzer (or foundation a shade darker than your usual color) and start blending. It will all be worth it when you get that *glowing* Instapic. And don't forget to finish everything off with a classic red lip. With this glam look, you might as well be adopted into the Kardashian-Jenner clan.
Natural Glow
If a dramatic full-glam look isn't your thing. No worries – channeling a more natural and minimalistic look for your Valentine's Day makeup is a bold move on its own. Let your natural beauty shine with a little bit of concealer and a lightly-layered foundation look. Add some peachy powder blush for a subtle splash of color on the cheeks, along with a clear, dewy highlighter for added luminosity. When it comes to eye makeup, go with earthy eyeshadow tones like brown, pink, and gold and top it off with a generous amount of mascara. Tie everything together with a nude lip or a gloss that isn't too far off from your natural color. We're getting major Sophie Turner vibes with this look and we're into it – and your date will be too. 
Subtle Sultry
If there's any day of the year to bring out a sultry, smokey look, it's for your Valentine's Day makeup look. A sultry look is all about the eyes. Use an eyeshadow that highlights your eye color. Green-eyed folks, go for the purples. Brown-eyed and hazel-eyed friends, opt for something in the cool blue or green family. Blue-eyed babes, play around with earthy gold tones or take it a step further with pinks or oranges. Don't skimp on eyeliner, either – let those eyes take center stage. Once you've mastered your eye makeup, go for a glossy berry-colored lip. If you need inspo, look no further than the ultimate beauty icon that is Rihanna. You'll be shining bright like a diamond in no time. 
And there you have it, folks – 3 amazing celeb-inspired looks to help you nail your Valentine's Day makeup. So whether you're dressing to the nines for a fancy dinner date with your boo, having a fun Galentine's day with the besties, or just doing a little *solo* Netflix and chill, we've got you covered with these fun looks to help you feel your best. 
Read more: Grammys 2020 Red Carpet with Beautyblender's Latest and Greatest