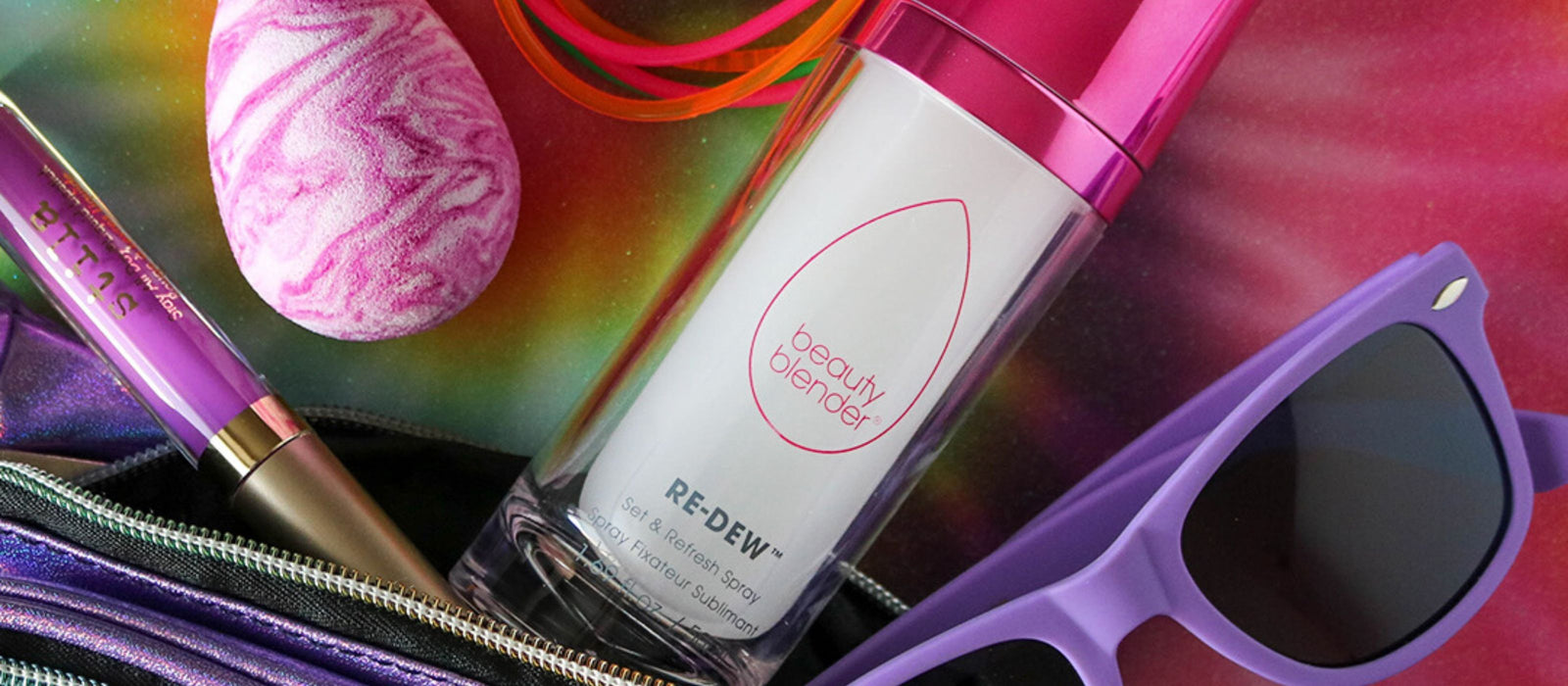 Whether you're traveling for vacay or just heading into the office, we all have VIP travel makeup products we can't leave home without. Some products are naturally the perfect size for easily traveling (Hello, Beautyblender!). But we all have a few products we wish we could take with us everywhere, like those fancy eyeshadow palettes or big foundation bottles that aren't exactly purse-friendly. Luckily, we've got a few ideas for your best travel makeup products so you can get that #lewk anywhere.
Travel makeup must #1: Mask
When it comes to travel today, masks matter. Nothing ruins a good time faster than pulling up to the airport, train station or roadside shop only to realize you left your mask at home. Get ahead of the game! Put a couple of BB's safe, chic masks in your cart now. 
Keep it clean with classic black, jazz it up with sequins, or get the latest in facemask fashion with a mask-and-chain set that we collabed with Pretty Connected on. For extra protection, grab a transparent face shield to help you stay safe while showing off that flawless face.
Travel makeup must #2: Primer
Whether you're on the road or in the air, skin can easily get dehydrated, and the antidote is primer. With Beautyblender's suite of primers, you get high-performance silicones that glide over skin to create a humidity-proof barrier. That will help minimize shine and lock makeup in place for all day (or all night!) wear. And unlike other mattifying primers, the light texture never feels suffocating, which is lifesaving on those long travel days.  
Travel makeup must #3: Blusher & Micro Mini
While our OG Beautyblender and brand-new Bio Pure sponges are *totes* travel-sized, sometimes you need extra space in your case for a few extra glosses or the perfect smokey shadow. No judgment here! It's been a minute since you got away, okay? It's 100% your right to prioritize some extra shine and sparkle. Luckily, you can scale down operations easily without sacrificing your bounce by packing your Beauty.blusher or Micro Mini instead of the full-sized BB. 
Beautyblusher is ideal for the apples of your cheeks, but did you know it can also be used to lay a flawless foundation? Sho Nuff. It also happens to be the ideal size and shape for creating cheek contours with bronzer, or for giving you the perfect flush with blush. Still too big for your bag? Swap it out for a Micro Mini. Small in size but big in skillz, Micro Mini is excellent at spot concealing — around the nose, under eyes, on the chin or cheeks — and it's precise enough to get the eyeshadow job done too.
Travel makeup must #4: BOUNCE Concealer & Foundation
When it comes to travel makeup products, packaging is a top priority. There's nothing sadder than getting through security only to be told your beloved concealer or foundation are over the 3.4-fl. oz. TSA limit and will not be making the trip with you. As always, BOUNCE has your back, baby.  

First, you've got BOUNCE Liquid Whip Foundation, which as we all know is weightless, buildable and full-coverage. That means it does the work of several products you no longer need to pack. Not only does it come in 40 shades, but it ALSO happens to come in a sleek, 1-fl. oz. package that's airport- and road trip-approved AND has its own blending surface built in, which you can use for everything from primers to serums to sunscreens. 

Next up on the packaging podium is BOUNCE Airbrush Liquid Whip Concealer. This silky-smooth formula is designed to conceal, brighten, smooth and contour in one swipe. Best of all for travel: Its applicator is a teeny, tiny Beautyblender! The bigger flat side is great for undereye application, the tip is precise enough to spot treat, and the rounded side can contour, highlight and pretty much just do anything else you need her to. She's a true travel makeup secret weapon (though you should def not use those words to describe her at the airport).
Travel makeup must #5: BOUNCE Powder
When you're on the move, setting your look is essential. Enter BOUNCE Soft Focus Gemstone Setting Powder, the airiest, most hydrating powder on the block. Its epic blend of rose quartz, hyaluronic acid, ruby, sea minerals, aloe vera and freshwater pearls help blur and soften skin. The superfine texture keeps you looking refreshed for all-day travel or refined for a night out on the town once you get where you're going. 
Travel makeup must #6: Brushes
As we mentioned, our queen, the OG Beautyblender, can do a heck of a lot on her own. If you've never tried doing your full face with one, your next trip is the perfect time. But sometimes, when you've got a fun new product like BOUNCE Gemstone Powder to set off, you've gotta  have a state-of-the-art brush for the perfect application. 
Our brush collection, The Detailers, is packed with the best makeup brushes in the game, and the BIG BOSS is perfect to start with for your BOUNCE powder. Can't decide? Check out our Entourage 5-piece brush set, which happens to come in an *adorbs* travel bag so you can take it with you anywhere. 
Bonus: Most of our brushes have cooling rollerball tips on the ends to help rejuvenate tired skin — aka, exactly what you need on those jet-lagged mornings. Now, you also don't have to lug a facial roller around with you! 
Travel makeup must #7: Shinelighter
Traveling light is no reason to lose your shine! The key to keeping your signature glow on-the-go is finding one product that can do many jobs when it comes to brightening, illuminating and generally giving you that classy sparkle. Enter Glass Glow Shinelighter, which offers tasteful illumination without the sticky texture in an airplane-friendly 0.4-fl. oz. tube. Apply and blend with your Micro Mini, and bounce along with the highlighted areas shown below. Let the light do the rest!
Travel makeup must #8: Setting Spray
Setting and refreshing is THE best way to feel fresh throughout your trip. Re-Dew Set & Refresh Spray does both, keeping your makeup intact while nourishing your skin at the same time. White birch, hyaluronic acid, silk extract and probiotics soothe and brighten skin, and they boost longevity and radiance, all in a pocket-sized, 1.69 fl. oz. package. One spritz of Re-Dew makes dry patches and dullness a thing of the past. Use it post-blend and all day, baby.
Travel makeup must #9: Cleansers
Keeping your tools clean is crucial to any look, and traveling is no exception. Since the Beautyblender is so compact and easy to take with you on the go, we wanted to make a cleanser that's just as travel-friendly. Think of Instaclean™, our waterless instant cleanser, as dry shampoo for your Beautyblender. No worries if you don't have time for a full cleanse. 
Instaclean allows you to switch from one product to the next for a true-to-color application every time — from foundation to blush and everything in between. Plus, it's only 2 oz., so it fits perfectly in your bag or suitcase. And if you want a cleanser that takes up even less space, our Blendercleanser® can fit in the palm of your hand, and since it's liquid-free, it's TSA-approved.
Travel makeup must #10: Blender Defender
Once your BB is clean, give it a little extra protection in your makeup bag. Blender Defender is your Beautyblender's new home away from home. This portable, shatterproof case makes it super easy to store or carry your BB on-the-go — while protecting it from grime and germs that may be floating around your other makeup products. Plus, it can hold two Beautyblenders! 
And if you wanna get REALLY fancy, check out our All That Glitters Blend & Defend Kit with a translucent glitter Blender Defender case (yes, plz). Not to mention, it comes with TWO blenders (count 'em, two!). 

And there you have it folks: The ultimate list of our top travel makeup products. Don't forget to check out some of our favorite on-the-go looks for those busy days.