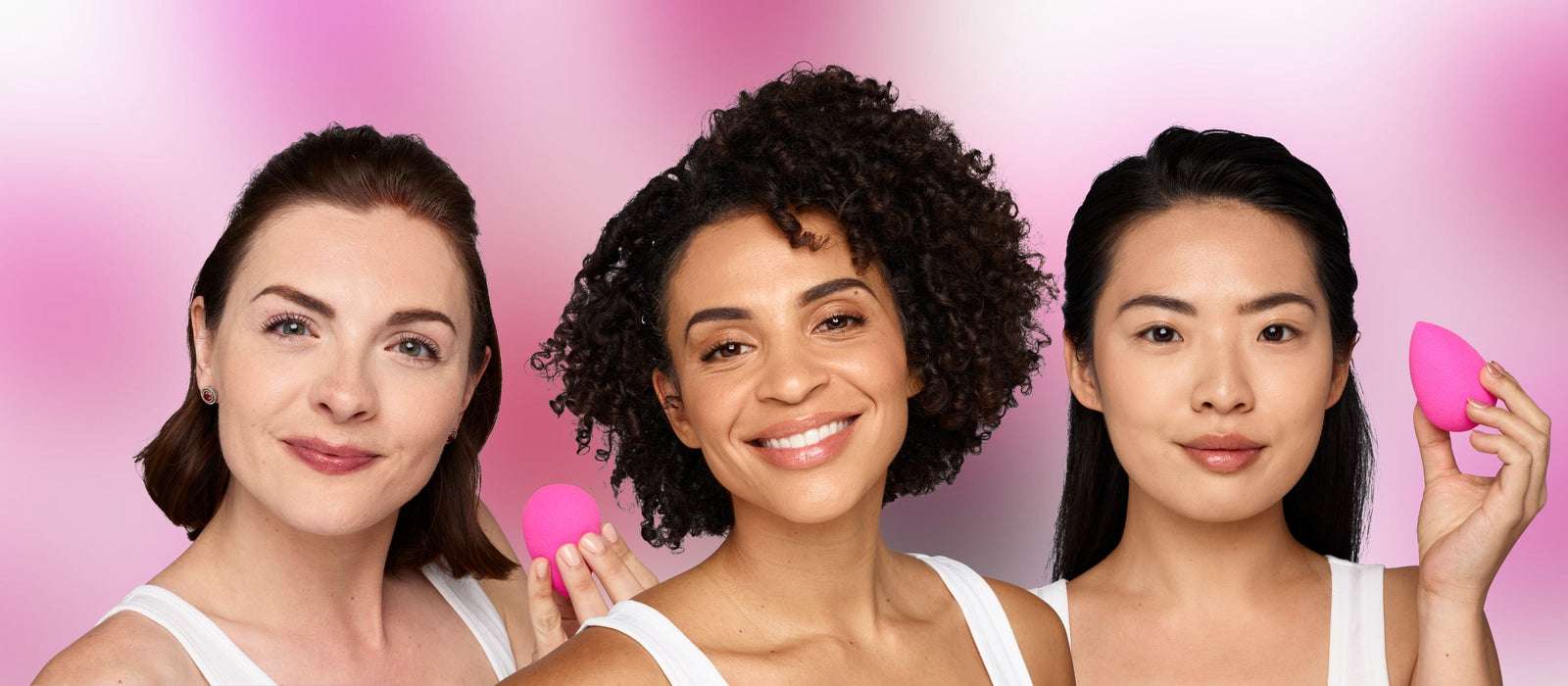 Here's the thing about acne: No one wants to deal with it, but most of us will. Did you know 85% of us have to start worrying about how to cover up acne at age 12? Typically that slows down around age 25, but guess what: It doesn't even stop there! More than half of us will experience acne as adults. While that is supremely annoying, it doesn't have to get you down.

Acne is a normal part of life, and it's nothing to be ashamed of. But if you've got big plans, or if you just want to cover up those pesky pimples before you start your day, there are a few key ways to combat acne. We've tried every trick under the sun to hide breakouts, and we've emerged victorious.
Here's how to cover up acne like a pro
First, take some time to wash your tools. We cannot stress this enough. Dirty makeup tools could be the reason you're breaking out in the first place! Do your face a favor and try to clean your brushes and Beautyblenders weekly at the very least (though we really like to wash our blenders before every use). Just remember: Start your day with clean tools; end your day with a clean face.

Now, let's break down how to cover up acne down by enemy type. No matter your foe, start with a clean, moisturized, dry face — emphasis on the dry.
Whitehead Wars
For whiteheads, you're going to need strong concealer. Traditionally, this type of concealer has come in a pot or tube — wand concealer just wouldn't cut it for this battle. Why? Because the thinner and wetter a concealer is, the harder it is to make it stick to a blemish. But there's exciting news on that front: BOUNCE Airbrush Liquid Whip Concealer can defeat all enemies.

No matter what you use, the steps are the same:
— Select your concealer, then use either your favorite Micro.Mini or Beautyblender
— Target both the tip of the blemish (the white portion, in this case) and the red surrounding area.
— Look for a small tip so you can be precise with your coverage. (Again, our BOUNCE Airbrush Liquid Whip Concealer can be a lifesaver here as it comes with a tip designed just for this kind of combat.)
Be careful: You don't want to cover any of the normal skin around the whitehead. If you put makeup on the surrounding, unaffected skin, all it does is bring attention to the blemish. Dab concealer onto the blemish and then set your concealer with a powder using the larger end of the Beautyblender or the Big Boss powder brush.

If all else fails — or if you're in Cindy Crawford mode — use a brown eyeliner pencil to give your zit the beauty mark treatment. Seriously, people do this! If you try it, let us know how it goes.
Cystic Criminal
Cystic acne is one of the toughest foes you can face in the war of how to cover up acne. First, try either a cold or warm compress. An icy compress eases soreness while a warm compress kills bacteria. Both can reduce swelling and redness. Most importantly, for the love of beautiful skin, do NOT try to pop a cystic pimple! Just trust us.

For cystic acne, stick with trusty tinted moisturizer instead of a full-coverage foundation. These types of breakouts need a little extra TLC, but it's best not to overdo it or cake on makeup.
— Let your moisturizer dry, creating an all-over even base.
— Use a lightweight concealer, like BOUNCE Airbrush Liquid Whip Concealer. The goal here is to match your skin tone all over so that the physical bump is less obvious.
— Then lead the eye away from the cystic acne with a smokey eye or bold lip (depending on the location of the breakout).
Dried Delinquent
One of the trickiest enemies when you're figuring out how to cover up acne is a dry, flaky blemish. Certain acne meds, though they might help calm breakouts, contain drying properties that leave skin more parched than #ThirstyThursday. The best plan of attack: Moisturize without overdoing it.
— Dampen a washcloth with warm water and hold it on the blemish.
— Once your skin is moist (sry), use clean tweezers to gently pick off the dry flakes.
— When you're satisfied with your work, moisturize again with an oil-free moisturizer.
— After that soaks in, use the concealing tips from the whitehead section.
Say goodbye to your dried delinquent – we've conquered this blemish!
Blackhead Battle
Blackheads are tricky little traitors, so you're going to need a variety of tools in your arsenal.
— Start with a layer of liquid foundation. If that does the trick, declare victory.
— If not, grab a tube of BOUNCE Airbrush Liquid Whip Concealer and dab it on, blending it with the liquid foundation.
— Lastly, use a powder foundation to give one last bit of coverage while setting the makeup underneath.
Well, do you feel ready to face your facial enemies? You are officially far more than basic-trained. Go forth well-armed in the battle of how to cover up acne!

For more beauty tips, find us on the 'Gram or check out these articles:
Learn All About the New Beautyblender BOUNCE Concealer
How to Achieve a Flawless Nude Makeup Look
How To Do Your Full Face Makeup With A Beautyblender