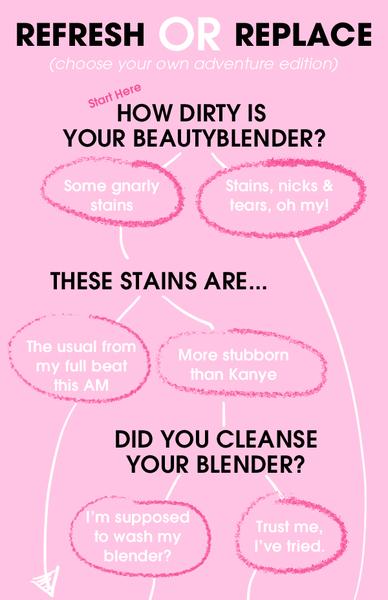 How long should you use a makeup sponge? Spoiler alert: the keyword in that sentence is *should.*  Reusing and recycling is a great way to protect the environment and save money, but it's not a great way to care for your makeup tools. Here's everything you need to know about makeup sponges — including how often you should be buying new ones.
What Happens When You Use Your Makeup Sponge Too Long? 
In short: all kinds of nasty stuff. Unfortunately, makeup sponges are not self-cleaning like soap. (Raise your hand if you've binge watched Friends recently enough to get that reference: ✋🏻✋🏾✋🏿.) 
That means every time you use a dirty one, you're putting the bacteria and dirt that breed on uncleaned sponges back onto your face. That can lead to:
- Clogged pores
- Rashes
- Infections
- Acne
What's worse: a dirty, overloaded makeup sponge won't work as well, which means you'll end up using more product for a less perfect result. Ain't nobody got time for that! 
How Long Should Your Beautyblender Last?
A good rule of thumb is to swap out your Beautyblender every 3-6 months, just like your toothbrush and mascara. If you clean it after every use, you should have no problem making it to that mark, even if you use it daily. 
If there are some days you go makeup-free, you might be able to stretch the life of your blender. But if you're using it to do all it can do — moisturize, contour, bake — you probably just want to go ahead and make the change every 3-6 months, depending on how often you use your blender. 
Proactive Pro-Tip: Set a phone reminder every 3-6 months and you'll never have to worry about how long you should use your makeup sponge again 😉. 
How To Clean A Makeup Sponge
Let's be real: You can't do a full Blender Bathtime every day! You need options. Here are 4, as well as a handy chart to help you decide what's right for you.
Liquid Blendercleanser
Our Liquid Blendercleanser solution is effective yet gentle enough to use every day on your blender, as well as on your other makeup brushes. Simply wet your blender with the solution and work it into a gentle lather. 
Keep.It.Clean Tool
For slip-proof cleaning, use Liquid Blendercleanser with our Keep.It.Clean tool. The flexible silicone cleansing pad slides right over your hand to form a sturdy cleansing surface, and the texture helps lift stubborn stains without tearing your blender.
Instaclean Spray
If you're on-the-move and only have time for a quick clean, pump a few spritzes of our Instaclean spray directly onto your blender and use a towel to remove residue — no rinsing needed. 
Blendercleanser Solids
Blendercleanser Solid cleansers are made to tackle your toughest cleanup jobs.
- Our
original
is perfect for travel, and 
The latter is 5 times bigger than the original, and it's infused with charcoal to pull out any stubborn stains. It's key to have on hand when cleaning Micro Mini blenders you use to apply bright eyeshadows or blushes.
And that's it! Clean up every day and clean out every 3-6 months and you'll be safe, clean and in the clear. 
More About Makeup Sponges:
How to Use a Makeup Sponge: A Step-By-Step Guide
How To Do Your Full Face Makeup With A Beautyblender
How to Clean Your Beautyblender: The Official Guide