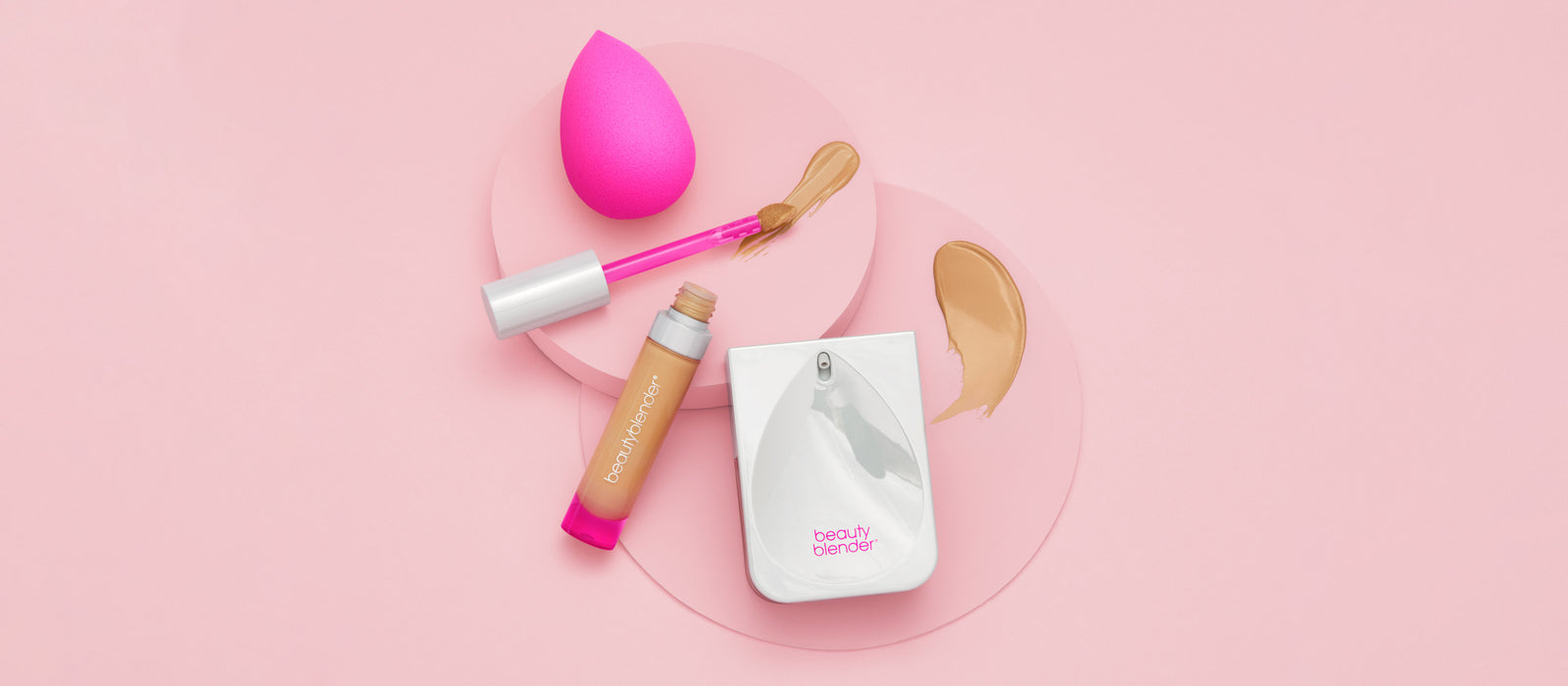 When it comes to makeup influencer tips, can you ever really get enough? 
The answer, sadly, is a big fat "YEP" — if you're getting the wrong information. 
Wading through makeup tips online can leave you waterlogged. 
So we've rounded up 5 of our favorite tips from makeup influencers who also happen to be industry experts. Legitimacy guaranteed ✅.
Makeup influencer tip 1: Note your neck
Every makeup influencer worth their followers knows you cannot sleep on decolletage! When you're applying foundation or concealer, you don't have to blend alllllll the way to your collarbone, but make sure you blend well below your jawline to get a seamless look.
"I always use a Beautyblender to blend into the neckline," says LA-based celebrity makeup artist Jamie Greenberg. "It  forms to the face, fits in the nooks and crannies and really makes foundation look like skin. I will not use any other sponge!" 
Get a
leg
neck up on the competition: 
1. Find your shade. Expert makeup influencers know to swatch colors on the neck — not the arm — to find the best match, and to let the shades sit for a few minutes after applying to pick the winner.
2. Cool off. Before applying your makeup, roll the cooling tip of your Big Boss powder brush up and down your neck. It will depuff, remove redness and help sculpt the jawline.
Do that and you'll be #RavishingLikeRashida, one of Greenberg's most glowing clients. 
Makeup influencer tip 2: Puff your powder
As a celebrity makeup artist and former model, Edward Cruz knows it all. His prediction:
"I think complexion is going to be bigger than ever, especially after this pandemic," says Cruz. "People are going to want to look DONE, and I think they'll be excited to go places and feel glam." 
How does Cruz crush the complexion game for clients like Alyssa Milano?
1. Conceal. "I love BOUNCE concealers because they're very long wear," says Cruz. "The shade range is awesome for my clients, and the formula doesn't get cakey. With BOUNCE, skin looks so real."
2. Puff. "I use the Power Pocket Puff to set makeup, or for applying loose powders," says Cruz. "The puff is the perfect shape and it offers control. I just press it into the zones that really need extra shine control. Plus, I can throw it in the washing machine and it survives! Other puffs on the market just don't last."
Makeup influencer tip 3: Dip to desaturate
Another gamechanger for Cruz, aka The Makeup Papi, clients: Desaturating the brush. 
"Start out with a little bit and build," says Cruz. "Dip your brush or puff into your product and then apply it on the back of your hand so you're not getting too much product. You'll apply 90% less this way than if you went from compact to face. That's why you often see makeup artists applying from their hands to the client's face. You really don't need so much to get the look you want!" 
Tip: Keep those hands clean by using our Sur.Face Simple Mixing Palette. 
Makeup influencer tip 4: Build, bounce & blend foundation
"Foundation is a very personal matter," says Rachel Goodwin, makeup artist to stars like Angelina Jolie, Kathryn Hahn and Winnie Harlow. "Some people like light coverage; some people like full coverage. Makeup tutorials are cool, but I also get upset sometimes because most women don't need makeup applied (heavily) like that. For most people, we aren't really creating a massive illusion in our everyday life."
Rachel Goodwin's 4 steps to flawless foundation:
1. Apply a full-coverage foundation in the center and work outward to really blend it.
2. Take your hands and rub off a little to give it that real skin look. 
3. Grab a damp Beautyblender, mist it with rosewater and dab it on top of the foundation to really blend it out. 
4. If you see anything else, apply concealer sparingly on top of just the discolored area. 
"I never apply foundation heavily onto the face," says Goodwin. "It's the most finite thin layer but you still see the skin and freckles — you see the woman — shining through." 
See it on Selma
Makeup influencer tip 5: Naturalize your eyes
"This is unconventional, but I also like to use a Beautyblender for eyeshadow," says Greenberg. "It's a great way to clean up, or give a once-over on an editorial eye. I feel like sometimes the eye can be too done, and swiping the dry Beautyblender on top gives this beautiful lived-in texture."
Check out Greenberg's handi eyework in action on everyone's fave flight attendant, Kaley Cuoco.
"Beautyblender is such an amazing and different type of sponge," says Greenberg. "There's no other product that's quite the same. It has such a superior texture. No one has come close even though so many other brands have tried to make similar versions. I never do makeup application without it!" 
Um, make us blush, why don't you?!
Want more stuff that's easy on the eyes? 
Check out the 4 best makeup brushes for eyes.