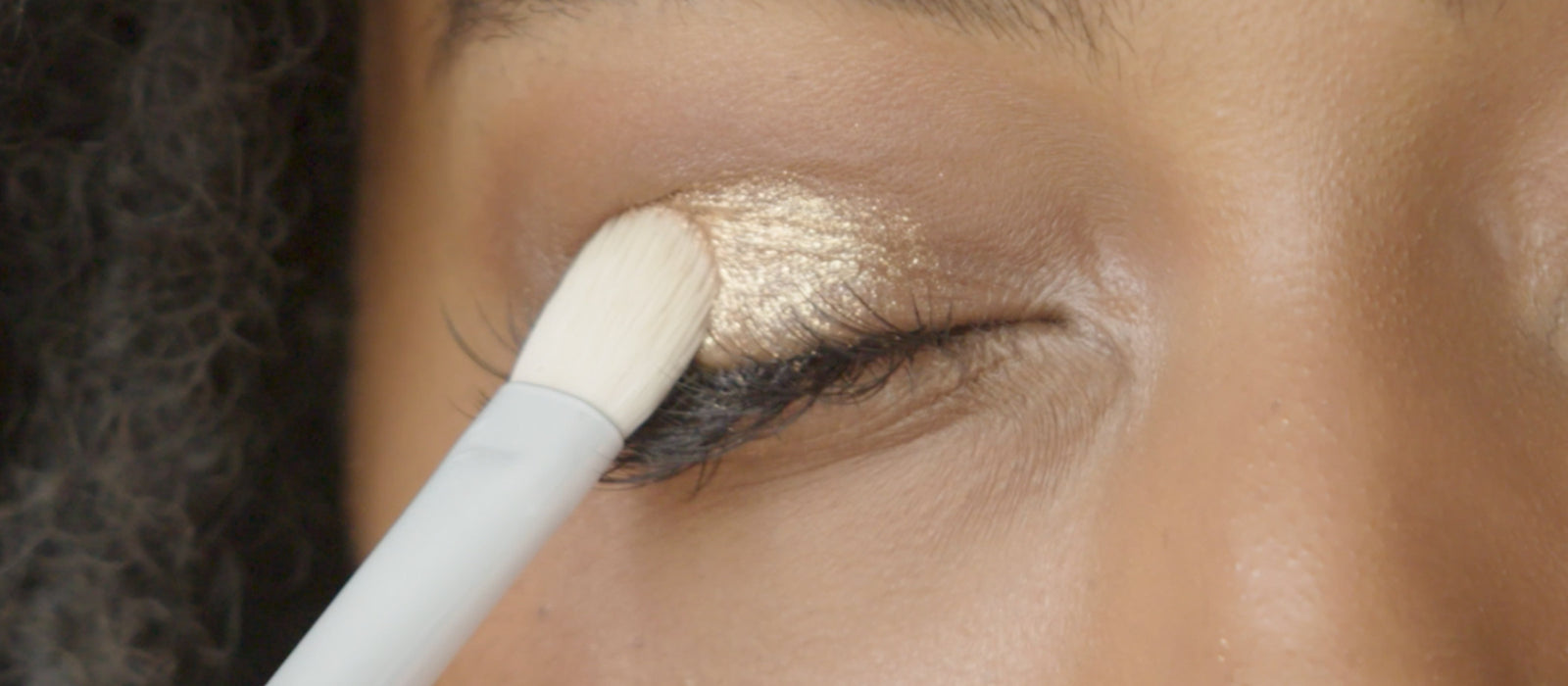 Fall eyeshadow looks are always on our mind 'round about now, but in 2020? The eyes have been front and center, hunny, for a minute.
That means there's never been a better time to get in front of some new fall eyeshadow looks. 
4 Fall Eyeshadow Looks for 2020
1. Go overboard with overliner
Based on the latest runways — remember real-life fashion shows? 😥— fall eyeshadow looks are saying one thing: Go big or go home. Is that ironic considering most of us are already at home 23 hours a day anyway? Sure, but there's no reason you can't go big while you're home, starting with eyeliner. 
Two easy ways:
- Get into overliner. Try adding liner outside the bounds of your normal lash lines, or draw abstract lines a half-inch or so above your cat-eye using black eyeliner. 
- Expand on the floating eyeliner trend we talked about for summer with a smudged version. It's a great way to amp up something you already know how to do with smoldery fall vibez. 
Tool tip: The WING MAN: Curved Eyeliner Brush can do both because it creates a steady flick, every time.
2. Get extra with eyeshadow
Coloring inside the lines is so 2019. Be extra in a good way with these two fall eyeshadow looks:
- Undershadow is essentially the eyeshadow version of that kohl liner we were all sporting in 2010 but blissfully balanced. Pick a bright eyeshadow, smudge it along your under-eye line and play up your top lashes to balance it out.
- For extra oomph, try two-toned shadow. After you apply undershadow, use a different shade on your top lid for maximum moment-making. 
Tool tip: The SHADY LADY: All-Over Eyeshadow Brush & Cooling Roller will help you apply shadow everywhere you want and nowhere you don't. 
 3. Bling-out brows
This one is not for the faint of heart — aka not for Zooming with Grandma Ruth — but blingy brows are too fun to forego. Start by using THE PLAYER: 3-Way Brow Brush to smooth and tame brows, and then add sparkle with stick-on jewels. 
Depending upon your brow thickness, you may need to use a few dabs of lash glue, even if the crystals come with adhesive. Finish with a graphic black eyeliner and a simple lip for dialed-up drama.
4. Shine Evvvvverywhere. 
2020 is the time to shine, and that extends beyond fall eyeshadow looks. Grab a trusty tube of Glass Glow Crystal Clear Shinelighter and you'll be able to add a glossy glow to whatever part of your face you want to play up that day. 
Use Shinelighter on top of a bold lip — glossy lips are v. in for fall — on the apples of your cheeks, or to finish any eyeshadow. For a flawless bit of flash, use a dark bronze shadow on your lid and a lighter shade on the inside corner of your eye. Finish by dotting shinelighter over the top of the lighter shadow to lock in your glam lewk. 
Want More Eyeshadow Insider Tips?