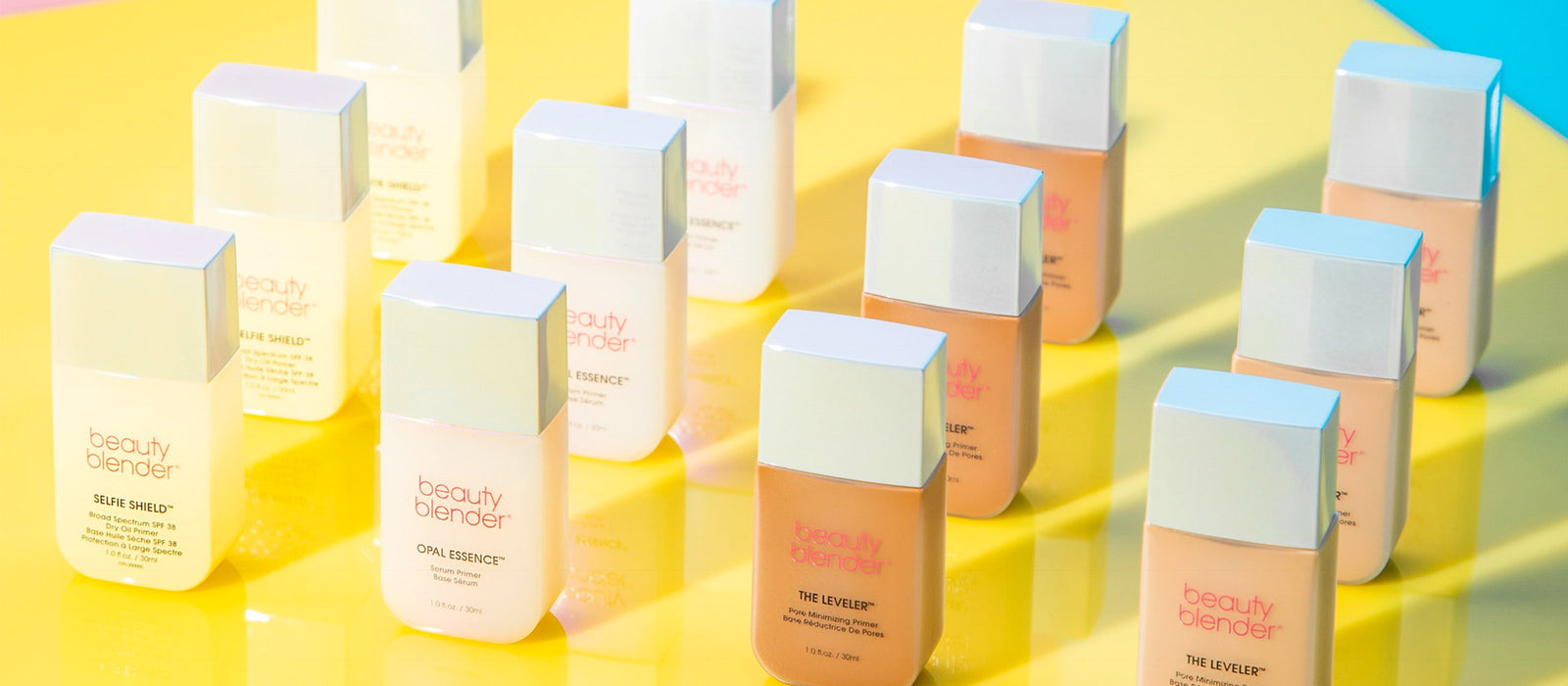 As the weather gets cooler and dryer, our skin-care routines need a little extra TLC. One of the best ways to get ahead of problems: find your perfect primer.
From the ideal primer for dry skin to the best primer for oily skin, here's what you need to know to keep your skin healthy and glowing as we head into fall. 
First, what do primers do?
A good makeup primer does all kinds of great stuff, like:
- Reduces the appearance of pores and redness
- Moisturizes and hydrates
- Keeps makeup in place all day long
In order to #AceYourBase, start by analyzing your skin. Is it oily, dry or a mix of both? Check out our cheatsheet with the benefits of each makeup primer below, and keep scrolling for a deep dive into each.
What's the Best Primer for Oily Skin?
Finding the best primer for oily skin is one of the trickiest skincare tasks. So naturally, we've got a whole guide to help you with just that. But let's face it: you're a busy person, so here's the CliffsNotes version. 
Those of us who struggle with oily skin know the signs: enlarged or clogged pores, blackheads, pimples, and a shine that is truly OOC. Oily skin is caused by our bodies producing too much sebum, aka the waxy substance that appears on your face and adds shine to your complexion. But don't stress: sebum is natural and totally manageable once you find the best primer for oily skin.
The Leveler: The Best Primer for Oily Skin
The Leveler is the VIP primer for oily skin. Its velvety, matte finish is formulated to minimize pores, and it contains niacinamide, a form of vitamin B3 that helps blur redness and uneven textures the more you use it. High-performance silicones glide over skin and create a humidity-proof barrier to minimize shine and lock makeup in place. Unlike other matte primers, the texture is also totally lightweight and breathable, so it gives you the perfect canvas to lay down your lewk. 
Bonus: The Leveler is also the best primer for oily skin because it's pigmented and comes in two colors to match your skin tones. That gives you a headstart on your foundation and concealer game. 
- If you wear our Liquid Whip Bounce Foundation in shades 3.5-4.75, use the tan-deep formula.
- If your skin falls into shades 1.0-3.45, try light-medium.
What's the Best Primer for Dry Skin?
If you're one of us for whom the dry skin struggle is v. real, we've got you covered. Start by opting for a gentle cleanser, and look for one that has "hydrating" or "moisturizing" on the label. Hydrating cleaners are often less soapy, which is good because excess bubbles can dry out your skin as they evaporate. After that, apply a primer for dry skin that locks in moisture without weighing you down. 
Opal Essence: The Best Primer for Dry Skin
Opal Essence™ Serum Primer works on normal skin, too, but it's especially nourishing for dry skin. The hydrating base helps your foundation glide on without clinging to dry patches or lines, and it keeps skin from looking dull or greasy. The hydrating base is also great for creating a subtle dewy look, thanks in part to supercharged, fermented botanicals that help soothe and brighten skin.
What's the Best Primer for Combination Skin?
The best primer for combination skin is one with a formula that will tackle an oily T-zone at the same time it will nourish dry patches. That's a tall order! But we're equal to the task. 
Selfie Shield: The Best Primer for Combination Skin
The name Selfie Shield™ Broad Spectrum SPF 38 Dry Oil Primer is a mouthful, but that's because it does a whole heck of a lot for skin! The completely invisible primer helps shield skin from harmful rays while prepping for makeup. Because Selfie Shield is a light, dry oil, it sinks in and blends with no greasiness or chalky cast, no matter your skin tone. It even guards against harmful blue light from electronic gadgets! 
The multitasking blend also includes antioxidants vitamin C and E, which neutralize pollutants and brighten skin. And real talk: Selfie Shield actually works for any skin type, so if you're stuck wondering which primer to order, you can't go wrong with Selfie Shield. 
Can't get enough prime time?
Check out our full guide to primers here!