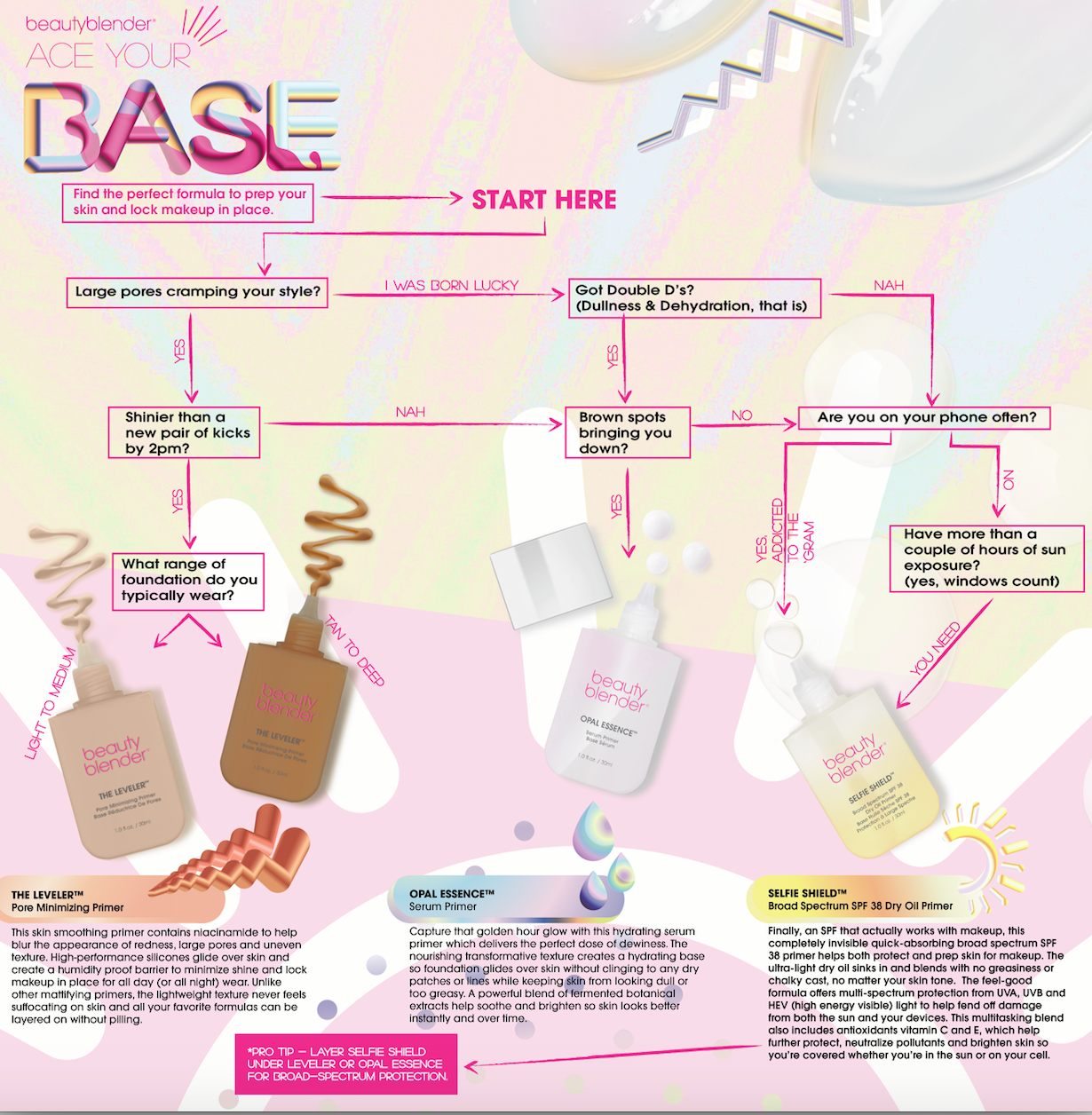 Eeeeooowwww, our makeup primers are here! Because Beautyblender strives for excellence, we've launched four Pre Touch Primers, each designed with different skin types in mind. Essentially, there are three makeup primer formulas to choose from–one of which has two shades. Here's the scoop on each one.
Makeup primer alert
Whether you're a priming-pro or new to priming, Beautyblender has you covered; literally, so that your foundation lasts way longer.  Speaking of, Cardi B wore Bounce Liquid Whip Long Wear Foundation, (shade 3.75 to be obsessive), in a recent music video and we're shook. Anyway, back to our makeup primers that Allure and Revelist are fangirling over...
Deciding which primer is right for you
In order to #AceYourBase, you need to analyze your skin. Is your skin oily, dry, or right there in the middle? What is your makeup goal? Check out the benefits of each makeup primer listed below and choose the one aligned with your desired lewk.



The Leveler™ Primer is a friend to normal-oily skin and has many benefits. Our skin-smoothing primer helps blur the appearance of redness, minimize pores, and uneven texture. A humidity-proof barrier minimizes shine and locks makeup in place for all-day (or all night) wear. Unlike other mattifying primers, The Leveler™ feels lightweight and all your favorite formulas can be layered on without reaching a cake-like state.
Since this makeup primer is tinted, there are two shade options; light-medium, and tan-deep. If you fall into Bounce Foundation shades 1.0-3.45 , you'll probably want to try The Leveler in Light-Medium. If you fall into Bounce shades 3.5-4.75, you'll probably want to try Tan-Deep.
Next up, we have the Opal Essence™ Serum Primer, made for normal to dry skin. The hydrating base allows the foundation to glide over skin without clinging to any dry patches or lines and keeps skin from looking dull or too greasy. The hydrating base gives a subtle dewy look.  The addition of fermented botanicals helps soothe and brighten for both instantaneous and long-term results.
Last but obv not least is the Selfie Shield™ Broad Spectrum SPF 38 Dry Oil Primer. An SPF that actually works with your makeup–finally. This completely invisible makeup primer helps both shield skin from harmful rays and prep skin for makeup. The light, dry oil sinks in and blends with no greasiness or chalky cast, no matter your skin tone. The Selfie Shield™ protects against UVA, UVB, and HEV (from portable electronic devices) light. Yes, that's right, your phone emits blue light which can damage skin over time. This multitasking blend also includes antioxidants vitamin C and E, which neutralize pollutants and brighten skin. This way, you're covered whether you're in the sun or looking at your cell.
Makeup primer application
Let's talk application. Primers should be applied after your skincare routine, and before makeup. These makeup primers were designed to be used with a Beautyblender in mind–shocking, we know. That being said, if you like applying primer with your fingers, there's no judgment here. As a general rule of thumb, use primer sparingly; a nickel-sized amount will do the trick. If you tend to be oily, go lighter. Wait one full minute to let the primer dry before applying Beautyblender Bounce Foundation. Whether you want to go for a matte finish via The Leveler or dewy with Opal Essence, we recommend first applying Selfie Shield so your skin is protected. After all, great makeup starts with great skin.


We'll leave you with this analogy: priming is like pregaming. If you want to set yourself up for longevity, you need just the right amount.