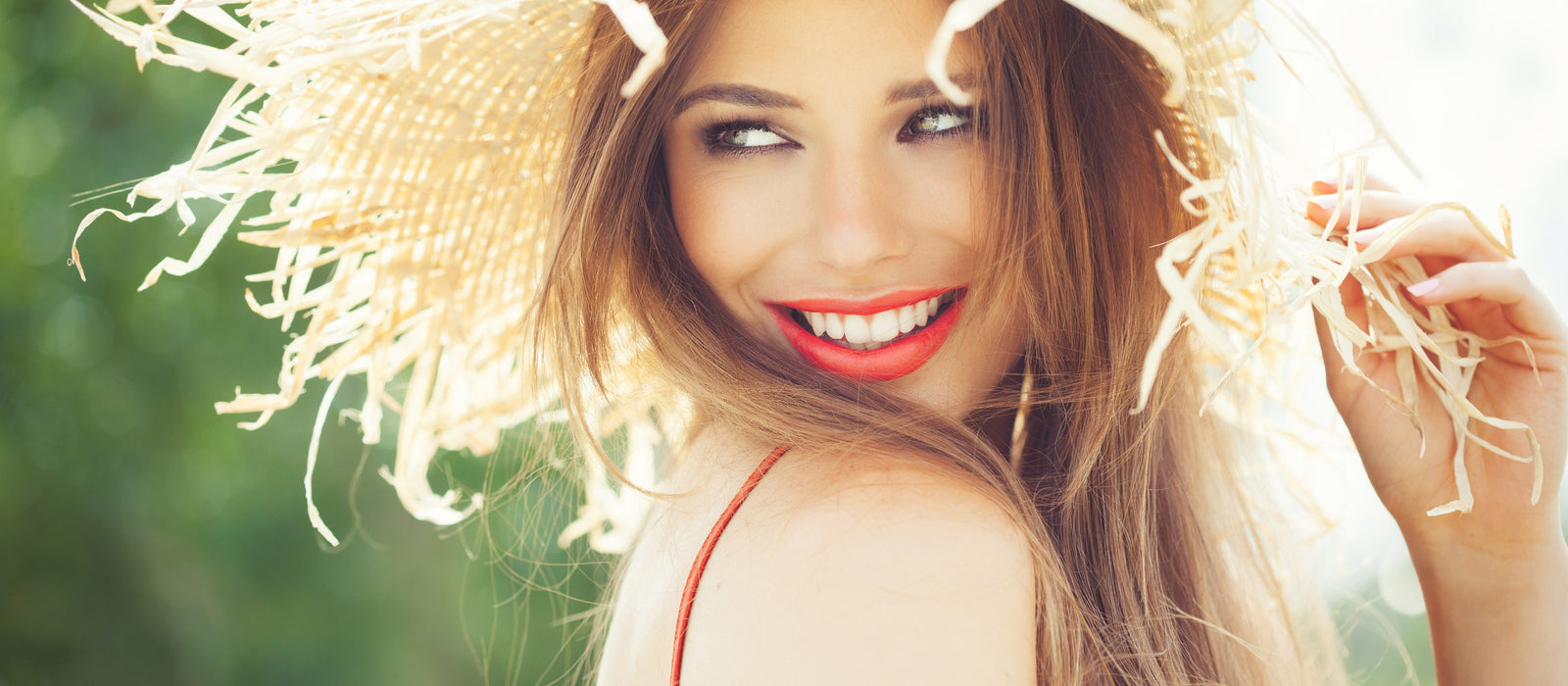 In the summer, protecting your skin is more important than any other time of the year. But that doesn't mean you have to miss out on the glorious glow of sun-kissed skin! Channeling good summer vibes in a healthy, sunless way is totally doable — if you take these 5 steps. So grab that Beautyblender and get your glow on poolside!
1. Pick Your Primer
The first step to sun-kissed skin is prepping your canvas. Make sure you're using a moisturizer that contains SPF, and follow that up with primer to help even out skin and plump pores. The best face primers will also lock in moisture, creating a buildable base makeup that can stick while stopping sweat from wrecking your look.
Here at Beautyblender, we've got 2 glow-grabbing primers to choose from:
The Leveler (normal-to-oily skin)
A pro at minimizing pores, The Leveler comes in both light and deep shades. Unlike other mattifying primers, The Leveler is lightweight, so it never feels caked on. It is also a straight-up pro at:
— Smoothing skin
— Alleviating redness
— Minimizing pores
— Decreasing oil production 
— Forming a humidity-proof barrier
There's no guesswork as to which formula you need: Just bounce your way through our 2-minute Shade Finder to get your perfect match from 40 custom-blended shades.
— Grab light-medium if your Bounce Foundation shade is 1.0-3.45
— Pick tan-deep if your Bounce Foundation shade is 3.5-4.75
Opal Essence (normal-to-dry skin)
If your skin tends to be more on the dry side, opt for Opal Essence serum primer. It delivers the perfect dose of dewiness for ultra-hydration that's rejuvenating but never suffocating.
When you're working to master sun-kissed skin, O.E. gives you a leg up on golden hour because it's a serum primer, which means it's formulated to be ultra-nourishing and sink deep into dry skin to hydrate from the inside out. Plus, because Opal Essence was made to have a nourishing transformative texture, it sets up your foundation to glide over skin without clinging to dry patches or lines. It also keeps skin from looking dull or greasy — both of which are major pitfalls on the path to perfect sun-kissed skin.
 2. Get Your Daily Dose of Vitamin H.A.
Every beauty babe knows about the magic that is hyaluronic acid. But if you've forgotten, here's a refresher: one gram of H.A. can hold up to 25 cups of water.
You know who else swears by 25 cups of water? Tom freakin' Brady, y'all — aka the anti-aging machine who's still breaking NFL records well past his 40th birthday. (Age ain't nothing but a number!) Now, your skin doesn't need that much water on the daily, of course, but it's cool — hyaluronic acid actually knows how to regulate moisture on its own, so your skin will never absorb more than it needs.
When you're working to create sun-kissed skin *sans* sun, H.A. is a secret weapon, helping combat the effects of aging, dehydration and the environment all at once. That's why we made sure to include it in our BOUNCE Airbrush Liquid Whip Concealer as well as all 40 shades of our Bounce Foundation, so if you use either (or better yet both!), you're literally covered.
3. Contour with Care
Contouring is a crucial piece of the sun-kissed skin puzzle. It's all about bringing out your best features and minimizing the ones you want to play down.
Depending on your skin tone, consider going a shade darker or lighter with your bronzer to really bring out the contrast and play up that summery glisten. 
— Start by bringing the contour along your hairline down to your temples.
— Be sure to blend the contour into your hairline so the shadow appears natural.
— Sucking in your cheeks, follow the line from your ear to the corner of your mouth.
Boom — wherever you go, it's a sunny day, rain or shine, indoors or out. 
4. Dew Your Hue
If you're only allowed one do-it-all product to create a sun-kissed look on your private island, highlighter is The True Desert Island MVP. Glass Glow Shinelighter takes out all the guesswork since the clear formula works on all skin tones for a non-sticky, subtle radiance. Apply it to the high points of your face, like the tops of the cheekbones and cupid's bow, with the pointed end of your new Beauty Bio Pure, and then blend, blend, blend, baby!
On a related note, summer is a great time to try out a dewy foundation if you've never done it. A dewy finish uses natural oils to reflect light and create radiance. These looks are often described as "luminous," "healthy" or "glowing," and we don't want to speak for you but like, yes, please!
5. Warm It Up
When you think "sun-kissed skin," what colors come to mind? For most of us, it's warm, sunset-inspired shades like reds, oranges, yellows and pinks, so start there.
— Before you wade into the warm-shade waters, set your skin up for success with BOUNCE Soft Focus Gemstone Setting Powder. Our new blurring, airy gemstone powder gives life to your skin without dryness or caking. It's talc and flashback-free, and it's available in 5 shades that work for everybody, so it's a surefire way to cancel shine while keeping your glow.
— Grab a gel-cream blush in a warm color to give your skin a wave of warmth, or use your favorite matte orangey-pink blush and swipe Glass Glow Shinelighter over the apples of your cheeks and up the cheekbone.
— If you're going all-in on a sun-kissed glow, go subtle on lips and eyes to maximize the natural vibe.
 — And before you "hit the beach" — whether it's for real, through the pages of a book or in a lounge chair in your backyard — be sure to mist yourself with a little Re-Dew Setting Spray to lock down your warmed-up look.
Can't get enough of those good summer vibes?
Check out our 3 Best Summer Makeup Looks.