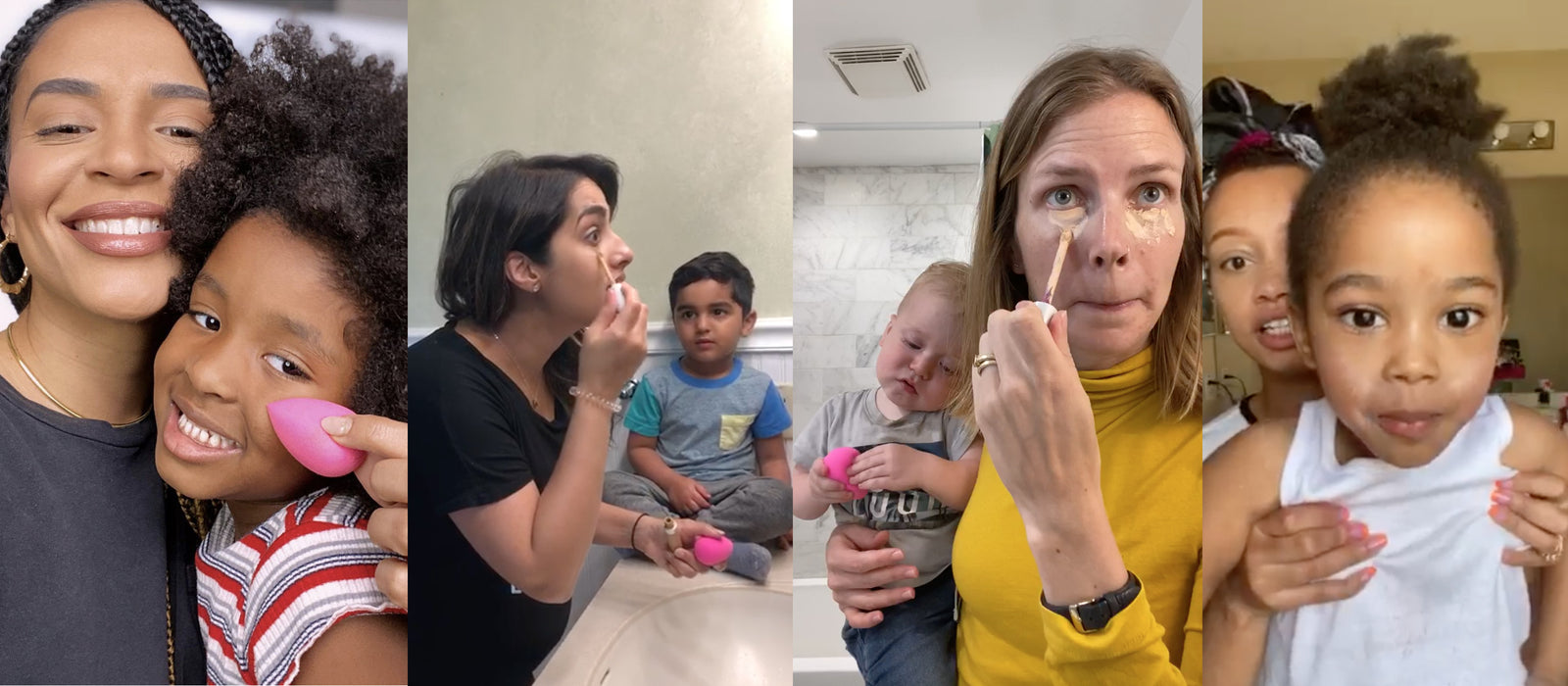 Before we get into quick makeup tips for moms, a pop quiz: Who got through their makeup routine uninterrupted this week?  How about this month? This year? Bueller?!
Trust us when we say SAME. As a busy mom, it's pretty much impossible to find the time to do a full face of makeup. Heck, most days we're happy if we get concealer on. 
But there are a few quick makeup tips for moms — some of them crowdsourced from you! — that can make your mornings a whole lot happier. 
Step 1: Wet, Squeeze & Bounce
When it comes to quick makeup tips for moms, the first step at Beautyblender is always the same: wet, squeeze and bounce!
How we do it:
- Wet your Beautyblender under your faucet until it's fully soaked. You'll notice that your Beautyblender will almost double in size.
- Squeeze any excess water out, and bounce — don't swipe — your product on.
Why we do it:
To unlock the magic of Beautyblender, you have to wet it first. When wet, a Beautyblender will: 
- Double in size
- Become extra soft, and
- Its pores will grow to mimic the size of your skin's pores. 
That skin-mimicking texture is what will allow your Beautyblender to melt makeup into your skin with an edgeless, airbrush finish. Plus, when a Beautyblender is wet, its patented foam will drink in and hold water rather than your makeup. That means you save money on product long-term. 
Step 2: SPF
It's happened to every mom: We're so focused on getting our little (or big!) ones covered with SPF at the beach, park or pool that we never get around to applying our own. That's why SPF is product #1 on our list of quick makeup tips for moms.  
How we do it: Apply a few drops of our Selfie Shield Dry Oil SPF 38 Primer with a damp Beautyblender. 
Why we do it: Selfie Shield is a pro at brightening skin, reducing the appearance of discoloration and neutralizing pollutants. 
Selfie Shield:
- Is formulated with skin-loving ingredients such as Vitamin C and Vitamin E
- Protects against damaging UVA, UVB, and HEV Blue Light, which can cause premature aging and trigger flare ups of existing skin issues
- Is made with an ultra-light dry-oil formula, so it quickly sinks into the skin with no greasiness or chalky cast
- Works with makeup! Finally — an SPF that won't leave you with flashback in all your photos
Step 3: Concealer 
When it comes to quick makeup tips for moms, concealer needs no introduction.  
How we do it:  Apply BOUNCE Airbrush Liquid Whip Concealer to the inner parts of your face. Don't forget under the eyes, blemishes and areas with discoloration. Using a damp beautyblender, blend into the skin for a flawless airbrush finish.
Why we do it: BOUNCE Concealer is whipped until it's weightless, which gives it unparalleled bendability. That means you can get full coverage where you need it, in under 60 seconds, with an edgeless finish that looks just like skin. 
BOUNCE bonuses include:
- A lightweight formula that still delivers a long-wear full-coverage face
- An ultra-hydrating finish that makes a perfect summer foundation, especially if you've dialed back your makeup during quarantine
- Ingredients that lessen the appearance of dark circles over time using hyaluronic acid to hydrate; HD illuminating pigments to brighten; and tetrapeptides to correct and de-puff circles ASAP
- An "Invisifull" method of application created by Beautyblender founder Rea Ann Silva 
Step 4: Clean-up 
As a mom, it feels like you're always cleaning something, which is why we make blender clean-up as quick and painless as possible. 
How we do it: Here's the deal: We've got a whole official guide to How to Clean Your Beautyblender here. But today we're talking quick makeup tips for mom, so we'll give you an exclusive hack.
- Throw in your Beautyblender(s), submerge them and squeeze.
- Let them sit until the morning, and voila! Your blenders are squeaky clean.
- Be sure to store blenders in an open place where they can breathe while air drying. 
Why we do it:  The key to keeping skin and blender bacteria-free is cleansing, and the best way to do it is to make it part of your routine. If you clean your sponge every morning or night, you'll never have to worry about spreading germs when applying makeup. Bonus: You can use any one of our blendercleansers to protect against 99.7% of harmful bacteria. 
And remember: When in doubt, bounce the baby, bounce the blender! It's all in a day's work for busy moms.