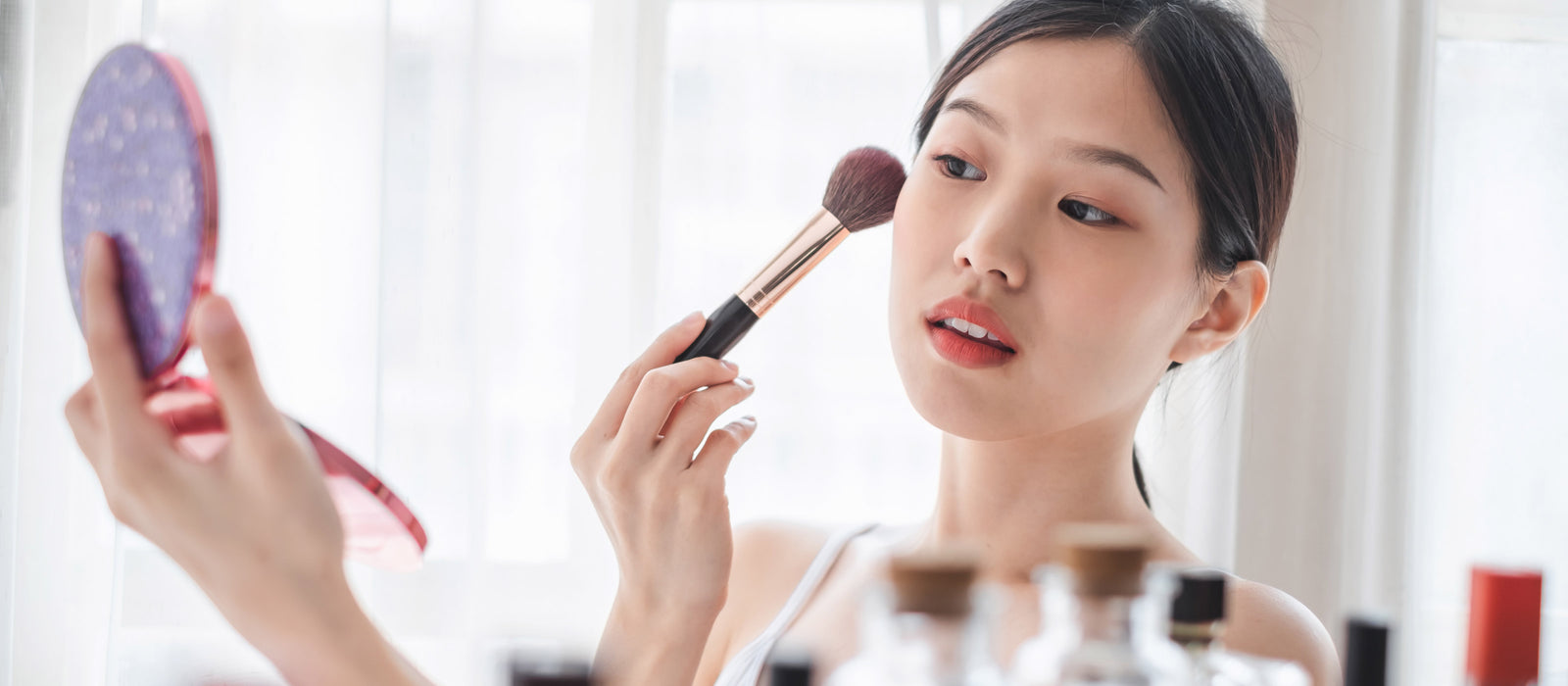 You've done the hard work: deciding between
dewy and matte foundation
, upgrading your
beauty routine
, mastering a
FaceTime-ready look
. But now you're faced with the biggest challenge of all: how to make your makeup stay on all day. It's a particularly tricky task as we head into months full of warmer weather, sun and sweat, which can quickly put your makeup into meltdown mode. 
If you don't properly lock in your look, you're likely to find yourself with some pesky afternoon problems. Your lips will lose their luster or your un-primed forehead will appear powderless and shiny. Don't let all your prep work go to waste! Take a few seconds now to learn how to make your makeup stay on all day and you'll never have to worry about the post-lunchtime touchup again. 
1. Get Ready For Prime Time.
We've all had days where we've had to rush through our routine because we stayed up late perfecting our sourdough recipe or Googling murder hornets (Real talk: Don't do that last one unless you want to be shook.) The good news is that a simple moisturizer/primer combo is step one of how to make your makeup stay on all day.
Moisturizing solves a whole bunch of problems all at once, from hydrating dry skin to regulating moisture levels on your face. Once that's done, it's time to prime, which you can do with our best-selling makeup skin primer with SPF: Selfie Shield Broad Spectrum Primer.  
 Here's the skinny on Selfie Shield:
- SPF 38 protects your skin from UVA, UVB and HEV rays.
- It's clear, so it works with every skin tone — no ashy cast or greasiness here.
- The ultra-light dry oil also includes vitamin C and E, which help protect against pollutants.
Applying a skin primer helps create a smooth, poreless surface for your makeup to stick to, and that's one of the best ways to make your makeup stay on all day without fading, creasing or cracking. If you're extra worried about minimizing pores, check out our Leveler primers, which are custom-made to plump skin and close pores.  
2. Use a Beautyblender All Over.
Fingers are fine for a touch-up here or there, but, honestly, they're no match for semi- (or total!) pros like you who are hungry to learn how to make your makeup stay on all day. In order to create an all-day application, you need the right tools. 
We created the original Beautyblender with exactly that goal in mind. Its super-soft material mimics your skin to give you an airbrushed, even finish with every application. Because it's edgeless, egg-shaped and made with aqua-activated™ material, it ensures makeup lands on your skin, not in your sponge. 
And its abilities don't end with foundation or concealer — you can use a Beautyblender to do your full face, which means every product is applied seamlessly, professionally and with less waste. Simply wet, squeeze, and bounce your way to a flawless finish, cheek to chin. 
3. Bake Your Makeup.
If you've ever spent hours scouring the Internet for insider tips on how to make your makeup stay on all day, you may have heard of baking. One of the beauty industry's best-kept secrets, baking actually started in the drag community as the go-to way to set makeup. 
Put super simply, to bake you:
- Let translucent powder sit on your face for 5-10 minutes, and
- The heat from your face will help set both your foundation and concealer. 
While most of us don't have time to do a full beauty bake every day, it's a great trick to keep in your back pocket for important events. Pro-tip 2.0: Try using a Power Pocket Puff for step #3. The teardrop shape will help you chisel cheekbones, bake concealer, set makeup and deposit just the right amount of powder wherever you need it.
4. Set It & Go Get It. 
Don't you love it when the last step is the easiest? Thanks to Re Dew Set and Refresh Spray, that's absolutely the case here when working to achieve an all-day makeup look. Once you're primed, blended and baked, simply use one or two spritzes to lock in your look. 
Setting spray is a low-impact product that gets you high-impact results — aka it looks amazing, doesn't cost an arm and a leg and you only have to re-spritz later in the day if you're in the mood for a little pick-me-up. Plus, the do-it-all mist hydrates, adds luminosity and gives versatility to your existing makeup. 
When it comes to how to use makeup setting spray, remember: 
- Close your eyes before spraying.
- Wait for liquid eyeliner to dry fully before spraying so there isn't any smudging.
- If your lashes tend to rest on your eyelids, blink a few times post-spray before fully opening your eyes to prevent damp mascara from getting on your lids.
Learn all about the magic of Re Dew Set and Refresh Spray (including the Old Hollywood roots of setting spray) here.