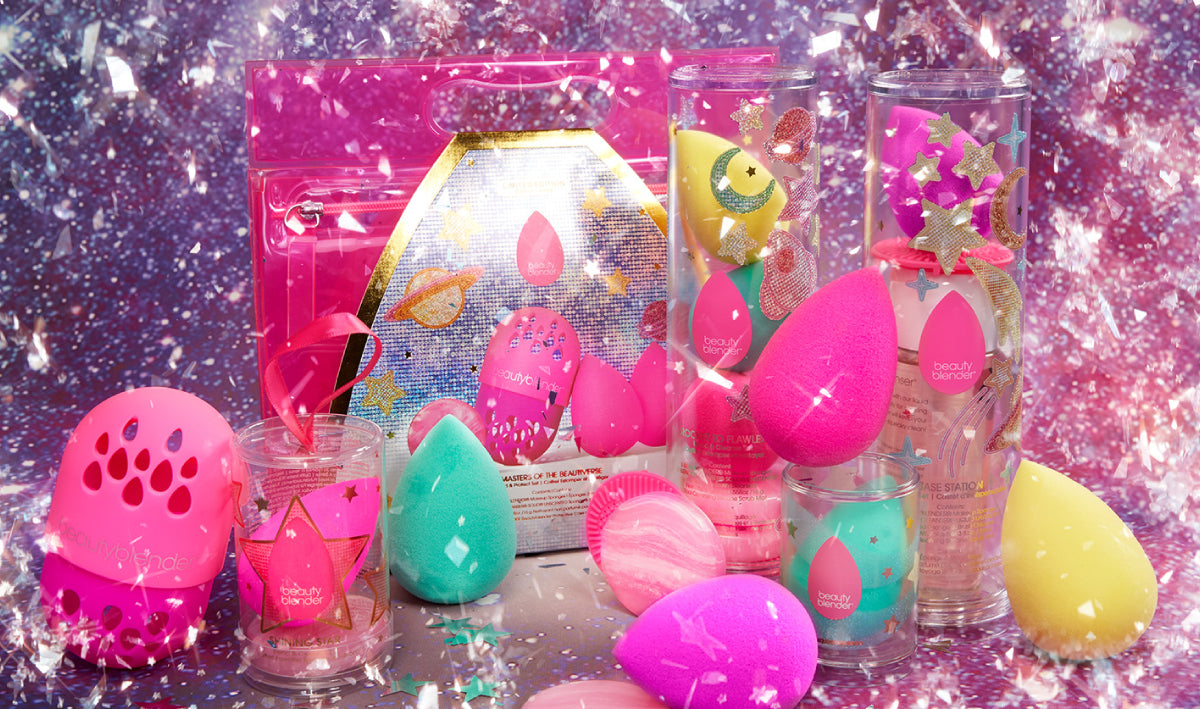 Well, BB babes, it's that time of year again — time is ticking, and we find ourselves lost in the land of last-minute gifts. 
This year, we've got some great news: We've got a collection of last-minute holiday gifts so good no one will know whether you're a calm collector or a Supermarket Sweeper. 
Just bookmark this page and all you'll have to worry about this holiday season is which fab eyeshadow lewk you're gonna rock above your equally fab face mask. 
Bonus: We offer several shipping options, so you can send your socially distant goodies anywhere, anytime. 
Let's get to it!
The OG Beautyblender
Sometimes everything just comes together, and our OG Beautyblender is a prime example of that for us. The flawless blend, the aqua-activated material, the airbrushed finish — it all just works, and that's why we think it's the ultimate last-minute gift for any makeup lover. 
The OG blender absorbs minimal product, so your favorite formula lands on your complexion, not your sponge — and at $20, it's a total steal. But don't just take our word for it: snag one and see why the OG Blender is a 12-time Allure Best of Beauty award winner.
Beautyblender Gift Card
When it comes to last-minute gifts, there's no heavier hitter than a Beautyblender gift card. 
There are a few reasons for that:
1. Our gift cards have no extra processing fees, which means more money to spend.
2. Our gift cards are delivered by email, which is good for the environment and for your friends and fam because they can get ta' shopping ASAP. 
3. You're *guaranteeing* your loved ones will get something they love because they do all the deciding! Plus, it'll always fit!  
That's what we call a win-win. Just click, pick and send! 
Beautyblender PPE (Personal Protective Equipment)
Quick poll: How many of your holiday lists last year included face shields? Sterilization bags? Sequined face masks? We'll wait...
Beautyblender's PPE products make perfect last-minute gifts to keep your loved ones safe and chic this holiday season.
— Grab a classic black mask or bling out your babes with pink- or black-sequined options. 
— Add another layer of protection with our transparent face shield, which covers your eyes, nose and mouth without covering up your flawless face.
— For the pros in your life, check out The Case: a sleek, silver makeup caddy that holds all your tools and boasts a built-in ultraviolet light to annihilate up to 99.9% of germs. 
— And finally, for that extra special person, check out The New Basics Kit, which includes everything above PLUS our signature liquid blendercleanser to keep your tools sparkling clean.
The 2020 Holiday Collection
Nothing says sparkle and shine more than our Out-Of-This-World-Flawless 2020 Holiday Collection. Stock up on a couple of each of these items so you'll always be ready with last-minute gifts on the fly. 
The 2020 collection includes:
— The Aurora blender, which is made of the exclusive ultra-plush foam to create a natural airbrushed application.
— The Shining Star, which pairs the iconic skin-perfecting Beautyblender with a limited-edition Pink Swirl Blendercleanser.
— The Masters of the Beautiverse kit, which gets you an OG blender, a Blendercleanser, a vegan sponge, a brush cleanser AND a shatterproof silicone case (the Blender Defender). 
— The Rocket to Flawless, which is the ultimate vault of Beautyblender® essentials. It includes 3 skin-perfecting Beautyblenders, 2 sponge and brush cleansers, AND a scrub mat to keep all your tools clean.
And there you have it! That's everything you need to see you through the 2020 holiday season. 
For more steals, deals and last minute gifts, check out our full Holiday Gift Guide. Happy Holiyay!