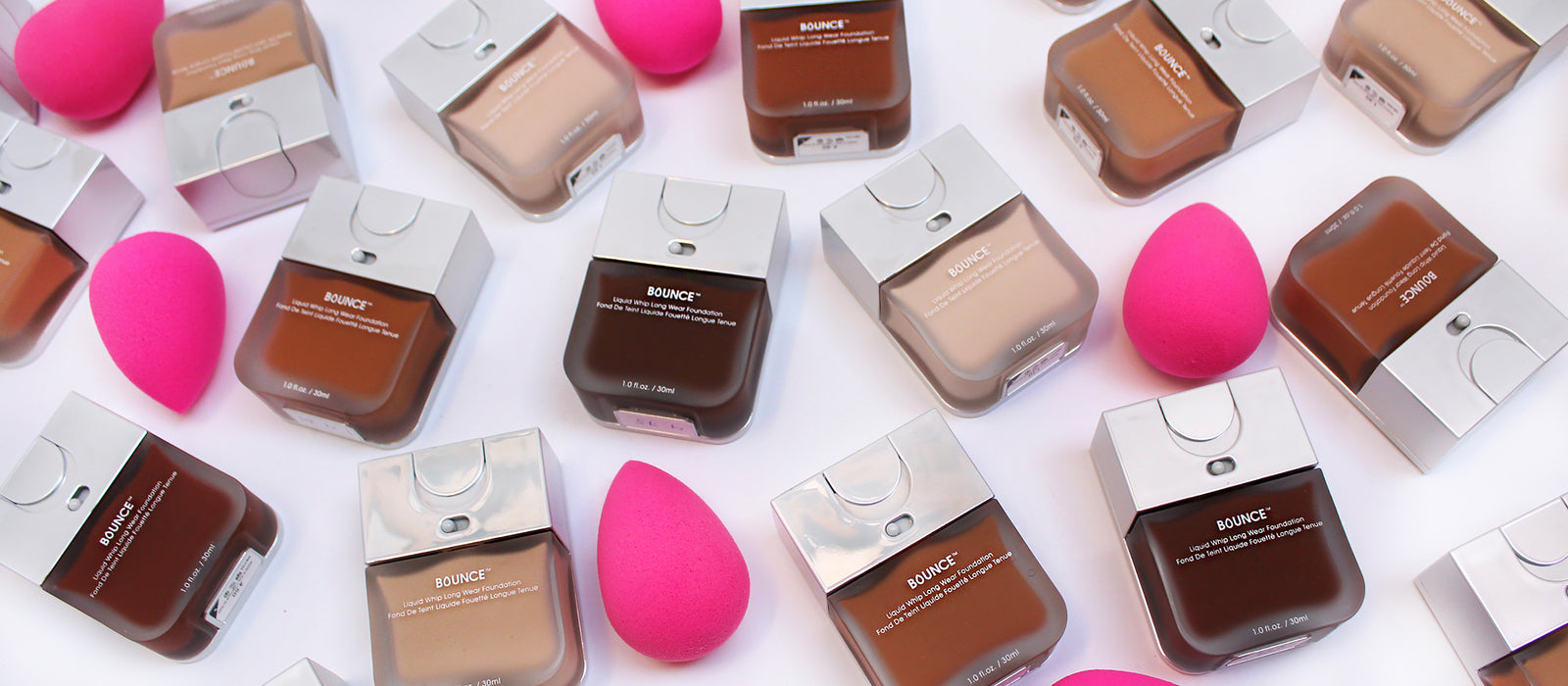 When it comes to how to apply concealer, how hard can it really be? You just use your fingers to tap and swipe — same as you would on Tinder or Instagram, right? Not exactly.

If you want to cover up acne and lighten dark circles like the experts do, you need to know their secrets.
Here's How To Apply Concealer Like A Pro
1. Don't Be Thirsty
The biggest mistake people make when applying concealer is forgetting to moisturize first. If your skin isn't hydrated, concealer won't glide on smoothly. This is super important when it comes to the sensitive skin under your eyes where many of us have darkness or discoloration. (And don't forget the corners of the eye!) The same way your nails need a base coat for polish to stick, your skin has to be prepped for concealer to do its job.

Pro-tip: Use a concealer with hyaluronic acid like BOUNCE Airbrush Liquid Whip Concealer to lock in moisture and plump skin for a bouncy finish.
2. Foundation First
The second-biggest mistake people make when learning how to apply concealer like a pro: applying it first. You should always apply foundation first for 3 reasons:
2. It helps even out discoloration.
3. It hides darkness and imperfections.

Number 3 is key — for your face and your wallet. Using foundation first may solve some of the problems you were going to address with concealer, which means you'll use less. Less extra makeup on your face = more money in your pocket. Nobody's mad at that.
3. Lighten Up — A Little
Lightening up is generally considered a good thing, but that's not always the case when it comes to concealer. People often choose a color that's extra light in order to cover dark circles. Ironically, that only draws attention to problem areas instead of covering them up.

What you really need is a color that's closer to the rest of your skin — and only slightly lighter than your natural color — for a base. Then you can go back with a brightener if needed. If you're using BOUNCE Airbrush Liquid Whip Concealer (and TBH, why wouldn't you be?), pick a true-to-skin color for jobs like this.
4. Be Twice As Shady
One of the biggest secrets the pros know is that it's rare the same concealer will work well all over your face. Using a concealer to cover bags under your eyes is different from using it to spot-treat acne, so you'll probably need two in your makeup bag. Consider trying one for blemishes and dark spots, and another for undereye circles. For help finding your perfect shade, click here.
5. Apply Yourself
Remember that tip about using foundation first so you don't waste your precious products? The same is true of concealer applicators — use the right one and you'll probably use less. For blemishes and dark spots, you need a dual-sided applicator that's targeted so you can dab and blend outwardly into your foundation.

In the past, that's been hard to find, and it's one reason we spent a heck of a lot of time researching and creating the perfect doe-footed, dual-sided applicator you'll find in our BOUNCE Airbrush Liquid Whip Concealer.
It's basically a mini
Beautyblender Micro Mini
on the tip of a wand — which makes it perfect for working magic. (See what we did there?) But for real, it's was designed with all kinds of fancy, scientific things in mind:
— The flat side is made for broad strokes under eyes
— The egg-shaped side is designed to tackle spots over the brows, and
— The pointed tip draws exact lines for contouring and covering blemishes.
6. A Dab May Do Ya
Less is more — we've said it before (a few times in this post, in fact) and we'll say it one more time here. Please don't smear concealer all over your face! Concealer should only be used to spot target.

Think of it this way: If we were attacking unwanted hair, foundation would be your razor where concealer is your tweezers — one is used all over and the other only on spots (unless you want to be stuck in your bathroom plucking hairs until they've all turned gray anyway).

Before you start your spot treatment, narrow down which problem you're trying to address. Learn how to cover up every kind of acne here. 
7. Circle Back
When it comes to dark circles, the best defense has three steps:
1. Dab on a peach-toned concealer to help balance out the blue.
2. Blend and go over that with concealer #2 (aka the one you use on the rest of your face).
3. Use a dampened Beautyblender Micro Mini to smooth out creases and pick up extra concealer.

People often skip that last step, but that's what ensures your concealer won't get cakey. (Cakey makeup is the only kind of cake we don't like.)
8. Set It & Forget It
To balance out problem areas like the nose where redness rears its annoying head, concealer is a good first step — but it won't get the whole job done. For that, you need an oil-absorbing setting powder to prevent makeup from wearing off quickly. To lock in your look, use Beautyblender Re-Dew Set & Refresh Spray. It's the best way to ensure all that professional concealer-work you just did won't go to waste.

Want to know more about what people are saying about our new concealer? Read this:
Beautyblender's Bounce Airbrush Liquid Whip Concealer Is Finally Here With 40 Full-Coverage Shades