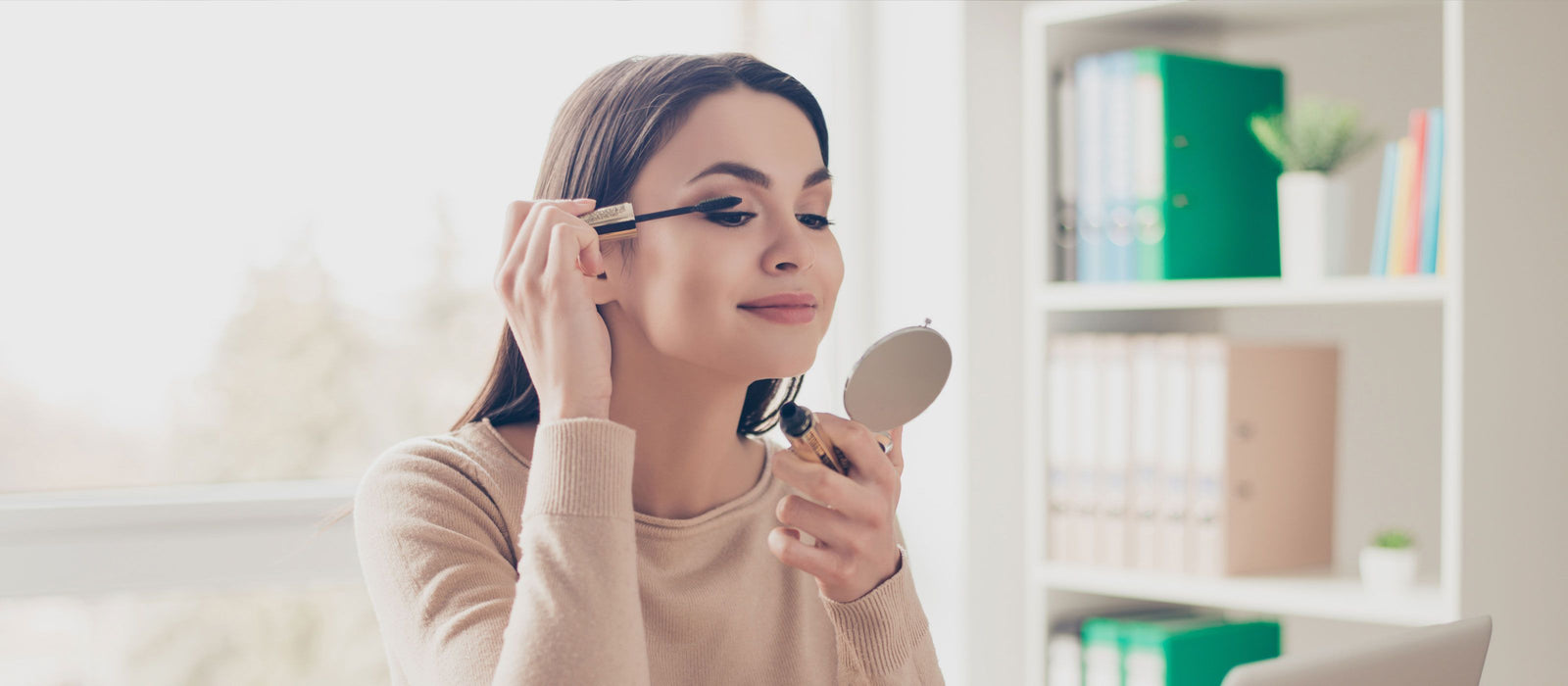 New to the work-from-home routine? You're not alone. While the dress code set by HR has gone out the window (hello sweatpants!), most of us are unsure what rules to follow since everyday feels like a casual Friday.
But before you decide if you can go another day without a shower, know that how you look can impact how you feel and how you work. Look good, feel good - you feel us? If you want to look and feel like the smartest person in the Zoom, here are 3 things to keep in mind. 
1. It's Not Just About You.
Let's be real — when you're on a video conference call, your coworkers expect to see the same person they saw in the office. That's why popping up in a meeting with bed-head and no makeup may cause a distraction. That said, so can going in the other direction, like experimenting with a bold blue eyeshadow for the first time. Instead, keep it simple.
Ace your base.
You don't need to wear a full face of foundation to achieve the perfect base while working from home. Instead, save time and look fab with a dab of Bounce concealer to cover any dark circles under your eyes or blemishes. Just dab the area quickly with a damp Beautyblender. Viola! A perfect work-from-home base.
Create a natural eyeliner look.
Like eyeshadow, there's no need for drama when it comes to your business-professional eyeliner. Keep it natural and simple. 
- Instead of free-handing your liner, make sure to get it right every time with tracing tools, like the Liner Designer. This steady guide allows you to achieve your look without slip-ups in a matter of seconds.
- For a clean liner look, ditch the liquid or pencil and use an eyeliner brush to create precise lines that can look more natural. 
Frame your face.
Eyebrows are like the best supporting actress of your face – they usually don't get the spotlight but they still play a major role in your look. Here's how to create the perfect brow to frame your face.
- Fill in your brows, spreading pigment with the slanted edge of The Player 3-Way Brush.  
- Apply a little gel or just brush brows up with the double-sided spoolie. 
You just rolled out of bed after a so-so night of sleep, but your team doesn't need to know that! Grab your hydrating primer, a blender, and your Glass Glow Shinelighter to hide your dark circles and dull skin. Then everyone will think you always look luminous in the morning. 
2. It's Also Totally About You.
Just because your dress code is looser at home doesn't mean you should ditch your normal beauty routine. In fact, sticking to a routine, especially while social distancing during COVID-19, can help you feel and perform better.
 Remember that outfit you always wore to impress clients, or that blouse coworkers went crazy for? Well break 'em out because they could be essential to your work-from-home success. New research shows what you wear to work can increase your creative output. That's right! Your power blazer collecting dust while you social distance may hold the key to unlock that creative solution in your brain. You know, the one your entire team has been waiting for! 
3. And It's About Hue.
Did you know the colors you choose to wear usually reflect your mood? It's true! So, take a cue from your mood to create your look.
Need to perk up? Rock bold warm tones like oranges, reds and yellow. 
Feeling a little too amped? Turn to cooler hues like blues and greens.
 If you're feeling a little unsure about going big with that orange blouse today, that's ok. Your business makeup can give you the color boost you need to brighten your mood. Never underestimate how good your favorite red lipstick can make you feel.
You Better Work! 
Before you put your new work-from-home look into action, it's wise to test it out the night before. There's no need to scramble to achieve the look you want just minutes before your video conference starts. You don't need any added stress!
 Lastly, remember, no matter where you work — when you look good, you feel good. And when you feel good, you can perform like the professional rockstar you are!