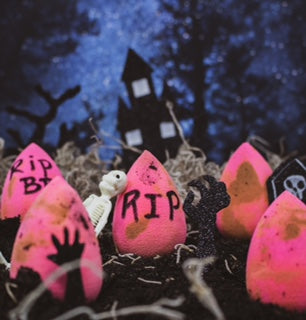 Easy Halloween face makeup is easier said than done. Depending on your costume, we could be talking anything from a simple pale-faced vamp to a Heidi-Klum creation. But there are two things all easy Halloween face makeup has in common: good technique and great products.
Here are five tips everyone can use, whether you're making up the kids, trying pretty Halloween makeup ideas for yourself, or horrifying your honey with scary Halloween makeup for women or men. 
1. Primer before face paint
Before you crack open the fake blood or face paint, prep your canvas. Using a primer all over your face will: 
—Give your makeup something to grab onto 
—Stop it from slipping, sliding, or sweating off, and
—Create a barrier between your skin and your face paint, which is especially important if you're using party-store paints that may not be the highest quality.
Even if you're just working traditional pretty Halloween makeup ideas, primer is a good call—just make sure to let it set for a few minutes before going in with your paint.
Try it with: The Leveler
The Leveler™ Pore Minimizing Primer is packed with high-performance silicones, which glide over skin and create a humidity proof barrier to protect skin. The Leveler's unique ability to minimize shine and lock makeup in place makes it the perfect primer to layer beneath Halloween makeup for women, men, or kids. And because The Leveler is—first and foremost—a skin smoothing primer, it's full of niacinamide. This magical B vitamin helps blur the appearance of redness, large pores, and uneven texture, which is ideal for those of you testing out more natural, pretty Halloween makeup ideas.
2. (Old) Beautyblenders to the rescue
When it comes to Halloween, your Beautyblender is your best friend. "Tell me something I don't know!" you say. But truly, here's the thing: No matter how neat you are, whether you're trying to do Halloween makeup for women, men, boys, or girls, shiz is gonna get *MESSY*. From facepaint to fake blood, grease paint to lash glue, your bathroom always ends up looking like The Joker got ready in there…while drunk...and blindfolded. Unless, that is, you protect your most important asset during application—your hands. And, as we all know, there's no sponge better suited to perfect product application than your trusty blender.
Try it with: A Beautyblender (duh) 
You know the drill: The OG Beautyblender is the #1-selling makeup sponge in the world! Its super-soft, latex-free foam quickly bounces on makeup for an easy application and flawless, skin-like finish. If you're locked into a pretty Halloween makeup idea, you'll no doubt already have your trusty BB handy. But you can also make those wilder looks work using the power of BB—just be sure to reach for an old one. In addition to buffing scuffs out of stilettos or becoming killer cat toys, old Beautyblenders are ideal for applying face paint to kids and adults alike. They're also particularly excellent for getting into every nook and cranny for full-face color jobs needed for The Grinch, The Mask, or any other Jim Carrey character where he paints his whole head green. If you're doing a multicolor face, just make sure to rinse your blender thoroughly between colors, and to let each color dry before applying the next.
3. Blush for the babez
If you've ever strolled down a Halloween makeup aisle, you already know what every red, orange, or pink product has in common—they're all liquids or creams. When it comes to staying power, nothing beats a cream-based product. Whether you're coloring the rosy cheeks of the Bridgerton babes or playing up Princess Di with a pinch of peach, cream blush is your friend. Plus, if you've already got cream blush in your cabinet, you probably don't even need to dip into a convenience store. Hooray for Halloween miracles!
Try it with: BOUNCE Blush
BOUNCE™ Liquid Whip Cream Blush is the best of both worlds. The hybrid cream-to-powder formula is supercharged with hyaluronic acid and vitamin C, so it nourishes your skin while delivering a buildable wash of color for cheeks. And because it's specially formulated to go on like cream but set like powder, BOUNCE can pull double-duty as a lip color too, which means one less thing in those tiny, period-appropriate purses the Brits love so much. 
4. Setting powder to lock your look
Once you've mastered easy Halloween face makeup, you want to lock it DOWN, hunny. Nothing is more tragic than achieving the perfect Cruella, Harley Quinn, or Lil Nas X only to smudge or sweat it off moments before pics. The solution: setting powder. Whether you're serving true terror or playing with pretty Halloween makeup ideas, setting powder will guarantee your mug makes it to the 'Gram flawless and intact. 
Try it with: BOUNCE Soft Focus Gemstone Powder
Airy and hydrating, BOUNCE Soft Focus Gemstone Powder helps cancel shine, soften fine lines, and set makeup without ever looking flat or lifeless. When it comes to Halloween makeup for women, men, or kiddos, it's also got crucial blurring properties built right in, which means it can help smooth over any slips of the hand. 
Pro-tip: If you're going the pretty Halloween makeup route, make sure to press on your powder using a Power Pocket Puff before your foundation dries completely. In order to create the proper wet-dry bond, setting powder should go onto a still-sticky foundation. You can also use BOUNCE to help set facepaint-based looks; just wait for those to dry and apply it with a washcloth or old Beautyblender so you won't damage your Pocket Puff.  
5. Setting spray for staying power
Finally, the simplest step on the road to easy Halloween face makeup: setting spray. The right setting spray will bond with your just-applied setting powder to seal in Halloween makeup for all-day or all-night-wear. Bonus: Because setting spray is super easy to apply, it can also help keep the kids' Halloween makeup in place so you won't find yourself fumbling through a pillowcase to re-draw theirs on halfway around the block. Just make sure they close their eyes before you spray!
Try it with: Re-Dew Spray
Re-Dew Set & Refresh Spray is a do-it-all super-fine mist, so it boosts your makeup's staying—and slaying—power without disturbing what you've done. While it can lock in any Halloween look, it's going to be a serious game changer for anyone working pretty Halloween makeup ideas because it will give you a gorgeous glow from noon to night. 
Need more Halloween makeup inspo?