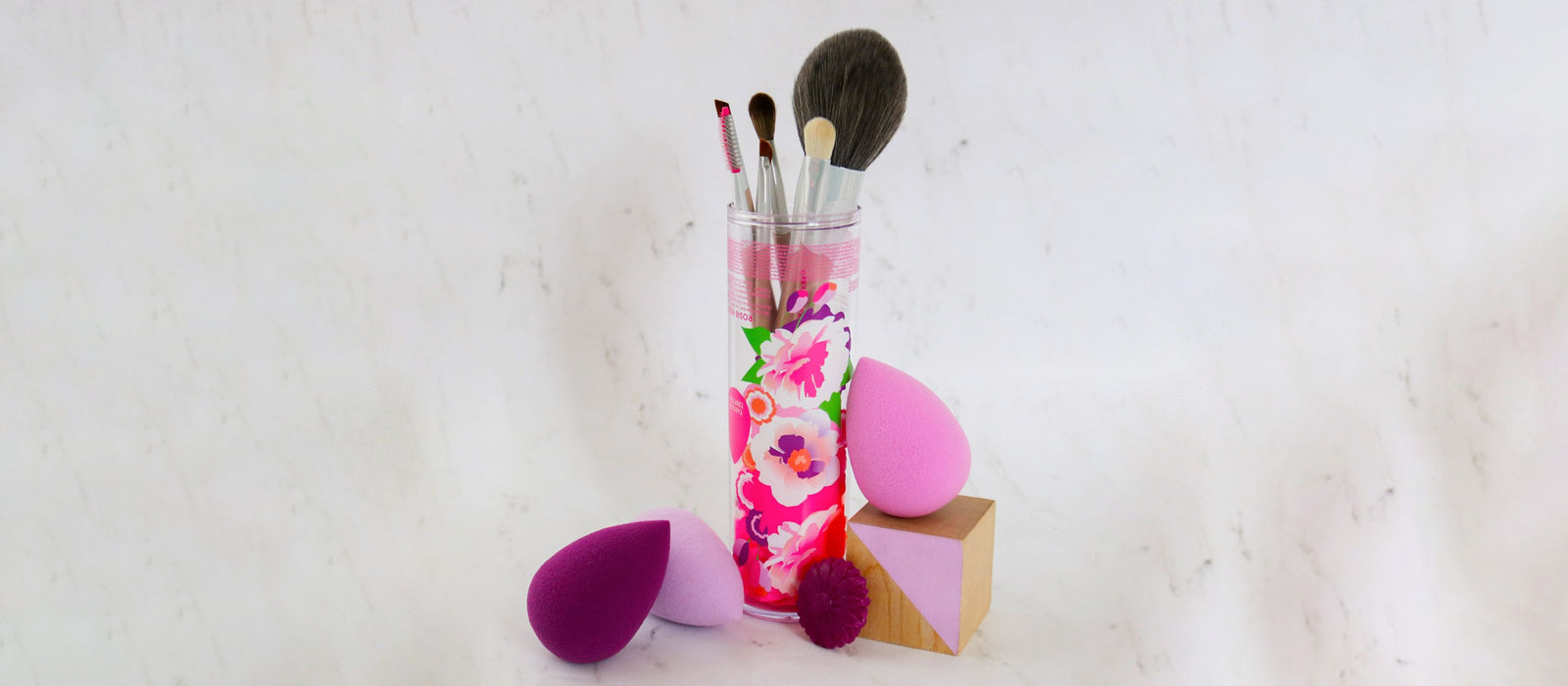 We've all been there: You get a great deal on a set of makeup sponges, they come in a super-cute cosmetic container, and then that container gets shoved in the back of a drawer, never to be seen or heard from again. What's worse: at some point you'll probably end up buying a container that does something the original could already do.
No more, Beautyblender babes! Today we take back the bathroom — and the bedroom, the kitchen and any other space that could use a little Marie-Kondo-ing. First up: the Rosie Posie Makeup Sponge and Cleanser Set.
What's in the Rosie Posie Set?
This adorbs set comes with: 
- 3 Beautyblenders in limited-edition pink and purple shades
- A floral Blendercleanser solid to keep all your tools clean, and
- A bonus cosmetic container to keep everything neat and tidy.
At $45 instead of $65, no one would judge you if you get one for yourself and a friend. 
How Do I Repurpose the Rosie Posie Cosmetic Container?

We're glad you asked! Here are our 10 favorite ways.
1. Brush up on storage. 
This one's a bit of a "duh" since we gave it away in the picture, but there's no better storage for makeup brushes than Rosie Posie. This is one cosmetic container that's counter-worthy! Pls treat it as such.
2. Simplify hair care.
Organize your combs and brushes, or fill it up with rubber bands, scrunchies or clips so you'll never have to go searching through pockets and purses during a hair emergency again. 
3. Contain your essentials
Ditch the boring clear cosmetic container and use the RP cylinder to store cotton swabs, balls and pads. You'll still be able to see how many you have left, but this time with a pop of color!
4. Organize office supplies.
If you're anything like us, your home office game has never been stronger. Use Rosie Posie to store pens, pencils and scissors, or keep smaller items like paper clips and stamps somewhere you can spot them easily. 
5. Get crafty.
Picked up a new hobby in quarantine? Use the tube to store rubber stamps, beads, jewelry components or whatever your crafty heart desires. 
6. De-junk your junk drawer.
Everyone knows the secret shame of hoarding rubber bands, matches, chip clips and twist ties for a rainy day that never comes. The RP cosmetic container can help you get one or two of those items out in the open so you'll actually remember to use them — just don't put them all in there or you'll end up with a brand new jumble of junk.  
7. Cook like a queen.
One of the fastest ways to turn yourself into Padma in the kitchen is to make sure your tools are always at-the-ready. Store your favorite soup spoon, ladle and spatula in the Rosie Posie for quick culinary access. 
8. Boost your flower power.
Everyone knows tall-and-skinny is the best vase shape because you don't need a ton of flowers to make it look full. Bonus: Rosie Posie already has a floral design, so it's a no-brainer for maximizing flower power.
9. Transform it.
Just when you thought you'd seen everything that could be done with a plastic container, they come at you terrariums! If you're feeling Pinterest-y, take 15 minutes to turn your old cosmetic container into a tiny terrarium. And remember: send us pix or it didn't happen!
10. Fend off a snack attack.
Candy never looked cuter than it does in the Rosie Posie. Fill 'er up with M&Ms, Skittles or gum for a little shot of sweetness on-the-go. 
Want More Info on How to Maximize Rosie Posie?
Check out these articles: