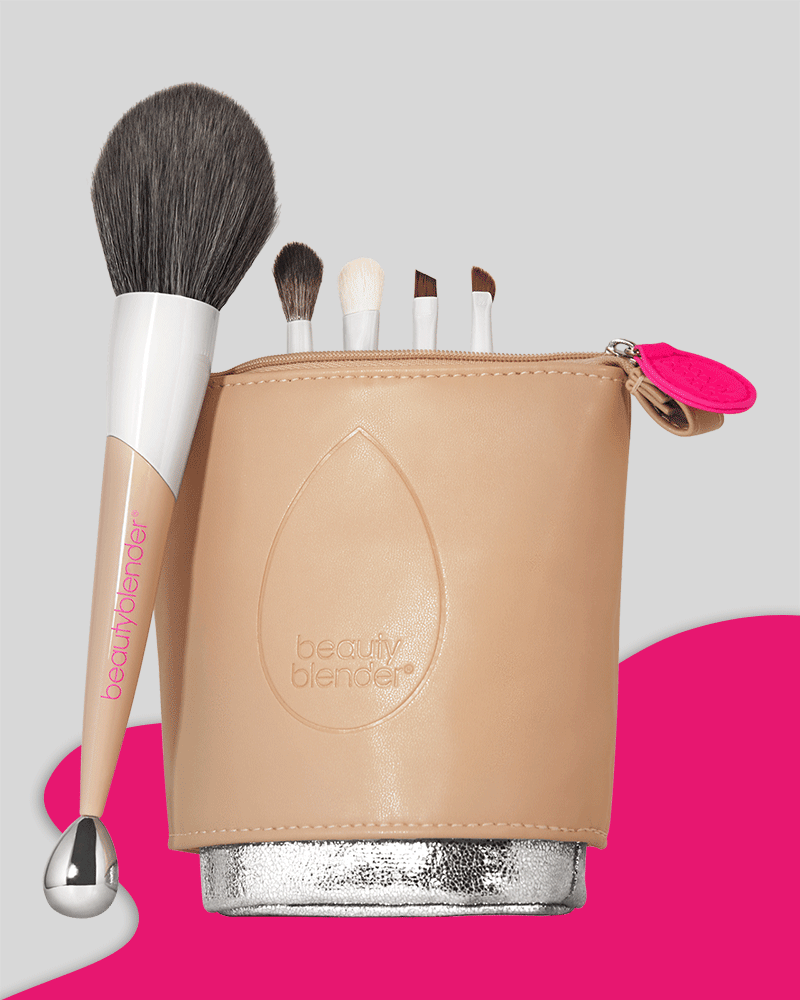 When it comes down to it, the best makeup brush set is one that has everything you need on a day-to-day basis. You gotta have the right tools for a flawless look–from the eyes to the face to the brows. And while your Beautyblender does most of the heavy lifting, it doesn't hurt to have makeup brushes on hand for extra precision. That's why we designed The Detailers, our new brush collection, to help you perfect every detail. And now we've loaded them up into a beautifully designed bag to create the best makeup brush set you'll ever own. 
Meet The Best Makeup Brush Set Ever
You've heard about The Detailers. Our brand new brush collection is made up of 5 all-star beauty tools that take all the guesswork out of your makeup routine. 3 of those brushes have cooling rollerball tips, inspired by jade rollers, on the back end of the brush for a skin-cooling depuffing effect. These babies are more than just brushes–they're full-on skincare tools.
And since they're bound to be your MVP makeup brushes, we decided to wrap them up in an incredible makeup brush set. We'd like to formally introduce you to The Entourage–the best makeup brush set in the game.



All 5 of your fav Detailer brushes are packed into this beautiful bag you'll use forever. This dazzling set comes with a housed-in sleek metallic and blush bag, which can easily stand on your vanity on the daily or be zipped up to pack in your travel bag. It's the perfect size to hold all of your Detailers brushes, and even a Beautyblender or two if you're on-the-go. Plus, the zipper handle is, of course, in the iconic hot pink Beautyblender shape. 


What's Inside The Entourage Brush Set

This stunning bag houses our 5 brushes from The Detailers collection. Here's the scoop on each brush–aka the main reason this is the best makeup brush set ever.
The Big Boss is your new fav powder brush. The fluffy bristles and domed brush head mimic real hair and are soft AF on skin. It's the ideal size to cover a lot of ground at once and has the ideal density for a soft, diffused powder finish that never looks cakey or overdone. Best of all, The Big Boss has a cooling rollerball tip on the opposite end of the brush to prep skin for makeup and reduce puffiness. Oh hey, cheekbones! 
Eyeshadow has never been easier with The Shady Lady. This everyday eyeshadow brush makes it easy to achieve both a full-glam look or a more natural finish. The medium-sized tapered head with densely packed bristles lets you seamlessly lay down product with minimal mess. The Shady Lady also has a cooling rollerball tip on the end to wake up those eyes before gracing your lids with shimmer.
The High Roller is our VIP crease brush who'll be best friends with The Shady Lady. Whether you're a smokey eye pro or a makeup minimalist, this fluffy crease brush lets you blend to perfection. The cruelty-free synthetic bristles won't irritate the skin on the eyelids, either. The cooling rollerball tip on the backside of the brush is front and center to help depuff and sculpt skin before makeup application.
Remember when you were trying to apply eyeliner for the first time in middle school and you ended up looking like the grim reaper? No? Okay, maybe that was just us. But regardless of your eyeliner skillset, The Wing Man is here to help. Say goodbye to messy eyeliner woes with The Wing Man, a one-of-a-kind curved eyeliner brush for seamless application every time. Designed to hug the lashline and deliver high-precision application, use the Wing Man with gel, liquid, or powder formula to help achieve a flawless cat-eye, winged eyeliner look.
Meet one of Allure's 2019 Best of Beauty award winners, The Player. This 3-in-one brow brush does it all. One one side is the actual eyebrow brush with stiff, angled bristles to help disperse brow product and fill in brows. On the opposite side is a double-sided spoolie to comb both brows and lashes after makeup application. You really can't go wrong with The Player no matter how you use it. 
And that, folks, is the tea on The Entourage 5-piece brush set. With an all-star lineup of amazing products wrapped into a beautiful, portable travel bag, it's clear that The Entourage is the best makeup brush set ever. Basically, your makeup bag just got Marie Kondo'd–get ready to feel makeup joy for days.