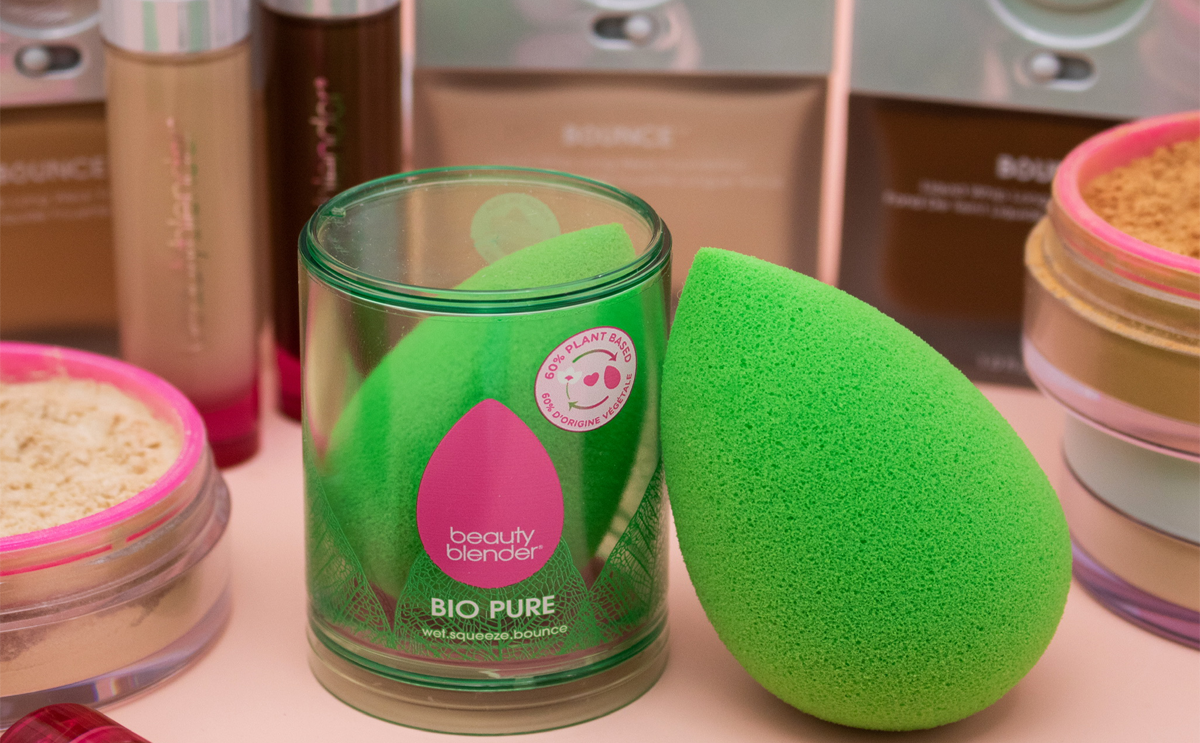 At Beautyblender, we always strive to be one of the sustainable makeup brands you know and trust. This year was BIG for us on that front, in large part because we got to launch Bio Pure, our first plant-based makeup sponge!
ICYMI, here's a quick refresher.
The skinny on Bio Pure eco-friendly makeup sponge
— Beautyblender Bio Pure is made of BioPlush™ foam, which is created with a 60% plant base made from sugarcane.
— Sugarcane is *supes* sustainable because it's technically a waste product. Once it's been used to make sugar, it winds up in a landfill—unless someone steps in to, say, turn it into a beautiful, organic plant-based makeup product 😉.
— Because Bio Pure is made from a renewable source, you get the same ultra-plush soft foam as the original, and we get to create our one-of-a-kind bounce more sustainably. 
— Heck, even the canister is cutting-edge in the realm of plant-based beauty products because our process cuts down on waste and offsets CO2 emissions. Talk about a win-win! 
But you don't have to take our word for it!
Let's check in with the people who cover plant-based makeup brands and beauty products to find out what they think.
What the PRESS is saying about Bio Pure plant-based makeup sponge
Allure
"The Bio Pure might be a smidge bouncier in the hand, which is a good thing in my book, and something I only noticed because I was obsessively comparing the two… Bio Pure deposits makeup just as seamlessly as the original, and with the reduced environmental impact, I'd go so far as to say there is no reason to not opt for this sponge in favor of the original."
Forbes
"It still delivers the sponge's signature bounce and blends makeup to perfection. Its new canister is constructed from recycled resins and made with less water waste and CO2 emissions—and over the next three years, Beautyblender will transition as many items as possible to this material." 
Glamour
"I'm extremely picky when it comes to makeup sponges—I've never found a Beautyblender dupe I actually like—so I was nervous this new material wouldn't hold up. However, I'm happy to share that I prefer it to the O.G. I found the BioPlush material was slightly fluffier and squishier than the regular sponge, which typically performs best for me after I've "broken it in" for a week or two. The application was as quick and easy as the classic sponge—just remember to wet it first, then stipple (i.e., bounce) it onto your skin—and I got the same seamless, airbrush finish out of foundation, concealer, and blush as usual."
NEWBEAUTY
"If Bio Pure is well-received by Beautyblender fans—I've tried it and compared the two and I couldn't tell a difference—Silva says she will consider making this new plant-based formula the initiative for all Beautyblenders."
Green Matters
"EcoTools has some serious competition: Beautyblender—the company behind the original reusable makeup sponge—rolled out a new and improved Beautyblender called Bio Pure...Up to 60 percent of the Bio Pure is made with waste products of sugarcane, and it performs just like the original Beautyblender, according to Allure." 
What the PEOPLE are saying about Bio Pure plant based makeup sponge
Dalia V: I like this one the best! 
"The Beautyblender Bio Pure sponge…worked just like the original blender and I must admit I liked this one better. It's very alike and applies the makeup beautifully. Because of the texture I didn't feel like I was blending forever...the makeup spread nicely and evenly with a few pats of the sponge."
Aba: One of the best
"One of the best beauty sponges I have tried. This was my first time trying the Beautyblender so I was excited when Influenster sent this to me. This will not be my last time using the sponge. Application of products is smooth, and I love that it's 60% plant-based."
Lady V: A keeper!
"Love the whole lot of BBs. This makes me feel less guilty, since it's more eco-friendly. It works just like the other BBs. My foundation goes on flawlessly and melts into my skin streak-free! Will definitely go the extra mile to take care of this one."
Kathleen: Eco-friendly Bounce
"I like the idea of purchasing replacements that are created as a more sustainable product. With 60% plant-based composition this blender performs like the original but is a little more eco-friendly. I did receive this from Influenster for my review but will be replacing my original pink with eco green on my next purchase."
Elsa: First Beautyblender!
"I've always wanted a Beautyblender, and I love that this one is better for the environment too! I don't usually wear liquid foundation, but I use it to blend in my concealer and sometimes liquid blush or highlighter. Works well! And I love the little storage container it comes in, too."
Bag your own Bio Pure plant-based makeup sponge
Can you blush green? If so, please imagine us doing just that because we are truly humbled by all your kind words!
If you haven't yet grabbed your own Bio Pure, do it now! Or if you want to learn more, take a sec to watch Rea Ann Silva slay all day on GMA.