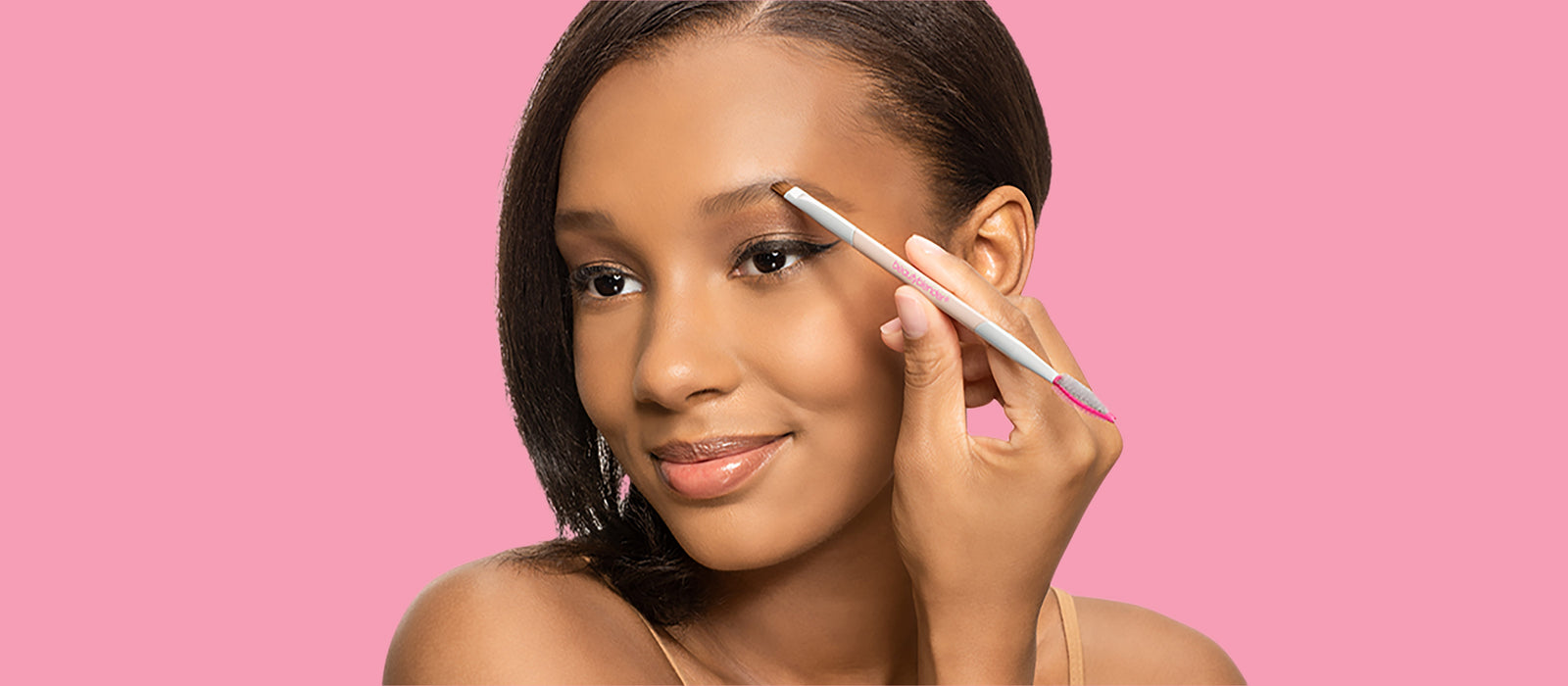 If there's one thing 6 months of binge-watching Bravo has taught us, it's that glam takes work. Watch any flavor of The Real Housewives and you'll spot 300 makeup must haves you need to buy, like, yesterday. 
But guess what: You don't need a million products to feel flawless — especially if you're just building your collection. When it comes to makeup for beginners, you can start small and still end up with a superb result.
Here's how it's done.
1. Primer
The most-missed item when it comes to makeup for beginners is primer. No matter how perfect or poreless your skin, everyone's is a little uneven, which is why primer has to be part of your routine. 
Primer does 3 things no other product can do:
1. Lock in moisture
2. Provide a barrier between your skin and your products
3. Help makeup stick, which makes it last longer
Raccoon eyes, disappearing concealer, patchy foundation — primer helps it all, which is why it's one of our makeup must-haves. Choose from our 2 stellar options:
1. The Leveler™ Primer is our VIP makeup primer for pore control and oily skin, which helps create smoother skin, alleviate redness, minimize pores and create a humidity-proof barrier.
2. Opal Essence™ Serum Primer is our normal-to-dry skin workhorse that's uber-hydrating and creates a subtle dewy look.
 2. Foundation
One huge misconception people have when it comes to makeup for beginners is that foundation will feel suffocating. And the truth is it can — but only if you're using the wrong one. 
If you find the right shade and start with foundation first, you'll tackle 3 tasks:
— Softening and minimizing spots, blemishes and redness
— Giving yourself a base, and
— Reducing how much concealer you'll need to use.
That means a more natural look, which is what makeup must haves are all about. Be sure to bounce on your Liquid Whip Foundation using an OG Beautyblender to protect and perfect all at once. 
3. Concealer
Concealer needs no introduction — we all suffered through middle school, amirite? Concealer does everything from cover blemishes to lighten dark spots, and if we had to choose just one of our makeup must haves instead of 6, concealer would be it. (Just don't tell the other products!) 
The secret, though, when it comes to makeup for beginners is that not all concealers are created equal. Look for one like BOUNCE Airbrush Liquid Whip Concealer that includes both tetrapeptides, which reduce puffiness, and hyaluronic acid, which plumps, smooths, brightens and is generally kinda magic. 
4. Blush
Now that your canvas is complete, it's time for color. Bronzer is a great option, especially during summer, but if we're talking bare minimum, it's gotta be blush. Once you create a flawless foundation, blush takes you from tired and pale to sun-kissed and radiant. 
For a natural glow, start with a shade that's not too far from your natural complexion. Use your Beauty Blusher to apply it to the apples of your cheeks, swiping it up your cheekbones and blending it out past your eyes. 
5. Mascara
Another classic in the toolkit of makeup for beginners is mascara. After concealer and blush, it's the one thing that can do the most to make you look awake and alert — even when you're not. 
Again it's all about balance. If you like things low-key, pick a mascara that's a few shades darker than your natural lashes. If you have a penchant for high dramz, go jet-black. Whatever shade you choose, have your PLAYER 3-Way Brow Brush ready to comb out any clumps for max eye-brightening. 
6. Lip Color
Lip color is one of our favorite makeup must haves because it instantly boosts your look and your mood. Like for real — science says The Lipstick Effect is a real thing, and it's time to take advantage.
Pick one natural color for everyday and one bold shade for special occasions. Another instant mood-booster: Use Crystal Clear Shinelighter anywhere you need a little sparkle and say buh-bye to bad days.
Stock Your Cart
Need a rewind on makeup must haves? Here your cheatsheet, with links to the related goods you can get right here at Beautyblender:
— Primer
— Blush
— Mascara
Let the shopping begin!