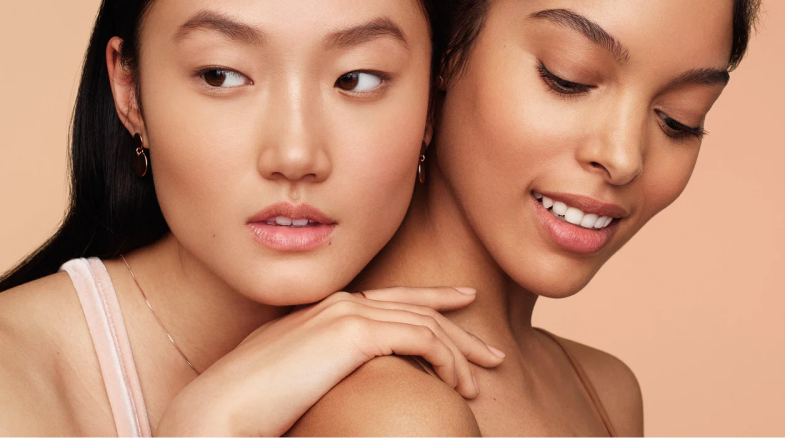 Most of us know by now that there are several different types of skin, but you might find yourself asking, what skin type do I have? It all depends, as our types of skin can change throughout the years. To find out what type of skin you have, you can take this super easy what is my skin type quiz from our friends over at Popsugar to get you started.
The 5 different types of skin
At Beautyblender, we know that understanding the type of skin you have is important—especially if you want to know what kinds of products will work best for you. 
Read on, as we break down everything you need to know to identify the five different types of skin—normal, dry, oily, combination, or sensitive—and highlight some of our fave Beautyblender products that will pair perfectly with your particular type of skin.
Normal skin
One of the easiest types to care for, normal skin occurs when your skin isn't too oily or too dry. Its characteristics include:
The Beautyblender solution:
Finding the right skincare and makeup products for normal skin type is simple—anything goes! If your skin type quiz results are "normal," show off your naturally gorgeous complexion with our GLASS GLOW SHINELIGHTER™ Crystal Clear Highlighter. 
For skin that is luminous without all the frost and sparkle, the lightweight formula melts into skin and stays glossy for hours. Use alone or on top of your BOUNCE Foundation for a dewy effect.
Dry skin
If you have dry skin, you're more likely to experience such issues as peeling, cracking, and irritation. This type of skin is usually caused by genes, ultraviolet radiation, exposure to inclement weather, and long baths. Some indicators of dry skin are:
Dry skin is prone to cracking, peeling, or becoming itchy, irritated, or inflamed. If it's very dry, it can become rough and scaly, especially on the backs of your hands, arms, and legs.
The Beautyblender solution:
By now, you've heard of hyaluronic acid—because it's literally everywhere. While hyaluronic acid is excellent for all types of skin, it's our favorite for dry skin because it helps the skin heal and replenishes moisture levels. 
Get some hyaluronic acid in your life STAT by snagging some BOUNCE Airbrush Liquid Whip Concealer and/or BOUNCE Foundation.
Oily skin
The oiliness of your skin can change depending upon the time of year or weather and can worsen because of stress, hormonal imbalances, and exposure to excessive humidity. Those with oily types of skin typically experience:
— Dull or shiny complexion
— Blackheads, pimples, or other blemishes
The Beautyblender solution:
Your skin needs oil to survive and thrive—but not all oils are created equal. That's why if you do see "oil" in Beautyblender product descriptions, you can rest assured those oils will be vegan, sustainable, and decidedly non-pore-clogging.
Set makeup and absorb oil with our super-blurring and airy BOUNCE™ Soft Focus Gemstone Setting Powder. It works best with the viral power puff, our POWER POCKET PUFF™ Dual Sided Powder Puff creates a meticulous application—every time.
Combination skin
Combination skin is unique in that your skin can be dry in certain areas and oily in others, including the T-zone (nose, forehead, and chin). Many people have this type of skin, and it typically needs slightly different care in different areas. Combination skin can have:
The Beautyblender solution:
Lucky for you combination skin types, our Bounce™ Liquid Whip Long Wear Foundation can work for your skin. That's one of the reasons we think it's the best makeup foundation—it works for everyone! This multidimensional solution contains both hyaluronic acid and niacinamide. It works flawlessly on all skin types, and it gives you a weightless, full-coverage, natural matte finish that wears for up to 24 hours.
Sensitive skin
If you have sensitive skin, it's important to avoid the triggers that cause issues for your skin, such as:
The Beautyblender solution:
Sensitive skin can be a tricky skin type, but don't worry—we've got you covered. For those with sensitive skin types, white birch extract is a Beautyblender staple. Not only does it stimulate new collagen growth and smooth fine lines, it also soothes sensitive skin—which is why we use it in our BOUNCE Foundation.
The bottom line
So, what skin type do you have? Is your skin normal, oily, dry, combination, or sensitive? No matter what type of skin you have, following these tips will keep it looking its best for years to come:
— Use a broad-spectrum sunscreen
— Wash your skin every day
— Never wear makeup to bed