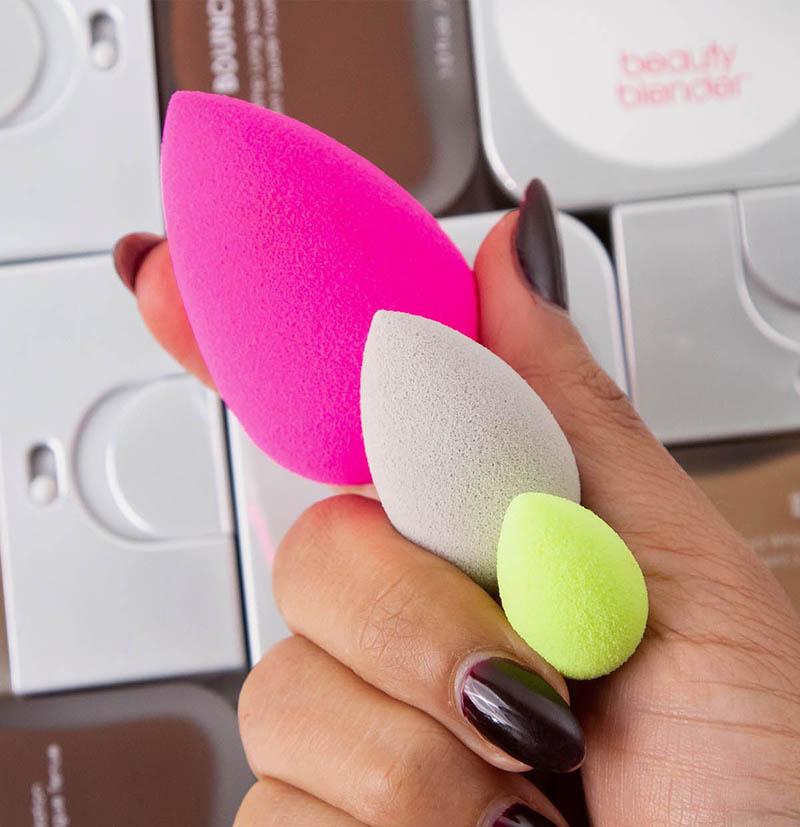 'Tis the season to roll out the red carpet for our favorite makeup gift sets. Just in time for the holidays, these kits are perfect for gifting and make great stocking stuffers. All of your beauty-obsessed friends will thank you for giving them the gift of *glow.* Here are our top makeup gift sets for all the makeup mavens in your life.
For the friend who does it for the 'gram...
Protect Yo Selfie Kit
If a certain someone comes to mind when you hear the word "selfie," this is the makeup kit for them. Our Protect Yo Selfie Kit has all the essentials for picture-perfect skin IRL. Here's what's inside:


– Our Selfie-Shield Broad Spectrum SPF 28 Dry Oil Primer
– 
The Original Beautyblender
– 
Custom phone iRing
– 
Custom Beautyblender "Protect Yo Selfie" makeup pouch
Our Selfie Shield Primer is a clear, dry oil that sinks into skin quickly and blends without ashiness. Not only will it help make your makeup last longer, but it contains SPF 38 to protect your complexion from harmful UV rays (and yes, you need SPF every single day). 
Fun meets functional with the pink iRing in the shape of a Beautyblender, of course. This adorable BB ring attaches to your phone case and allows you to slip your finger through the handle for a hassle-free selfie. Plus, it all comes inside this custom Beautyblender hot pink makeup pouch you can take anywhere! Get these amazing products (worth $72) at a $42 value and be selfie-ready at a moment's notice.
For your friend whose makeup is always on-point...
Glow All Night
We all have that one friend whose makeup is *always* on point, no matter what time of day it is. Our Glow All Night kit is here to make that possible for everyone. Here's what's inside:
– 
Re-Dew Set & Refresh Spray
– 
The Original Beautyblender
– 
Power Pocket Puff
The Glow All Night kit is essential to prevent that four o'clock face from ever happening again. Use the queen of all makeup sponges, aka the OG Beautyblender, to apply your makeup. Then bring in the Pocket Powder Puff to set and bake your makeup for all-day wear. PS–It's suuuuper soft and your skin will basically feel like it's at the spa. Finish with our MVP setting spray Re-Dew to keep your skin glowing all day long. This do-it-all mist hydrates, adds luminosity, and refreshes makeup. Don't miss out on this incredible kit to keep you glowing from sunrise to sunset.
For your friend who's always fully contoured...
All.About.Face
Surprise your Kylie-obsessed friend this holiday season with one of our fave makeup gift sets designed for perfect contouring. The All.About.Face kit comes with all your blending needs:
– 
The original Beautyblender (full-sized)
– 
The Beauty.Blusher
– 
The Micro.Mini
– 
Blendercleanser® Solid® 
With 3 blenders all in different sizes, you can pinpoint any and all parts of your face–even the hard to reach areas. Use the OG Beautyblender to ace your base and apply primers and foundation. The medium-sized sponge, the Beauty.Blusher, is a smaller version of your fave BB to help cover some of the areas of your face that need a little TLC. This is the perfect tool to apply concealer or blend in contour. Finish your look with the Micro.Mini, which is perfect for delicate details like highlighter. Best of all, this kit comes with a Solid BlenderCleanser so you can keep all your sponges spick and span on the reg. 
For your Beautyblender-obsessed friend...
The Crown Jewels 
Listen up, Beautyblender lovers–this one's for you. We might be biased, but this is one of our fave makeup gift sets this season because it celebrates all things BB. The Crown Jewels Blender Essentials kit is a star-studded collection of VIP blender essentials. Here's what's inside:
– 
4 Beautyblenders: 1 in the original BB pink, and 3 other limited-edition Beautyblenders in Ruby, Emerald, and Blue Topaz
– 
4 Solid BlenderCleansers in corresponding colors to the sponges
Make your loved ones feel like royalty this holiday season with the ultimate vault of Beautyblender essentials. These fun, limited-edition BBs come in Ruby red, Emerald green, and Blue Topaz in addition to the original pink Beautyblender. And to top it off, you'll get a set of four custom gem-shaped Solid Blendercleansers so you can keep your new fave sponges clean. Like the perfect bauble, this exclusive set dazzles at an incredible value at just $65 for these 8 all-star products. Plus, the packaging is beautiful, making it one of our top makeup gift sets you'll love to open on the 'gram.

Check out our entire collection of makeup gift sets, including our holiday collection.